This post may contain affiliate links, which means we may receive a commission if you purchase through our links. Please
read our full disclosure here
.
If I had the ability to purchase an unlimited amount of any accessory, it would probably be earrings. I'm obsessed!
Unlike other jewelry, I wear earrings every single day. Usually I just slip on my favorite pair of pearl or diamond (okay, they're CZ) studs and hit the road. But if I'm feeling extra girly, I'll put on something bright, sparkly, long, or attention-grabbing. Earrings have this amazing ability to finish an outfit and make it that much more special.
In my experience, every girl should own one pair of earrings from each of these three categories: statement-making dangly earrings, simple, everyday studs, and truly unique, alternative earrings. Keep reading to see our essential earring picks!
Dangly Earrings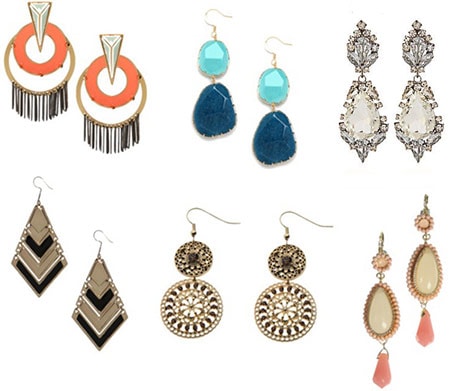 Product Information (L-R, top to bottom): 1, 2, 3, 4, 5, 6
On the weekends, I'm constantly searching through my jewelry box for the perfect pair of dangly earrings. Dangly earrings elongate your neck, draw attention to that fabulous hair you've spent hours slaving over, and add just a little something extra for a night out with the girls.
When buying statement dangly earrings, look for fun colors or textures, appealing shapes, and personalities to match your style. Girly? Wear something with jewels or light colors. Boho chic? Feathers are so in! Edgy? Angles and metallics are all over the market. Slip on your favorite pair, day or night, and feel great.
Perfect Posts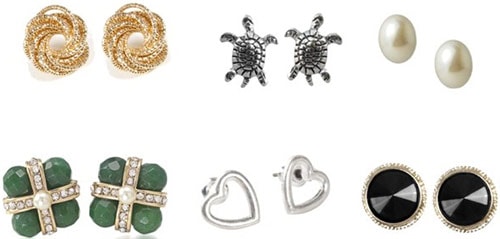 Product Information (L-R, top to bottom): 1, 2, 3, 4, 5, 6
These are your basic everyday studs, but just because they're basic, that doesn't mean they have to be boring. If you were to splurge on one pair of earrings, we recommend doing so within this category.
When buying everyday studs, consider which metals you typically wear, and which styles you usually follow. Popular options include jewels, pearls, or classic square shaped studs. However, feel free to branch out! My sorority mascot is the turtle and one of my sisters always wears an adorable pair of turtle-shaped studs. Above all, make sure that your everyday accessory reflects your style and your personality.
Alternative Ideas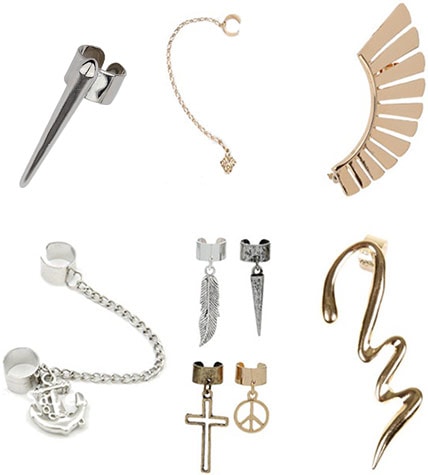 Product Information (L-R, top to bottom): 1, 2, 3, 4, 5, 6
Lately, alternative ideas for ear jewelry have surfaced in the mainstream market. Stores like Urban Outfitters and Free People have been introducing ear cuffs and various dangles into their lines. If you feel like trying something new, throw on one of these unique and stylish alternatives to your typical earrings.
Your turn!
Earrings are awesome. Small, large, classic, or crazy – there is a perfect pair in the perfect price range just for you. I love my Nordstrom Rack studs, but I've also picked up quality pieces at Forever 21 that I absolutely adore.
Now, as always, it's your turn! Do you have an earring go-to? What do you wear on a daily basis? What's your favorite pair of earrings? Are earrings worth splurging on? Make sure to leave your thoughts in a comment!