This post may contain affiliate links, which means we may receive a commission if you purchase through our links. Please
read our full disclosure here
.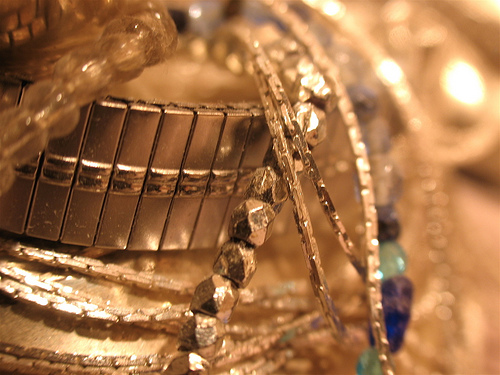 Last week, we started talking about the importance of making smart purchasing decisions when going back-to-school shopping. The gist? Keep the essentials in mind and choose your pieces carefully.
When buying jewelry, it can be really easy to pick up anything pretty at your local Forever21 or H&M. With such stylish and inexpensive jewelry on the market, we don't tend to plan our accessory purchases as much as we should. As a result, we often up with a jewelry box full of repeating styles or colors and little variation.
This year, think about the essential accessories when you hit the mall. We've already discussed necklaces, but now let's talk bracelets and watches: Do you have something statement-making for hitting the town? Something practical and professional, such as a watch? Do you have a wear-everywhere piece that expresses your personal style? With at least one piece of jewelry from each of these categories, you'll never worry about not having exactly what you need.
Bold Bangles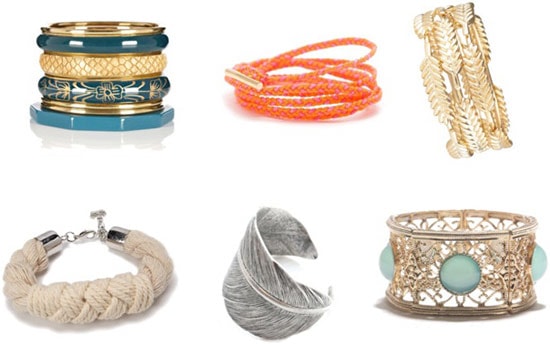 Product Information (L-R): Top row: 1, 2, 3, Bottom row: 4, 5, 6
The right arm accessory can do wonders for an outfit. On the weekends, my go-to is a statement making bangle or bracelet. While these bold pieces may be a little bit too much for everyday wear, these essentials never fail to spruce up an outfit.
Bangles are great for adding color to an ensemble – wear a brightly colored bracelet with a darker or more neutral look to add an unexpected pop. They are also great for adding glamor to a look; stacked gold or silver bangles can enhance that sexy black dress. I love how the simple addition of a bold cuff on my wrist or my favorite teal leaf wrapped around my arm gives me confidence and a little bit of red carpet sass.
Stylish Watches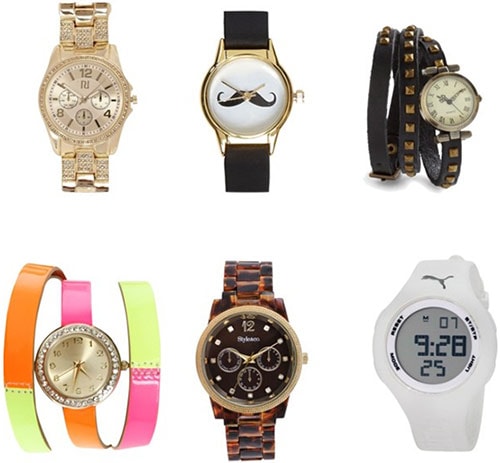 Product Information (L-R): Top row: 1, 2, 3, Bottom row: 4, 5, 6
Watches. I'll admit, I'm a sucker for a nice watch. Or a pretty watch. Or an antique watch. Really just any kind of watch.
I love watches for two main reasons: Not only do they convey a sense of professionalism and practicality, but they can also express your personality. There are so many beautiful, fun, and quirky watches on the market today. Are you athletic? Glamorous? Goofy? Edgy? Do your research – there's definitely a watch out there for you.
Watches can be paired with silver or gold cuffs, friendship bracelets, bangles – you name it. In fact, one of my friends wears two watches every day. They are antique and simple and she wears them (quite stylishly) in place of bracelets. Play around and find something perfect for your individual style.
Everyday Essentials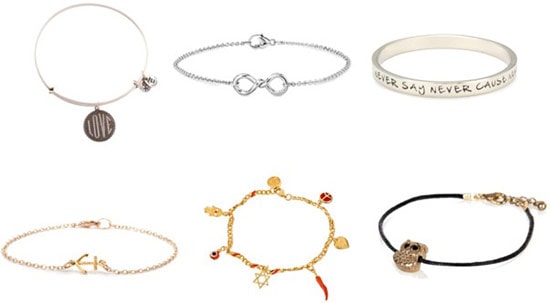 Product Information (L-R): Top row: 1, 2, 3, Bottom row: 4, 5, 6
I love the idea of having something meaningful, sentimental, or pretty to wear on your wrist every day. Not only does it make getting ready easier (hello, already accessorized!), but having a "uniform" piece can bring a sense of tradition and sentimentality to your style.
Often, these "every day" bracelets are investment pieces. They may have been graduation gifts or sweet 16 presents. However, like I mentioned in the article on necklaces, a high price tag is not a requirement for an everyday piece of jewelry! When I was in Israel, I got a bracelet for the US equivalent of ten dollars. I wear that thing every day and it has more meaning to me than anything else I own.
Your turn!
I love arm candy; every day I wear a watch, a nice bracelet from my dad, and a market souvenir from my trip to Israel. Each of these pieces means something different to me and expresses a little bit of my personality. On the weekends, I love to throw on my favorite statement bangle and hit the town! These essentials have never failed to help me accessorize my varying outfits.
Now, as always, we want to hear from you! Are you a bracelet kind of a girl? Do you wear a watch? What do you think about layering? Mixing metals? Do you have any other staple pieces in your closet? Make sure to leave your thoughts below!