When we think of accessories, we usually focus on what I like to call the "shiny" accessories: necklaces, bracelets, and all things bejeweled. Accessories, like their name implies, are often the unnecessary components of an outfit. After all, leave the house without a necklace and you'll be okay. Leave the house without a shirt? Now we've got a problem.
Belts, on the other hand, are a perfect example of a functional, necessary, and often overlooked accessory! Skinny, wide, leather, braided – the options are endless. As we talk about accessory essentials at CF, I couldn't overlook these must-have accessories. Keep reading to learn about our essential belts – and prepare to be amazed at what they can do for your wardrobe!
Skinny Belts

Products (L-R): Top: 1, 2, 3, Bottom: 4, 5, 6
Skinny belts, while not known for their functionality, are an amazing way to add color or texture to your outfit.
This summer, I have been relying on my leopard print and gold metallic skinny belts to spruce up my basic t-shirt-and-jean-shorts combo. The unexpected pop of animal print or glimpse of color from underneath my shirt adds a whole new element to my look. With your top out or tucked in, these belts are perfect for adding a casual, practical, and playful vibe to any outfit!
Waist Cinching Belts

Products (L-R): Top: 1, 2, 3, Bottom: 4, 5, 6
There are few things that every girl has in common, style-wise; wanting a nice, cinched-in waist, however, may be just one of them.
On a night out, I love to add a waist-cinching belt to my look. This style is a little more dressy than your average skinny belt (though it can sometimes boast a skinny width), and adds serious oomph to an outfit.
Pair one of these belts with a bandage skirt and top, or with your favorite dress. You can also use one to create the look of a dress from two solid colored pieces by using it to hide the point of intersection. Pick your size depending on the space between your ribcage and your hipbones (the bigger the space, the wider the belt you can wear) and prepare to wow your friends with your Marilyn Monroe-esque figure. Ow ow!
Functional Belts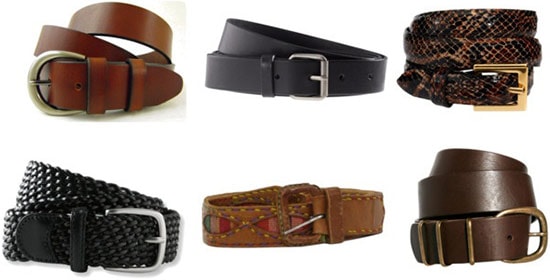 Products (L-R): Top: 1, 2, 3, Bottom: 4, 5, 6
When you hear the word "belt," my guess is that these are the sorts of images that come to mind. Basic, square, leather belts. These are your functional, everyday, keep-your-pants-up belts, but there's much more to them than that!
When you're looking for a basic, functional belt, think about the colors you wear. Do you wear lots of black, or do you wear brown more often? Do you like stitching or patterns? Braided or smooth textures? Gold buckles or silver? There's a lot of variation between basic styles – in fact, with all the options today, it may be hard to even find a truly "basic" belt!
As for styling, the options are endless. These belts always look great with jeans of any wash or shorts of any color and can easily accommodate any style of top.
Your turn!
I love my belts and have my opinions but, as always, I want to hear from you! What do you think about belts? Which belt style is your favorite? Do you wear belts regularly? What's your favorite way to utilize a belt in an outfit? Do you use yours to reflect your personal style? Make sure to leave your thoughts in a comment!