This post may contain affiliate links, which means we may receive a commission if you purchase through our links. Please
read our full disclosure here
.
Bright colors are often criticized as being hard to wear. It's easy to re-wear the same dark denim jeans, but try to wear your fire engine red pants twice in one week and people will notice! However, it's important to remember that bright colors can be just as practical as neutrals when accessorized properly.
This week, I'll show you three ways to completely change the look of a summer staple outfit – a bright top and denim cutoffs – only using accessories.
Look #1: Look at Me Sparkle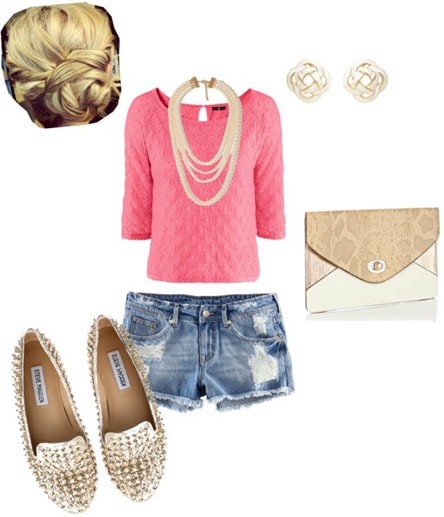 Product Information: Top, Shorts, Necklace, Earrings, Clutch, Loafers
I love how this outfit has not one, but two statement-making pieces. The pink sweater is the immediate eye-catcher, but skim down the body and you'll notice a pair of fierce, studded, and sparkling loafers. The cutoff denim shorts and simplicity of the top ensure that this look isn't too over the top. Such a casual base allows you to rock bold accessories – like a statement necklace and clutch – without seeming overdressed.
Wear this outfit to the movies, lunch, shopping, or girl's night out. It's time to put your hair in a cute bun, hold your head high, and wait for the attention to come your sparkling way!
Look #2: Flirty and Playful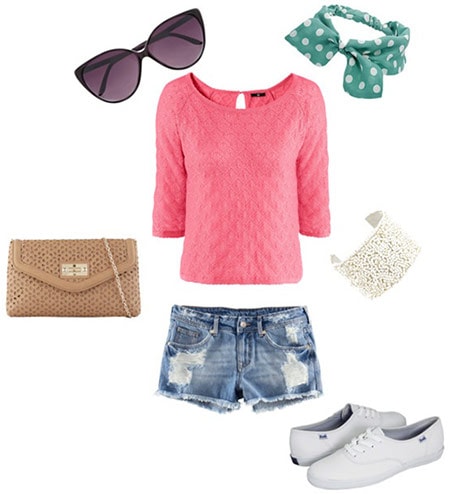 Product Information: Sunglasses, Purse, Headband, Bracelet, Shoes
Pink, in a word, is girly. So why not embrace that vibe and use this top in a flirty, retro outfit? A polka dot headband in mint green adds charm to this girly look and cat eye sunglasses honor the feminine pin-ups of the past. Simple jewelry and a small bag draw attention to the pink and green color combination. White Keds complete the look, and make this look perfect for playing by the river, swinging on a swing, or strolling through the park.
Look #3: Gladiator-Inspired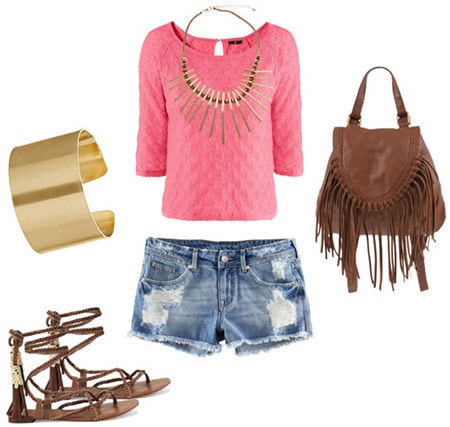 Product Information: Necklace, Bracelet, Shoes, Backpack
Although pink is usually associated with girly girls, you can also move away from that stereotype by styling it in a bold, funky way. Pair your pink top with a spiky statement necklace and a gold bracelet cuff. Add gladiator-inspired lace-up sandals and top off the look with a drool-worthy fringe leather backpack. This edgy outfit proves that pink is not just for the precious.
Your turn!
As you can see, the accessories truly make the outfit. The right pieces can completely change the vibe of a look, in this case turning pink from girly to glam to playful to fierce.
Now, it's your turn. What do you think of the outfits featured above? Would you do anything differently? Can you think of other ways to make bright colors as wearable as neutrals? What's your go-to accessory? Make sure to leave your thoughts below!