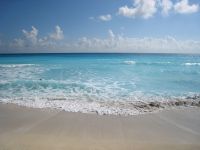 You've worked hard all year and now, thank god, it's almost March. Spring Break '08 is right around the corner, and every day brings us a little closer to a week of much needed partying. You know what that means: time to start shopping and getting ready for your week of fun in the sun.
I'm not going to talk about travel reservations and budget hotels or lecture you about wearing sun block; you can find those topics elsewhere. This article is all about what to wear on your spring break!
To look your most fabulous this vacation, here are some of the hottest clothes, shoes and accessories that you are going to want to have in your suitcase!
An Amazing Bathing Suit. If you're gonna be spending your days on a beach, a bathing suit (or 3) is totally key. You want one that flatters in the right places but still stands out in a crowd. Swimsuit trends this spring: ruffles, stripes, bright colors, 50's inspired one pieces and cutout monokinis. Some ideas:
Floral Print Dresses. Allover floral print was a huge trend on the Spring 2008 runways. Get ahead of the trend by picking up some floral dresses now to wear on spring break and wearing them through summer.
Gold Shoes and Accessories. All that glitters this spring should be your accessories! This was a popular trend on the spring runways at Michael Kors, Stella McCartney and Tory Burch. Play up your (hopefully faux) tan with gold shoes, bags and of course jewelry.
Fabulous Sunglasses. Or as Rachel Zoe calls them, "sunnies." Protect your eyes from the sun in style with some face-flattering frames. Just resist the urge to bring your expensive sunglasses: lots of stuff goes missing in the madness of spring break.
Bright Flip Flops. So basic and easy, don't leave home for spring break without some comfy rubber flip flops. I love bright ones in colors like orange, pink and yellow, which give a more neutral outfit a trendy pop of color.
These are just a few of my ideas for bringing runway inspiration to the spring break beaches. What do you think? Will you be rocking gold accessories and cute dresses on spring break or are you sticking to a fierce bikini? Where are you going for spring break? Discuss in the comments!