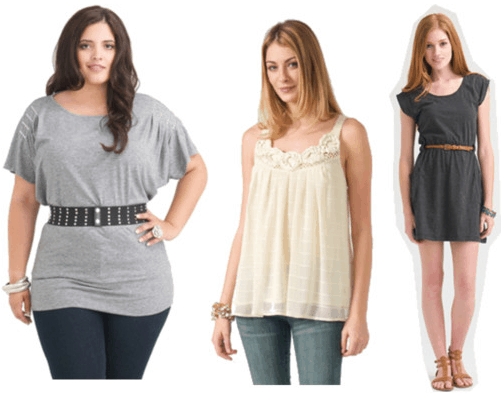 Every body is different; we all come in various types of sizes and shapes – this uniqueness is what makes us beautiful. And even though no two bodies are the same, when talking about clothes for different body types, it's helpful to group our body types into four very general shapes. They are: the pear, the rectangle, the hourglass, and the apple.
While I don't think that anyone should forgo wearing a piece of clothing they love, there are certain types of clothes that can enhance your figure, and I'm here to tell you all about them!
Zephyr wrote a great article a while back on the basics of dressing for your body type, and today I'm going to expand on that thought, and provide 2 different outfits designed to maximize each body shape: one for day, and one for night. Interested? Read on!
The Pear Shape
You have a pear-shaped body if your bottom half tends to be bigger than your top half. Pears tend to have fuller hips and a larger butt/thigh area compared to their shoulders and bust. Celebrity pears include Jennifer Love Hewitt, Beyonce, and Lo Bosworth.
Because pears often have great shoulders and arms, a standout neckline on a top is the perfect way to draw the eyes up and show off your slim shoulders. Boot cut jeans and A-line skirts are some of the most flattering cuts for pears.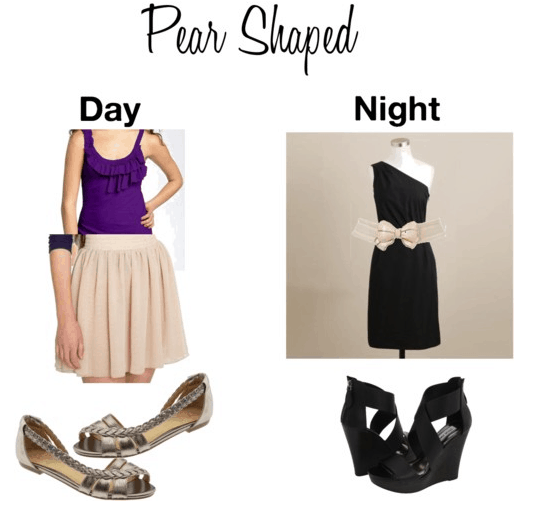 Tank, Skirt, Flats, Dress, Belt, Wedges
For the day outfit, I chose a ruffle tank to show off your arms and toned torso area. The full skirt is a fun style right now, and it hits at the waist to create a beautiful hourglass silhouette. The metallic flats are a great pair of shoes for those long summer days.
For the night outfit, the black dress is a glamorous take on the popular one-shoulder trend, while the belt nips the waist in. Finally, the tall wedges will elongate your beautiful legs.
The Rectangle Shape
You have a rectangle-shaped body if your bust and hips are equal in measurement, and you don't have much of a defined waist. Rectangle shaped women are also referred to as "athletic" in the fashion mags. Some celebrity examples of rectangles include Cameron Diaz and Hilary Duff.
To create more curves on an athletic frame, try belted dresses and tops to define your mid-section and create volume. You can also try ruffles and girlier silhouettes, which will also balance your frame.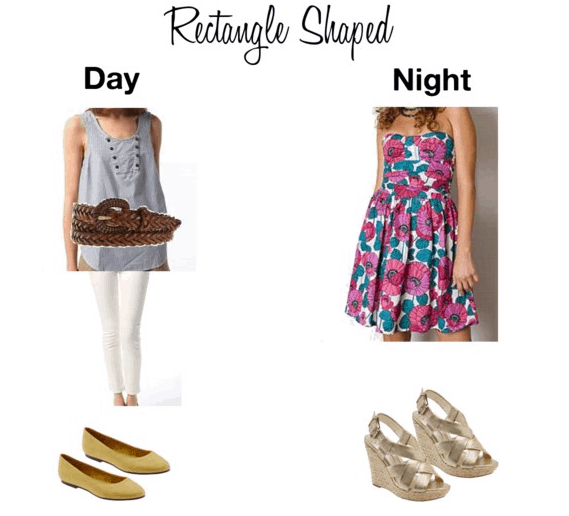 Tank, Belt, Jeans, Flats, Dress, Wedges
For the day outfit, I chose a loose, striped tank with a pair of form-fitting white skinny jeans and a belt to create a the illusion of a more defined waist. The jeans are a great way to show off your toned legs.
For the night outfit, I wanted to choose a dress that could be worn casual as well as dressy. Because the bodice of the dress is form-fitting, it will create the appearance of fuller hips. Finally, the wedges are simply a great pair of shoes to go out in, and the metallic gold shade goes with everything.
The Hourglass Shape
You have an hourglass-shaped body if your bust and hips are equal in measurement and you have a very defined waist. Women like Scarlett Johansson and Kim Kardashian are great examples of hourglasses.
To maximize your frame, opt for form fitting clothing to show off your curves. V-necks are also a great way to play up your assets and show off your fabulous shape.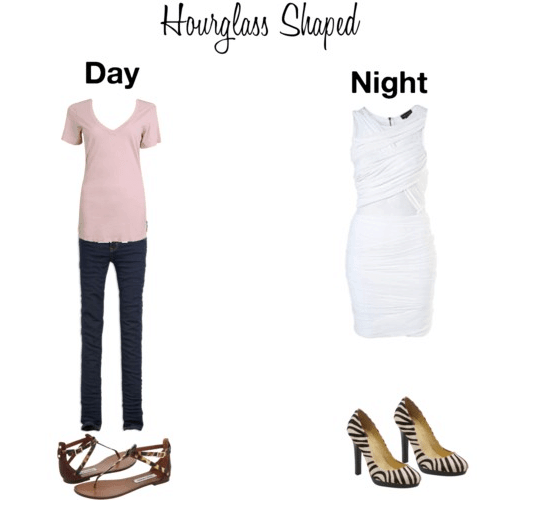 Tee, Jeans, Sandals, Dress, Pumps
For the day outfit, a plunging neckline paired with skinny jeans and sandals is a great way to show off your amazing body and flaunt your curves.
For the night outfit, I chose a white body-con dress that will hug your curves in the best possible way and paired it with a pair of fun zebra print pumps for a fun take on the animal print trend.
The Apple Shape
You are an apple if your bust and shoulders are larger than your hips and butt. Kristin Cavallari is a great example of an apple shaped celebrity.
To show off your shape, accentuate your legs by wearing skinny jeans. You can also get away with mini skirts, no problem. On top, v-necks as well as loose tanks paired with the aforementioned form-fitting bottoms will create a beautiful silhouette.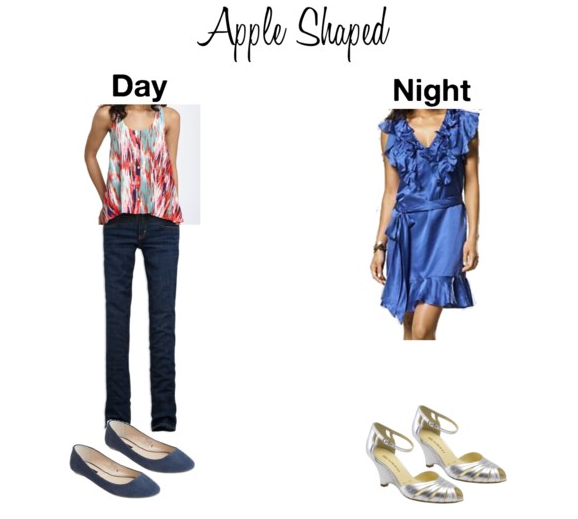 Tank, Jeans, Flats, Dress, Heels
For the day outfit, I chose a loose fitting top and a pair of skinny jeans to show off your slim legs and some blue flats to pick up the blue in the tank.
For the night look, the v-neck in the dress and adjustable sash are flattering details that show off your shape. The silver heels are a great contrast to the beautiful cobalt blue of the dress.
What do you think?
Do you dress for your specific body type? Or do you wear whatever you want? Will you be following some of these tips? Let me know with a comment!