This post may contain affiliate links, which means we may receive a commission if you purchase through our links. Please
read our full disclosure here
.
I don't know about you, but something about the combination of finals week, the drab weather, and my limited wardrobe at home has put me in a bit of a style rut, and we can all agree that a style rut is no way to kick off a new year.
Never fear, my fellow fashionistas. We'll get through this together. In honor of 2016, I present to you 6 fashion challenges to re-vamp your style.
1. Get dressed up for your 8 AM
On a chilly winter day when you want nothing more than to crawl back into bed, the last thing you're probably thinking about is coming up with a cool, expressive outfit. But lets face it: if you love fashion, sweats every day is just bad for your soul.
Putting effort in will make you feel better and more awake for your day, no matter how much you don't want to start it. Try a simple dress and over-the-knee boots, or layer a button-up under a sweater and pair them with jeans and booties. As long as you promise to put some effort into it, you'll be out of your rut soon enough. (See also: Why You Should Dress Up Every Day.)
2. Wear something fashionable – not attractive – on a night out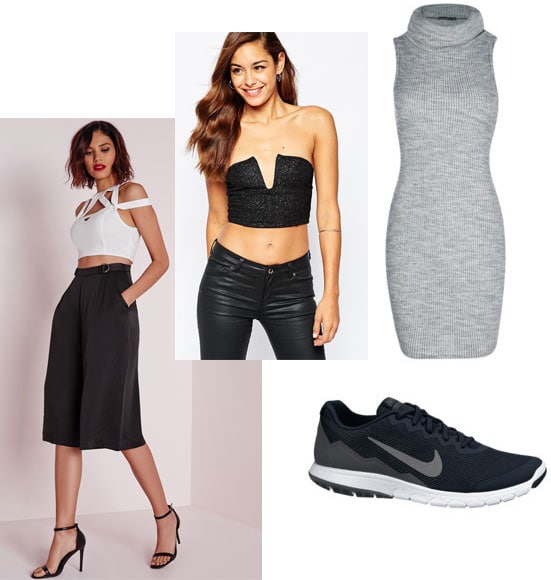 Products: Culottes, Crop Top, Dress, Sneakers
Of course, everyone wants to look great for a party with friends, but push yourself to dress for you, even if that means your look isn't necessarily alluring. Take a tip from The Man Repeller and try culottes with a sparkly crop top or running sneakers with a dress. Just remember, confidence is key.
3. Try minimalism
If getting dressed up is what you live for, but you've been finding your outfits to be too formulaic lately, I know the feeling. One can only find so many combinations of skirts, sweaters, and booties before the look gets stale.
Switch things up by going minimalist: limit your closet to around 12-16 items per season (plus accessories!) and challenge yourself to mix and match pieces to create new outfits. Un-Fancy has great guides for capsule wardrobes if you find yourself intrigued.
4. Remix your summer wear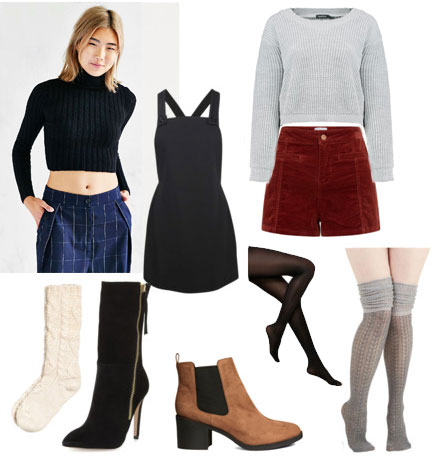 Products: Turtleneck, Dress, Socks, Boots, Sweater, Shorts, Tights, Thigh-highs, Booties
Back in June, getting dressed couldn't have been easier. The new season combined with an influx of new trends made throwing together a trendy and interesting outfit quick and painless.
Throwback to a time of more inspired dressing by remixing your summer favorites. Try throwing on a sleek turtleneck under an old sundress, or layer sheer tights and thigh-highs under your old high-waisted favorites.
5. Pile on the accessories
Liven up a routine look with out-of-the-ordinary accessories. A trendy bag, killer mid-calf boots, or a pile of cuffs can take a simple jeans-and-sweater outfit from boring to stylish without any major work.
Challenge yourself to try something interesting like mismatched earrings, an ear crawler, mid-knuckle rings, or an arm party. Get creative and you may just start the next hot trend!
6. Rethink your outerwear
Though it may be tempting to bundle up in your warmest parka come January, repeating the same coat will soon become a bore. Instead, pull out your Fall jackets and pile them on. Pull a turtleneck scarf under a dress, follow with a shearling-lined bomber and finish off with a duster coat. Layer up and you'll be ultra warm and ultra stylish.
Stay warm with accessories like hats, scarves, and gloves, and you'll outshine every puffer coat on the street.
That's It!
Now you have six ways to break into the new year and break out of your style rut. Have a great 2016, CF readers, and let your style match your bright personalities.
What do You Think?
Will you try these six style challenges? What do you do when you find yourself stuck in a style rut? What style challenges do you recommend or would like to try? Let me know in the comments below!