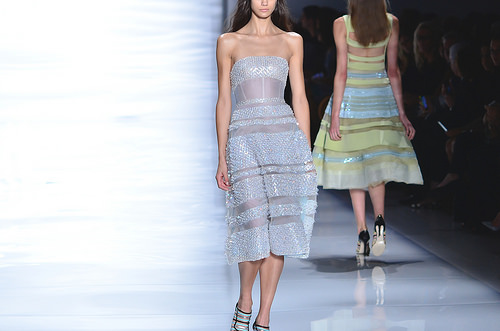 It's spring break season! To celebrate the middle of the semester and a flurry of Fashion Weeks, I wanted to feature five trends that will be popular throughout spring and and right into summer.
I've customized these outfits to those still experiencing some cold weather, but these trends will work whether your spring break plans include the crystal waters of Cancún or being surrounded by stubborn piles of snow.
1. Floral
Product Information: Headband – American Eagle, Scarf – Uniqlo, Coat – Brandy Melville, Dress – American Eagle, Tights – Target, Boots – Charlotte Russe
Florals are a spring staple, but to keep things from bordering on cliché, I went in the other direction – over-the-top, with a flower crown layered over a floral dress. Pairing two different floral pieces together can be a refreshing way to wear the quintessential spring print.
It's been a winter of black tights and down jackets – jazzing it up with navy tights and a pink scarf, pulled from the color of the flowers on the dress, is a great way to express excitement for the melting snow.
2. Fringe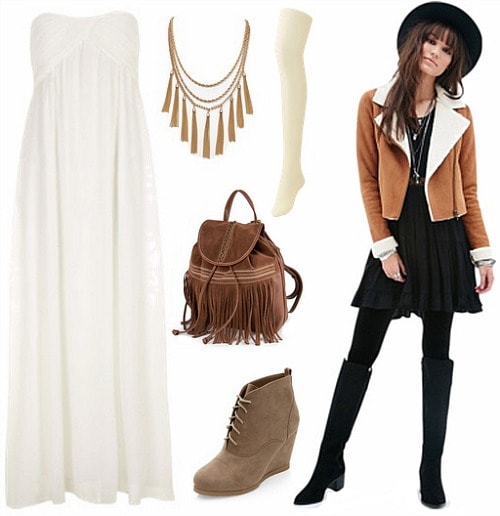 Product Information: Dress – Dorothy Perkins, Necklace – Bloomingdale's, Tights – Uniqlo, Jacket – Forever 21, Booties – New Look, Bag – Claire's
Fringed clothing screams 'summer music festival season' to me, so I went with something slightly more understated. Fringed accessories have a natural bohemian flair to them, as do maxi dresses. I love the effortless glamor of a long skirt, and you can pretty much wear maxi dresses year round – just throw on a pair of white tights and a shearling-lined coat in colder weather.
3. Denim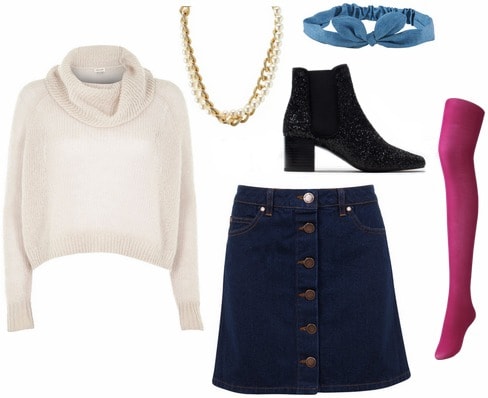 Product Information: Sweater – River Island, Necklace – Charlotte Russe, Booties – Zara, Headband – Aeropostale, Tights – Uniqlo, Skirt – Miss Selfridge
These button-front denim skirts were all over the Spring/Summer 2015 runways, and will go with pretty much anything in your closet. Here, I've paired one with a cropped sweater for maximum comfort, as well as fun, glittery booties. Colored tights are the quickest way to instantly add color to an outfit, so I went with a pair of bold, hot pink tights.
If you'd like to mix several denim pieces in the same look, I like to make sure they are different washes. Since the skirt is a dark denim, I went with a lighter-wash headband to keep it from looking too matchy-matchy.
4. Lace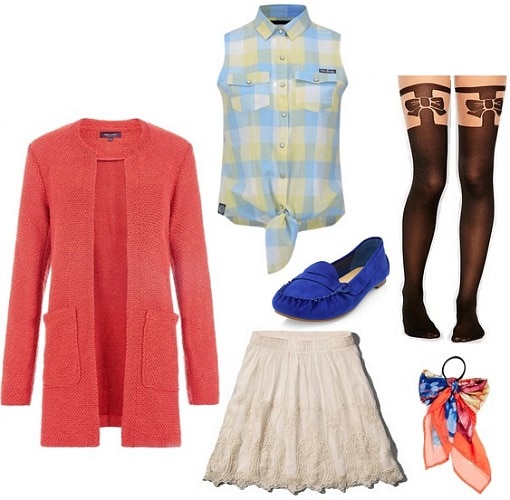 Product Information: Cardigan – New Look, Top – Tokyo Laundry, Tights – ASOS, Loafers – New Look, Skirt – Abercrombie & Fitch, Hair Bow – ASOS
While lace is traditionally associated with bohemian-styled outfits and earth tones, I went in a different direction with this look. I love the summery gingham and tie-front detail of this top, and these tights are just kitschy enough to be an interesting team player.
Lace also lends itself well to flirty and feminine pieces – try adding colorful accessories to your white lace pieces for a dramatically different look.
5. Neon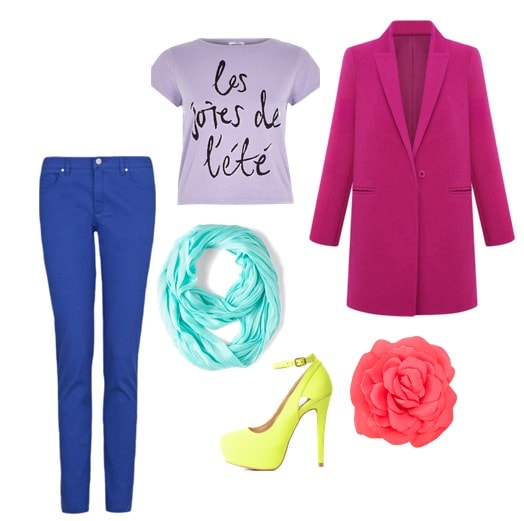 Product Information: Shirt – River Island, Jeans – Mango, Scarf – ModCloth, Heels – Charlotte Russe, Rose Hair Clip – Torrid, Coat – Black Five
Even if highlighter-like neons are too bold for your liking, bright colors are still a fantastic way to instantly add some cheer to an outfit. They're ideal for adding an unusual twist to color-blocking.
A brightly-colored coat does most of the work for you, as does a pair of fabulous shoes in an super-bold color. I've gone with neon yellow, but I've found that hot pink and turquoise are great if you're looking for a pair of attention-grabbing shoes that still pair well with most of the other colors in your closet.
What do you think?
What trends are you excited to rock in warmer weather? What are some of your favorite trends from the Spring/Summer 2015 runways? Would you wear any of the looks above? Let me know in the comments!