This post may contain affiliate links, which means we may receive a commission if you purchase through our links. Please
read our full disclosure here
.
You know those dreary days where you just can't get out of bed and the world seems unbearable sans sweatpants? (Yeah, they usually set in right around… now.) Well, CF is here to tell you to pick yourself up, put down the Cheetos, and brush the sleep tangles out of your hair- it's time to get glam!
If you're down in the dumps or just bored of winter clothes (aren't we all?), a little sartorial cheer can seriously brighten up your day. Below, I'll share five instant ways to transform your look from blah to bewitching.
1) Retro Sunglasses

Black & White, Red, Sage, Tortoiseshell
Instead of doing the typical celeb bug-eyed sunglasses thing (we're looking at you Nicole Richie!), update your eyewear with (ironically enough) a pair of retro sunglasses. The right pair of sunglasses can pull a whole outfit together, and the whole awesome-sunglasses-plus-bedhead-hair look is classic and effortless. Also, you can't help but feel cool when wearing a pair of unique sunnies- especially in a fun color!
2) Bright Lipstick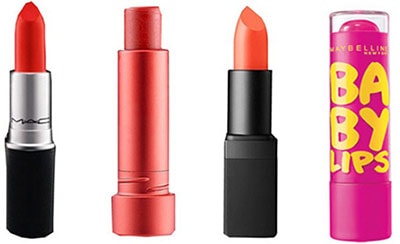 MAC, Sugar, NARS, Maybelline
In the words of the legendary Elizabeth Taylor, "Pour yourself a drink, put on some lipstick, and pull yourself together."
Okay, maybe a drink on a school day isn't a good idea. However, the pop of color provided by a flattering lipstick can totally transform your face, enlivening tired features.
Pick a shade that will work with your skin (see our guide to finding the right red lipstick for your skin tone for details!) – as a general rule, go for blue undertones if you have cool skin, and orangey undertones if you have warm skin. For a small pop of color, pick a sheer formulation that's daytime-appropriate and easy to wear, or go all out with a bold, statement-making satin or matte finish – whatever suits you best!
3) Wide Brimmed Hats

Orange, Black & White, Blue & Straw, Pink
Although it's only winter, wide-brimmed hat season will soon be upon us… so stock up now! The coolest thing about these hats is that they can fit any style – felt hats, and those in darker colors, tend to look more refined and elegant, whereas straw hats in fun colors look more casual and bohemian. Whatever style you choose, these hats are a great way to add a little flair to your 'fit!
4) Red Nail Polish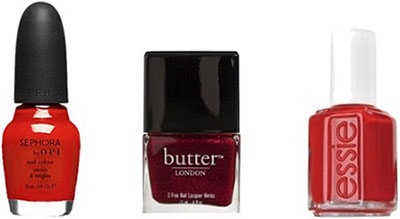 A classic red nail polish calls to mind classic 1950s beauty, and the color is actually quite versatile, due to the range of shades available. Whether you choose a poppy hue or maybe a vampy dark burgundy, red nails are also universally flattering. Having a little detail like nicely painted nails can go a surprisingly long way in boosting your confidence. (For the full treatment, see our at-home manicure tips!)
5) Headbands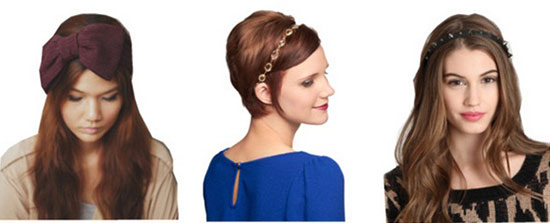 The last little thing that can elevate your outfit is a headband. Rock it in a lady-like style à la Blair Waldorf, or edge it up with a spiked headband- there's always an option to suit your style!
The other great thing about headbands is that you can play with their placement to completely change your look – you can wear them low on your forehead (AKA hippie headband style), or put your hair in a low bun with your headband for a soft, girly look. Whatever way you choose, you're sure to make a style statement.
What do you think?
Do you use any of these to spice up your look? What outfit tricks do you use when you're having a bad day? Any quick pick-me-up tips? Let me know your thoughts, questions and suggestions in the comments below!