This post may contain affiliate links, which means we may receive a commission if you purchase through our links. Please
read our full disclosure here
.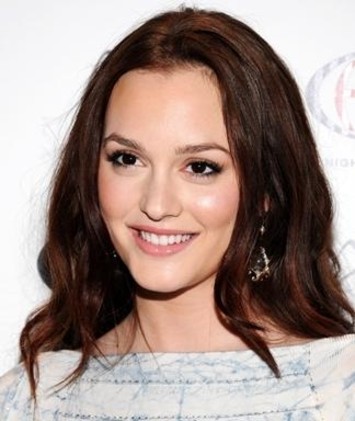 Leighton Meester always looks pretty and polished. Credit: ELLE.
With all of the responsibilities and activities that come with being a college student, looking polished and put-together can sometimes take a backseat. When you're dealing with juggling exams, essays, work, and social events, it only makes sense that looking stylish isn't always a priority.
For some ladies, however, looking great 24/7 seems to come naturally. How do they do it? It's a look! Girls who look perpetually polished generally have a few things in common. Read on to learn their secrets!
1. Do your nails.
Even if it's only a clear topcoat, keeping your nails well-maintained and manicured is a super-easy finishing touch that brings your whole look together.
If you're not a nail-art pro, choosing colors that are creamy, neutral, or translucent can camouflage rookie mistakes, as can forgoing polish all together and buffing nails to a shiny finish. If you're a DIY manicure expert, check out our feature on the hottest spring nail polish colors and get inspired!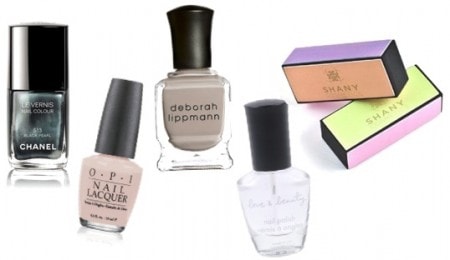 Products Pictured: Chanel Black Pearl Nail Varnish, OPI Nail Lacquer in Coney Island Cotton Candy, Deborah Lippmann Nail Color in Waking Up In Vegas, Shany Premium 4-Sided Nail Buffer.
2. Put a little extra energy into your hair.
As a general rule, bedhead is not a cornerstone of a polished look. To get your mane out of your face, do a high pony or a messy bun and top it off with a headband, or do the ever-popular fishtail braid. If you're a fan of wearing your hair down, try dry shampoo to absorb oil, or conversely, add serum to your ends to combat the frizzies. Healthy, shiny hair is always in style and an excellent compliment to any outfit.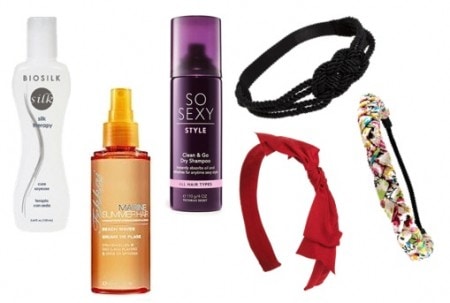 Products Pictured: Biosilk Silk Therapy, Frederic Fekkai Beach Waves, Very Sexy Style & Clean Go Dry Shampoo, Certainly Knot Headband, Jennifer Ouellette Side Bow Headband, Daytrip Braided Headband.
3. Pile on the accessories – and match, if you can.
Scarves, jewelry, and belts are a polished girl's best friends. The key to effortless, polished accessorizing here is to coordinate pieces — i.e., matching cognac boots to a similarly-colored bag or belt, or wearing all-silver jewelry. Matching like this is so easy, you won't even have to think about it.
Whether you have a few signature pieces of jewelry that you wear all the time or if you prefer mixing and matching a more diverse collection, coordinating your jewelry is a sure sign of a put-together girl.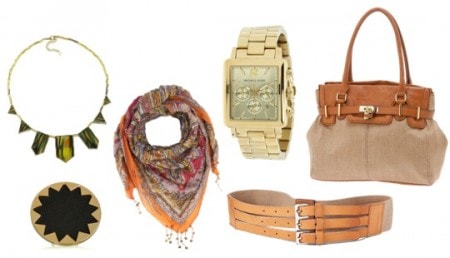 Products Pictured: House of Harlow Jewelry, Dorothy Perkins Paisley Scarf, Michael Kors Rectangle Chronograph Watch, MNG by Mango Belt Trio, Aldo DALPE bag.
4. Find the right makeup.
For days on campus, quick and easy makeup that complements your skin tone is the way to go (unless you're going makeup free!). Go for blush, mascara, and lip balm for a look that's fresh-faced and pretty. Anything that looks overdone is a no-no!
The key for a polished daytime look is to find a comfortable balance between a completely bare face and smokey-eyed, sparkly-lipped night look.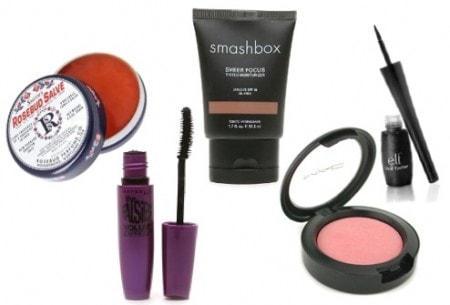 Products Pictured: Smith's Rosebud Salve, Maybelline The Falsies Black Drama Mascara, Smashbox Sheer Focus Tinted Moisturizer, MAC Mineralize Blush in Dainty, ELF Liquid Eyeliner.
5. Dress it up!
The best way to instantly perk up and look great is to dress up! While we know that super fashionable CF readers probably aren't wearing sweats to class, forgoing jeans and flats in favor of a skirt and wedges every now and then can make you look pretty, polished, and professional.
Need some extra motivation to make an effort? Check out our post on 25 Reasons Why You Should Dress Up Every Day. With spring coming, there's no better time to put on your favorite dress or wear the bright colors that have been pushed to the back of your closet all winter. In a similar vein, make sure that each of the pieces you wear are flattering and fit correctly — both are musts for a put-together look.
Tell us what you think!
Are you a put-together girl? What are your tips for looking polished? How do you dress for a typical day of class? Leave a comment and let us know your thoughts!