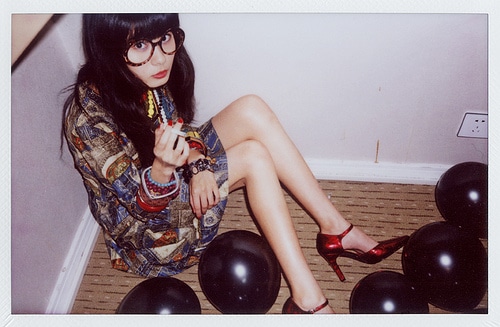 When it comes to getting dressed for casual occasions, most of us slip into whatever is both cute and comfortable. We don't tend to worry so much about what will flatter our hips or waist the best because, for the most part, no one really scrutinizes that sort of thing during 8am calculus. But come time for a dinner out or a party, every college girl wants to look her best.
One of the key elements of looking fun and fierce for a night on the town is to keep your body type in mind. Just because a dress looks amazing on your roommate doesn't mean it will look so hot on you. So, I've pulled together some basic going out looks sure to flatter five basic body shapes. Keep in mind that these rules apply whether you're a size 2 or a size 12 – it's all about flattering your body's proportions, no matter your measurements.
Night Out Outfit for Pear Body Shape
The "pear" or "inverted triangle" body shape is generally smaller on top and wide at the hips. The most flattering look for this body shape is a high waisted a-line skirt that accentuates a small waist and slightly flares out from the hips. A form-fitting top with an interesting neckline or ruffle helps bring the eye up and balance the body's proportions. Finish off the look with a classic pair of pointed toe pumps that lengthen the look of the entire lower body.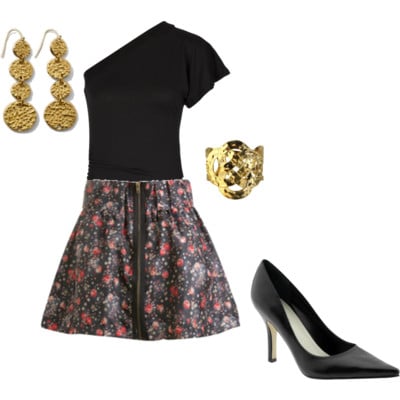 Product Information: Top- Splendid, Skirt- Arden B., Heels- Nine West, Earrings- Chico's, Bracelet- Forever 21
Night Out Outfit for Apple Body Shape
Whether you were born with a fuller mid-section or you've just developed one thanks to late night snacking in college, you're an apple shape if you carry weight around your middle. While some might say this body type is difficult to dress, figure-flattery is easy thanks to this season's cornucopia of flowy tunics. Steer clear of any tunics with an elastic banding at the bottom, though, as this can create an odd bubble effect. Make sure to pair loose tops with a pair of skinny jeans, to play up your fabulous legs and balance out the volume up-top.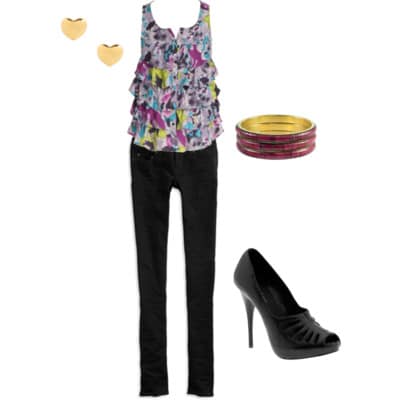 Product Information: Top- BB Dakota, Jeans- American Eagle, Heels- Michael Antonio, Earrings- ASOS, Bangles- Buckle
Night Out Outfit for Ruler Body Shape
If you're built like a supermodel with few curves to speak of, you can pretty much pull off anything. That said, if you want to create more of an hourglass shape, that's possible with a bit of strategic dressing. One of the best ways to show off a straight figure and long legs is with a tight tank dress, capitalizing on this season's bandage dress trend. Make your look pop with brightly colored high heels and trendy accessories.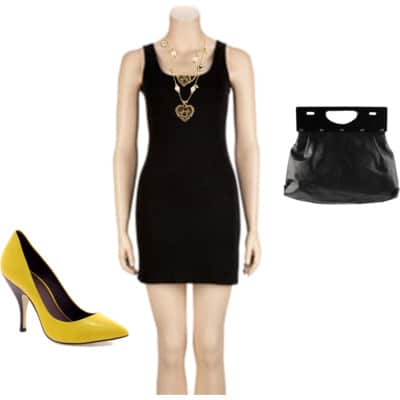 Product Information: Dress- FULL TILT, Heels- KG by Kurt Geiger, Necklace- Betsey Johnson, Purse- Forever 21
Night Out Outfit for Busty Body Shape
If you are blessed with plenty of natural cleavage, you're probably used to walking the fine line between looking matronly and falling out of your shirt. A moderately low-cut top that is neither too tight nor too loose is your best bet for a flattering night out look. You'll look balanced and chic, and your body won't appear to have been swallowed up by your upper half. A pair of slightly flared jeans with simple heels keeps your look balanced.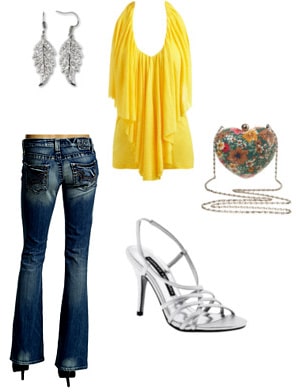 Product Information: Top- Arden B., Jeans- Big Star, Heels- Chinese Laundry, Earrings- Fantasy Jewelry Box, Purse- Miss Selfridge
Night Out Outfit for Hourglass Body Shape
Like the ruler straight girls, you hourglass shaped ladies can get away with wearing almost anything. However, with such a feminine figure, you don't want to go overly sexy with your wardrobe choices. Choosing a dress that is both soft and structured is a great way to go. A bright clutch, sky high heels, and a trendy oversized cocktail ring can help take some of the focus off your figure without detracting from your overall look.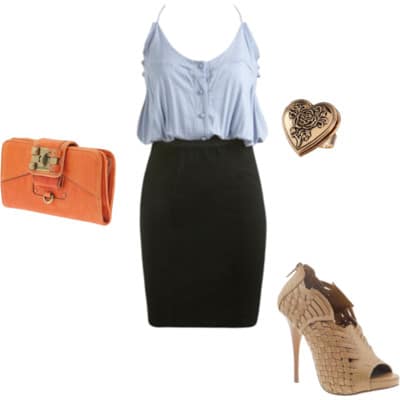 Product Information: Dress- Arden B., Heels- Michael Antonio, Clutch- Juicy Couture, Ring- Topshop
More Fashion for Different Body Shapes
We've covered fashion for your body shape in depth here on CF. Here are some other articles with more information:
What's your take?
Do you think about your body shape when getting dressed for a night out? Are you more likely to accentuate your features or try to tone them down? Are you somewhere in between the five body types I mentioned? If so, how do you dress for that? Leave a comment and tell me.