This post may contain affiliate links, which means we may receive a commission if you purchase through our links. Please
read our full disclosure here
.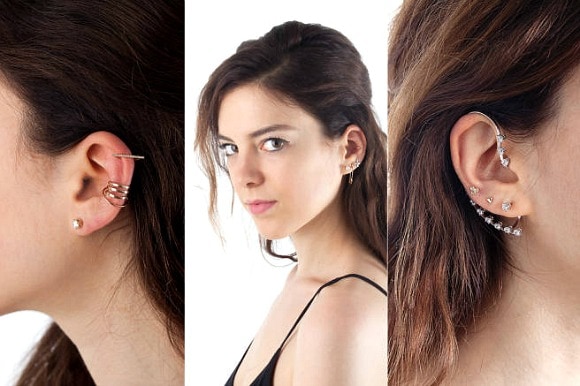 Photo Credit: ELLE
In many ways, great fashion is all about the details. I've said it before and I'll say it again – little personal touches make you love your outfit even more and add a really special dynamic to it.
One way that I see girls adding interest to their everyday looks is by having multiple ear piercings and a really cool array of earrings. I only have one additional piercing, in my earlobe, not in the cartilage, but that still gives me plenty to play with (I talked about this briefly in my article on fashion jewelry). While I usually just keep my extra stud constant, every once and a while I switch it up to complement my outfit. It's a fun, easy detail to add.
You see great outfit sets on CF all the time, so here are some outfit sets for your ears! Below are five awesome earring pairings to get you inspired, and suggestions for the kinds of looks with which they'd work well. Plus, if you really love the earrings here, your wallet has nothing to fear – each pair is under $20!
1. With an Edgy Formal Look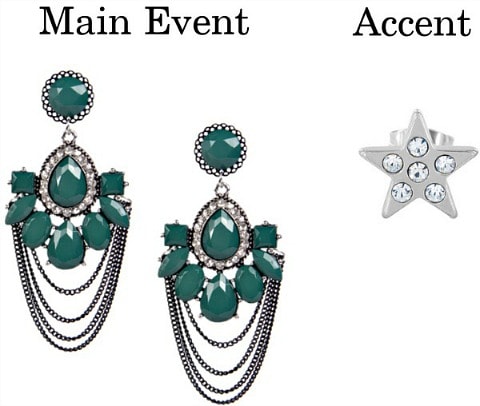 Product Info: Statement Earrings–Boohoo, Star Earring–Overstock.
If you ask me, there's no such thing as too much sparkle. When you're all glammed up in your favorite LBD or a funky jumpsuit, statement earrings are a must. If you have a second ear piercing, you don't want anything to steal the spotlight from them – but that doesn't mean there can't be rhinestones involved.
Look for a stud in a metal that matches or complements (I always mix gunmetal with silver) your main earrings. Make it a cute, edgy shape, like a star or a pyramid stud, and make sure it's sparkly. It will catch the light under your messy updo and all eyes will be on your gorgeous face.
2. With a Feminine Formal Look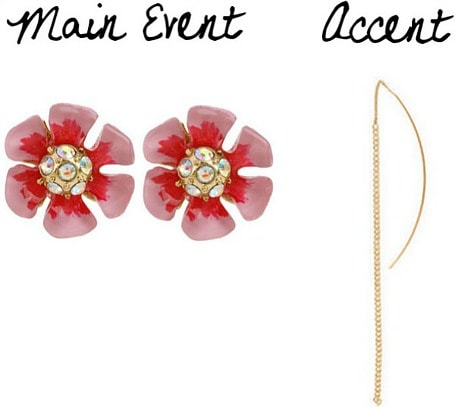 Product Info: Flower Studs–Betsey Johnson, Chain Earring–Forever 21.
Your outfit's more tulle than tough, you say? Well then, add a delicate edge with a thin chain dangling from your extra piercing. Choose some big, colorful studs to pair it with (you can absolutely rock a chain with dangle earrings, but it's a much edgier look) and let it be a subtle statement.
I was out to dinner a while back and saw a girl totally rocking this look – it is bold but very on-trend. This pairing is also a cool, slightly less editorial take on the one-earring look seen on the fall runways.
3. With a Bright Outfit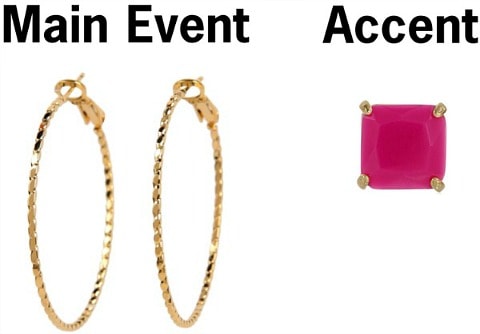 Product Info: Hoops–Lori's Shoes, Stud–Amazon.
This is such a fun everyday pairing. A bright stud in a color that matches your outfit is a playful touch that pulls the look together, and when paired with simple metal hoops, it won't be overly matchy. This look is especially great when rocking a colorful print; it's funky but not over-the-top.
Depending on the size of the stud, I'd probably pass on a statement necklace. Instead, layer a few bracelets or wear a more delicate necklace. Like a sparkly earring, the bright color will draw attention to your face.
4. On a Jeans Day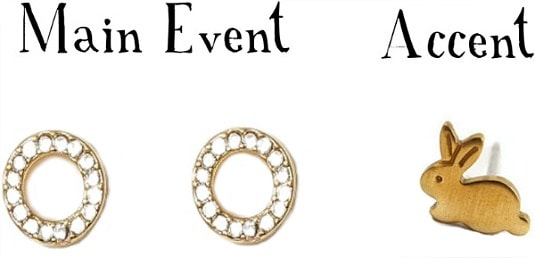 Product Info: Circle Studs–Charming Charlie, Bunny Stud–Etsy.
As much as I obsess over statement jewelry, sometimes the delicate pieces are the most beautiful. A complementary pairing of studs in the same metal but different shapes is simple, yet adds interest and dimension to a casual look. The earrings can completely match in color or one can have a little sparkle, like the pairing above. Try it with your favorite button-down and jeans for an effortlessly pretty look.
For extra piercings, I really like quirky-shaped studs. Look for ones that look like animals (like this cute bunny), hearts, stars, or anything beyond basic circles and squares. If you are going to wear the same extra stud for a while, choose one that nods to your personality. My go-to is a little silver mouse!
5. With a Floral Dress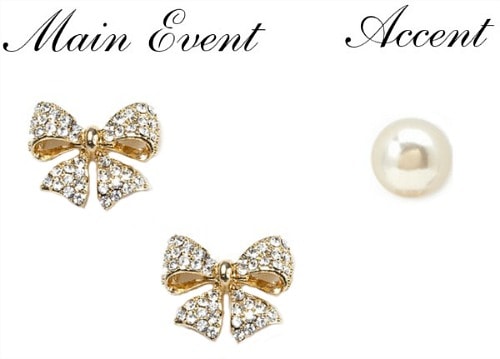 Product Info: Bow Studs–Claire's, Pearl Stud–Forever 21.
For a romantic, super-girly look, I love a little pearl stud in an extra piercing – it's an edgy and modern way to wear what may be the most classic of all earrings. The pearl will play well with sparkly bows and the combo is the perfect accent to your favorite floral dress or cardigan and skirt look.
When mixing studs, pearl or otherwise, make sure the stud in your extra piercing is smaller than the matching studs you're wearing – it looks disproportionate and off otherwise, and will steal attention from, rather than highlight, your face.
What Do You Think?
Do you have an extra piercing? If so, how do you use it? Do you like the look of mixed earrings? Any cool pairings you'd like to suggest? Let me know in the comments!