This post may contain affiliate links, which means we may receive a commission if you purchase through our links. Please
read our full disclosure here
.
School's out for summer! Well, almost. For many of you, classes are finishing up, and you're most likely getting excited for the sweet, sweet freedom that summer promises.
Whether you plan on staying home this summer or have grand vacation plans, these outfits are sure to cure any case of wanderlust. For those of you that are still stuck in finals mode, hopefully these fashion ideas will provide you with a dose of inspiration to pull you through all that stressful studying and paper writing. (You can do it!)
Scroll down to see five chic looks inspired by five different vacation destinations:
European Adventures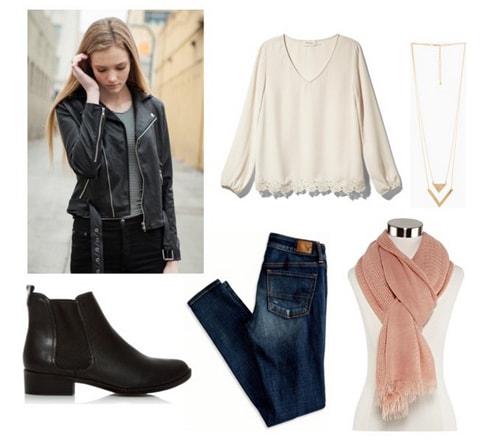 Jacket, Blouse, Boots, Jeans, Scarf, Necklace
Depending on when you are traveling to Europe, the seasons vary slightly from what we are used to in the United States. The weather is considerably cooler during spring and summer, so the key is to layer, layer, layer! Many Europeans are clothing conscious, so it's also important to dress to impress.
Try pairing a neutral-colored blouse with a pair of dark wash jeans. Grab a pair of comfortable yet practical black ankle boots, then accessorize with a versatile scarf and a simple gold necklace. Finish off the outfit with a black leather jacket that will keep you warm – even when it's windy or rainy.
Setting Sail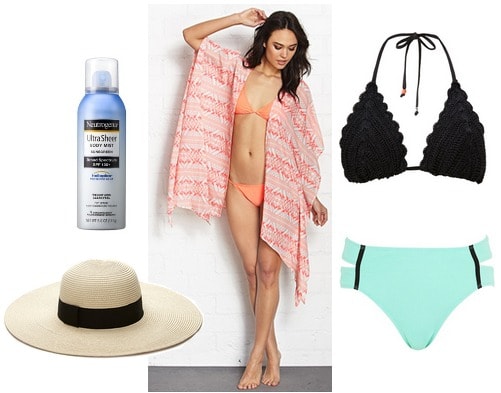 Kimono Coverup, Hat, Swimsuit Top, Swimsuit Bottom, Sunscreen
If you're one of those people lucky enough to be setting sail on a cruise this summer, then prepare to be lounging around in your swimsuit almost 24/7. Try wearing a neutral swimsuit top that you can mix-and-match with various bottoms – that way you'll never get bored with your swimsuits!
Cover up with a printed kimono that you can wear while walking around the ship in-between your pool time, then complete the look with a wide-brimmed hat. Don't forget to wear your sunscreen! This Neutrogena sunscreen is one of my favorites because it has a high SPF and is easy to apply.
New York, New York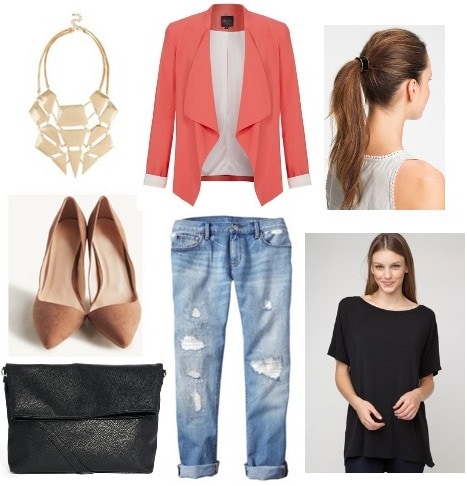 Blazer, Necklace, Hairclip, Shoes, Bag, Jeans, Shirt
New York City fashion is all about combining edge with style. To achieve a casual yet put-together look, try pairing a black tee (black never goes out of style in NYC!) with a brightly-colored blazer and boyfriend jeans.
Choose sleek accessories, like a black cross-body bag and a geometric gold necklace to edge out the ensemble. Sweep your hair into a sleek ponytail, slip on neutral pumps, and you'll be ready to jet set in the Big Apple!
The Sunshine State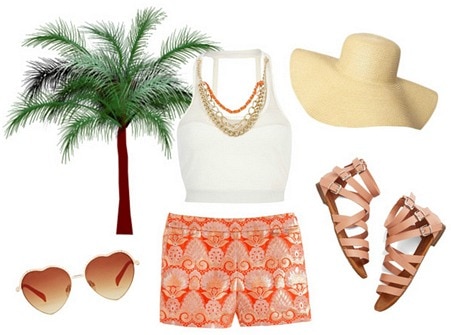 Crop Top, Hat, Shorts, Sunglasses, Sandals, Palm Tree Clipart
As a native of the Sunshine State, I'm no stranger to the laid-back summery style that is common here in Florida. Not sure what to wear in Florida? If you plan to hit up all the sun, fun, and palm trees that Florida has to offer, then try pairing a crop top with printed shorts. The combination is super-trendy, but will also keep you cool in the humid climate.
Grab a straw sun hat to keep the harsh sun away from your face, and accessorize with a quirky pair of sunglasses that are guaranteed to make you feel like a kid again. Keep it casual with a pair of delicate strappy sandals, and get ready to enjoy all that Florida has to offer.
West Coast Dreaming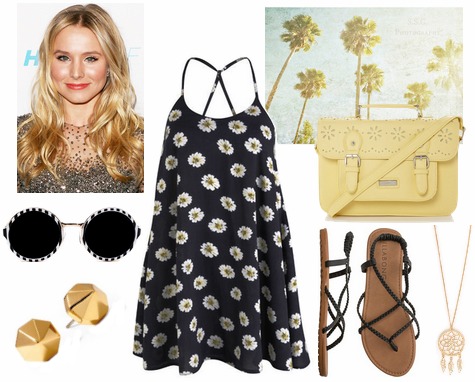 Dress, Bag, Sandals, Earrings, Necklace, Sunglasses, Palm Tree Art | Hair Photo: ELLE
West Coast style is focused on achieving that effortlessly cool vibe. Whether you'll be visiting SoCal or NorCal, try wearing a trendy daisy print sundress with a bright yellow bag that offers the perfect pop of color.
Accessorize with casual sandals, a pair of statement-making sunglasses, a boho necklace, and edgy gold stud earrings. To complete your easygoing Cali-inspired ensemble, wear your hair in beachy tousled waves.
What Do You Think?
Where will your adventures take you this summer? Which of these outfits is your fave? Let us know and sound off in the comments!