This post may contain affiliate links, which means we may receive a commission if you purchase through our links. Please
read our full disclosure here
.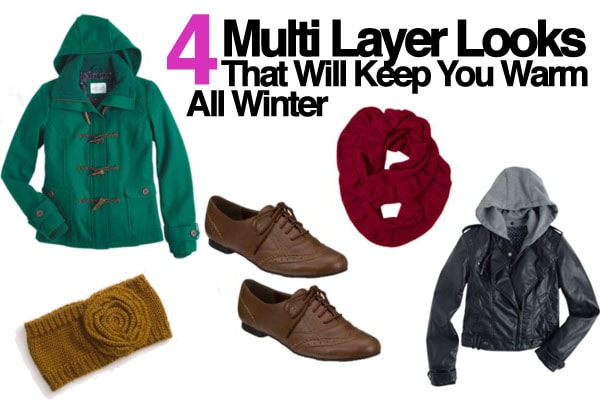 I don't know about you, but of all the seasons, I love winter fashion the most. Winter is a fantastic time to express yourself with fashion as you can wear more of everything; be it hats, scarves, cardigans – you name it, there's more of it. We're talking prime layering time here – colors, patterns, silhouettes – the fun never stops!
That said, I'll admit to being a little rusty when it comes to knowing what to wear when facing the elements. Which is why I'm writing this post. It's an effort to remind myself how to stay stylish AND warm using multiple layers. Want to see the winter looks I came up with? Read on!
Hello Sunshine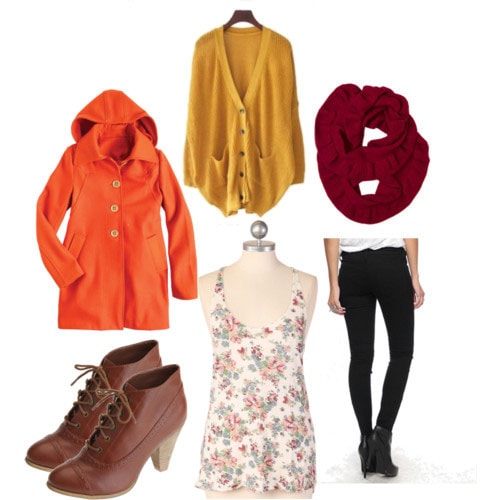 (Products: Jacket, Cardigan, Scarf, Top, Shoes, Jeans)
Sometimes when I'm on campus in the winter, I feel like I'm stuck in a sea of drab, surrounded by plain black pea coats everywhere. I'm all for black trench coats – they're a fall staple after all – but sometimes it's just nice to see some color out there, you know?
As such, for my first outfit, I pulled a bright orange coat and paired it with yellows, reds and browns. I love the big yellow cardigan – it will keep you warm while still looking sunny. Additionally, I picked out a pretty floral tank top that keeps the look vintage-y and looks great with the adorable lace up booties I found. Throw this on and not only will you smile, but so will everyone who sees you!
Preppy and Proper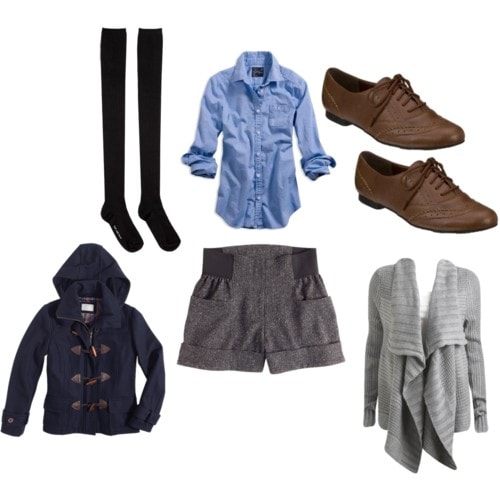 (Socks, Shirt, Shoes, Shorts, Jacket, Cardigan)
This look is for all you preps! If you love your oxford shirts and shoes, throw them on with a pair of cute gray shorts like the pair I picked out and then just pull on some knee socks. Next, all that's left to add is a cozy cardigan like the one I chose (great for layering!) and a cute toggle coat. Then all you'll need for your trek to the library is a warm cup o' joe or hot chocolate to look sweet from head to toe.
Rebel Yell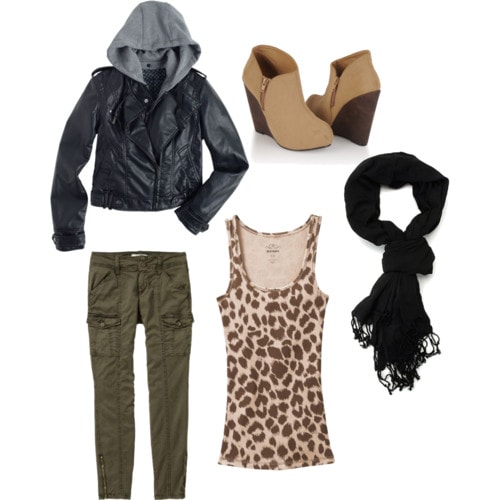 (Jacket, Pants, Heels, Tank, Scarf)
All you rock n' roll-ers will love this outfit as it keeps your edge sharp while your buns stay warm. To get this look, simply start off with a wild graphic tank like the one I chose above and just pair it with some of-the-moment cargo pants like this lovely green skinny pair. Then throw on some cool camel wedges, a scarf, and a deliciously gorgeous leather jacket. Wherever you're off to in the cold, your look will slice through that winter chill and stick it to the man.
Wintermint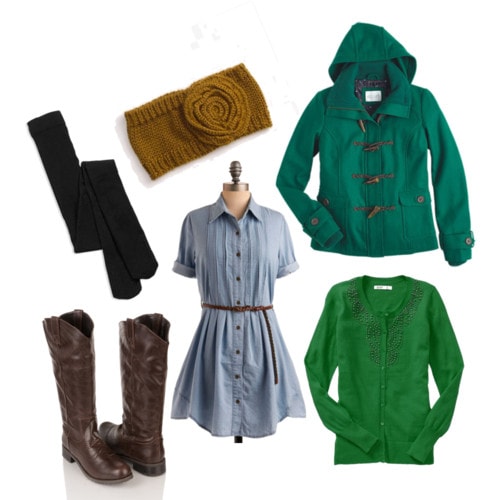 (Tights, Knitted Headband, Jacket, Dress, Boots, Cardigan)
I love dresses, but sometimes I forget that they're multi-seasonal – in fact, they're so easy to throw on, I don't see why more people don't wear them in the winter. Just throw on a cute day dress like this chambray one and throw on some black tights. Pair those tights with some cool boots like the cowboy ones I picked out, and then add a knitted headband t0 keep your noggin both warm and stylish. Finally, slip into a brightly colored cardigan-and-coat combo like the green ones above. Wear this look and you'll turn frostbitten heads everywhere.
Thoughts?
What do you guys think of the looks I put together? What are you going to be wearing this winter? What's your favorite layerable staple? Whatever your thoughts, let me know in the comments!