This post may contain affiliate links, which means we may receive a commission if you purchase through our links. Please
read our full disclosure here
.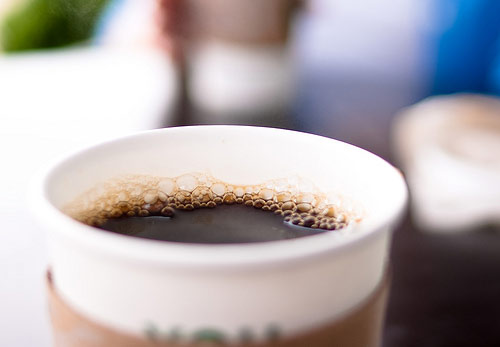 Last week's post on last-minute outfits for busy mornings was so popular, I thought I'd write a sequel!
We've all been there — maybe you spent a little too long perfecting that Denver omelet you were making yourself. Maybe you forgot about a homework assignment and had to work the morning shift to pull it off. Perhaps you watched one too many episodes of Ally McBeal on Netflix before class. (Ladies, this one I'm never guilty of, NEVER!) Whatever the reason, you've got ten minutes to make it to that class, and you'd like to do so without looking like a hot mess. What's a girl to do?
Below, I've put together 4 stylish outfits (and a few beauty tricks, too!) that you can refer to next time you're on a time crunch. Bookmark this post and thank me later!
1. T-Shirt + Cardigan + Hairband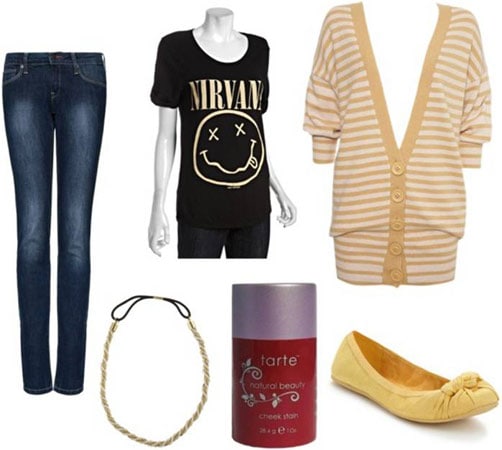 Jeans, Tee, Hairband, Cheek Stain, Shoes, Cardigan
Here at CF, we love t-shirts and are always looking for clever ways to style them. One easy but polished way to rock the tee you slept in the night before is to pair it with skinny jeans and a trusty cardigan. Add a matching pair of flats, and you have a simple outfit to wear for the day.
For your hair, slip on a hippie headband — these actually look really good with slightly unkempt hair, so don't worry about spending extra minutes de-tangling. Finish getting ready by dabbing cheek stain across your cheeks and over your lips – it will give you a natural rosy glow, but take close to no time at all.
2. White Dress Shirt + Colored Pants + Headband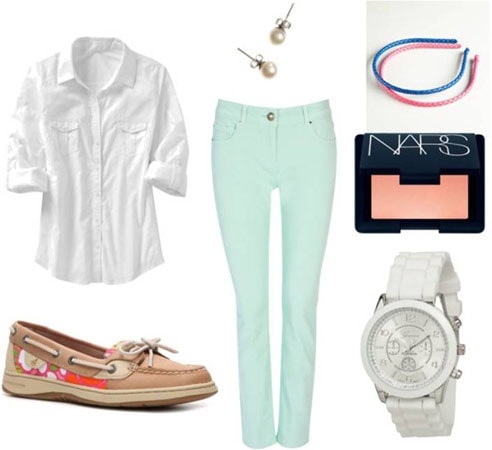 Shirt, Shoes, Pants, Earrings, Headbands, Blush, Watch
Distract from tired eyes with a crisp white t-shirt and a pair of trendy pastel jeans! The great thing about a white button-up shirt is that it can work for both casual and dressy situations. Add a pair of boat shoes, pearl studs, and a simple menswear watch for a classy, timeless look. Colorful jeans will give your outfit an unexpected twist, and look more exciting than a regular jeans and blouse combo.
On the beauty side, slip on one or two thin headbands to disguise unwashed hair. With an outfit as simple as this, all you'll need is a quick peachy sheen over your cheeks to complete your look.
3. Dress + Boots + Scarf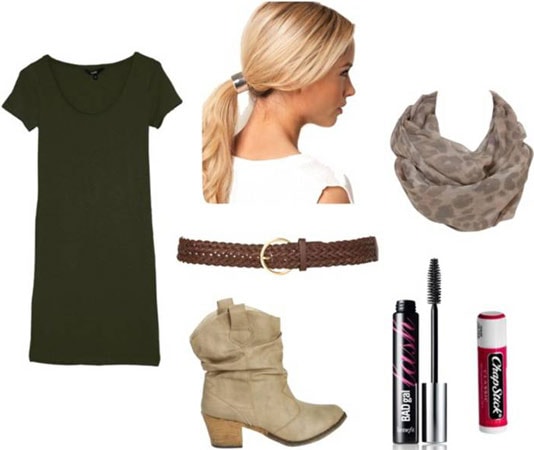 Dress, Boots, Belt, Scarf, Mascara
There's nothing more comfortable than a t-shirt dress. Keep it from looking shapeless by cinching the waist with a belt. Just throw on some casual boots and a springtime scarf, and your outfit is complete!
A simple beauty trick when you're in a rush is to go for sleek hair and dark eyelashes. Brush your hair into a low ponytail (bonus points if you use a cute clip or have time to tease your crown). Swipe on some cherry Chapstick, and uses a super thickening mascara, like the one pictured – it will give your eyelashes tons of body and color with just a few sweeps!
4. Dress + Denim Jacket + Turband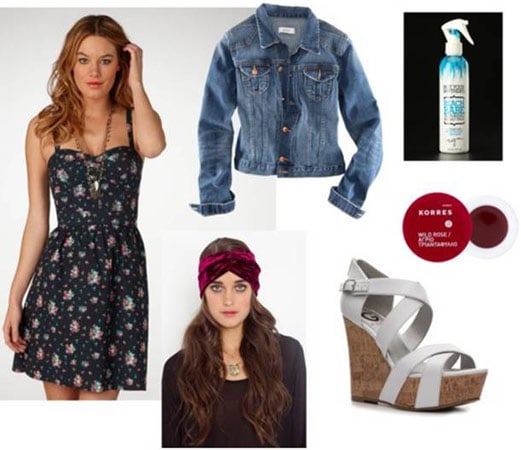 Dress, Turband, Jacket, Shoes, Lip Tint, Salt Spray
Dresses are awesome for days when you're in a rush – you don't have to worry about matching anything, and you can literally pull one on and go! If it's still chilly outside where you live, slip on a classic denim jacket. Throw on a pair of wedges if you're feeling fancy, or swap them out for ballet flats if you have to do a lot of walking.
For your hair, I LOVE turbands — they're trendy, but not too overwhelming to wear on campus. Plus, they're awesome at covering up greasy roots. The other great thing about turbands? They actually look better on hair that has some texture — so squirt on a little salt spray and go with what your hair wants to do naturally! Finish off with some balmy lip tint — I use the kind pictured above, and I must go through a pot a month because I always seem to be running out!
What Do You Think?
What do you put on when you're in a rush? What makes you late for class most often? Do you have a go-to outfit for days when you can't pick anything out? What other sticky fashion problems to do you run into from time to time? Leave a comment and let us know what's on your mind!