This post may contain affiliate links, which means we may receive a commission if you purchase through our links. Please
read our full disclosure here
.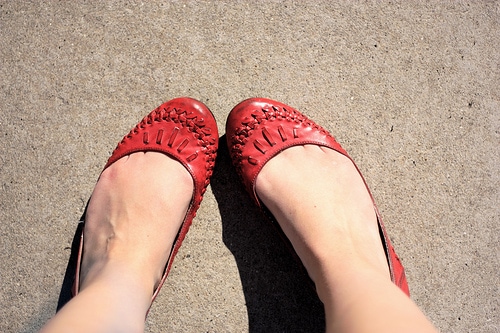 Summer is here, and instead of spending most of our days at home or on campus, many of us are working 10 hours a day at a desk! I'm currently interning at a very large and well-known investment banking and financial services firm. Every day we must dress business-appropriate, and finding ways to express my personal style has been tough!
After about a month of observing my co-workers and a little experimenting, I've identified four ways to spruce up your business attire while still looking conservative and professional.
1. Wear a Colorful Skirt.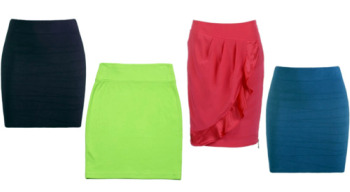 Skirts: purple, lime green, pink, blue
A bandage or pencil skirt in a fun color is a great way to bring energy into a business outfit. In my opinion, a colorful skirt is much easier to pull off than a colorful blazer–a bright jacket made with an office-appropriate fabric could come off like a costume from the '80s if you're not careful! Pair a bright skirt with a black or white top and neutral shoes to ensure the outfit stays balanced.
2. Accessorize with a Statement Necklace.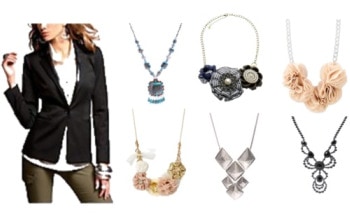 Necklaces: (starting from the top left) 1, 2, 3, 4, 5, 6
Rings can get uncomfortable when you're typing for long periods of time, and if you're shaking hands with upper management, jangling bangles could come off as distracting or unprofessional. Therefore, the best piece of jewelry to show off your style at work is a statement necklace!
Statement necklaces come in every color, length, and price range under the sun, so your options are endless. If you only have a couple suits and a few dress shirts, the necklace you layer on can completely change the feel of your outfit!
3. Get Creative with your Footwear.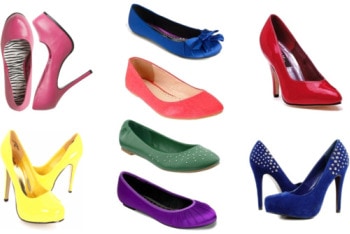 Shoes: pink pumps, yellow pumps, blue flats, pink flats, green flats, purple flats, red pumps, blue pumps
At the firm I've been interning for, we're allowed to wear either heels or flats, but they must be close-toed. Investing in a classic pair of black heels as well as a pair of nude heels is important; splurge on these items, as they can go with almost anything in your closet.
However, if you take a basic black suit and pair it with an unexpected pop of color–WOW! I like to think that a girl's shoes gives insight into their "sole" (sorry, I had to!); wearing bright shoes with an otherwise-conservative business outfit lets people know that behind your professional demeanor lies a vibrant personality!
4. Add a Brooch or Lapel Pin.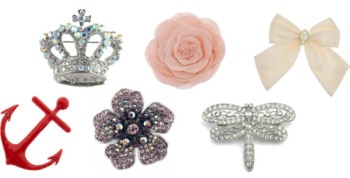 Pins: (from the top left) 1, 2, 3, 4, 5, 6
A great way to add a subtle hint of your personality into a professional outfit is by adding a brooch to your lapel! Like the other accessories I've suggested, these are great because they come in every style, size, and price range. Another cool thing: do you have a post earring that you love but have lost its mate? Trim the back and turn it into a lapel pin!
What do you think?
Are you interning anywhere this summer? What kind of dress code do you have to follow? How do you let your personal style shine through? I'd love to hear your thoughts on balancing femininity and staying professional, comfort and looking great, and any other work wardrobe tips or thoughts you have!!