This post may contain affiliate links, which means we may receive a commission if you purchase through our links. Please
read our full disclosure here
.
Happy New Year, CF readers! To start this year off right, I've come up with four fabulous fashion and style-related resolutions for the new year. Scroll on down to check 'em out:
1. Purge and organize your wardrobe.
This is always a popular resolution, but for a good reason: having a clutter-free closet not only looks good, but makes getting dressed in the mornings a lot less stressful.
Start by getting rid everything that you don't need or haven't worn in over a year. This means parting with outdated trends, worn out items or pieces that no longer fit. Donate or sell the gently-used pieces and toss anything that's beyond repair.
Once your closet is organized, keep it that way. Hang clothes back up, fold items neatly and always put your shoes back where they belong. If you take a few minutes every day to maintain it, your closet shouldn't get disorganized again.
If you need some help or advice before you start clearing out your closet, be sure to check out our past articles on wardrobe organization:
2. Discover your signature style.
This one's a little bit tougher, but this year, try to develop your signature style. A signature style could be defined by a piece of jewelry, a style of clothing or a specific kind item you always wear, like T. Swift's sequined dresses.
To find your signature style, think about what you like to wear or what kind of pieces your drawn to. Do you always wear dresses? Love your Converse? Like to pile on costume jewelry? Once you have an idea of what you're attracted to, try making a style pinboard or binder for more inspiration and to further define your aesthetic.
For more on developing your signature style, see:
3. Challenge yourself, style-wise.
Depending on your lifestyle, this resolution is open to interpretation, but the basic premise is to go outside your comfort zone when it comes to fashion. Check out these ideas below, or make up your own!
If you wear jeans 24/7, try swapping out your beloved denim 2 or 3 days a week for skirts or dresses.
You can banish certain items from your wardrobe, like rubber flip flops or hoodies.
Brush aside those silly rules about what you "can and can't" wear and wear what you want, however you want to.
Have you been wanting to start a fashion blog but never got around to it? Go to WordPress, Blogger or Tumblr and make one. Now!
Tackle a style challenge, like the 30 for 30 Remix (pictured above) or one of our other favorites.
4. Don't be afraid to splurge every now and then!
I used to be quite the tightwad when it came to frivolous purchases, but lately I've realized that it's absolutely okay to splurge once in a while. As Tom Haverford from Parks and Recreation would say, treat yo' self.
This year, celebrate acing your finals, scoring your dream internship or another special occasion by splurging on an item (or two!) that you've been coveting. Depending on your financial situation, a splurge could be $20 or $500, but whatever the budget, just remember to buy something that you'll actually wear!
To get the creative juices flowing, here are three items I'd love to treat myself to this year: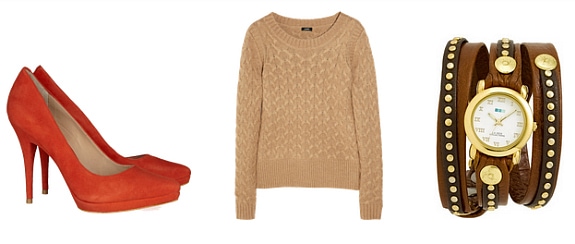 Pour la Victoire Suede Pumps, J. Crew Cable Knit Sweater, La Mer Leather Wrap Watch
What do you think?
What are some of your fashion resolutions for the year? What do you think of these resolutions? Will you be trying any of them out? As always, remember to leave a comment below and share your thoughts!