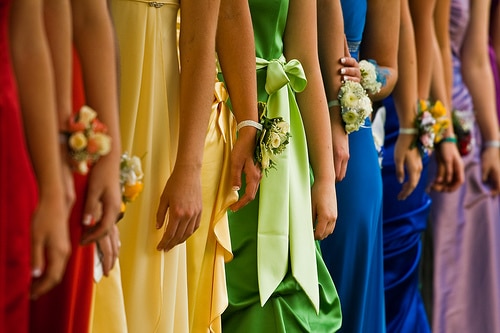 Spring is definitely the season for formal events in college. Whether you're invited to a sorority or fraternity's formal, a wedding, an awards ceremony, or a fund-raising event, it's likely that you'll be asked to dress up in something fancier than what you'd wear on a typical Saturday night. That said, you'll still want to look stylish and have fun with your look. So, what to wear?
Below, I've found four adorable dresses that would be perfect for a spring formal event. While longer gowns may be more traditional, since it's spring, I've decided to feature shorter formal dresses instead, to let you show some leg for the first time in months. (Yay!)
Keep in mind, however (for readers still in high school – we see you!) that these aren't prom dresses. Although it's totally cool to wear a shorter dress to prom, many might feel that they want to wear a longer evening dress to the event, so these dresses may not be appropriate! Instead, let them act as inspiration.
Outfit 1: Beaded Babe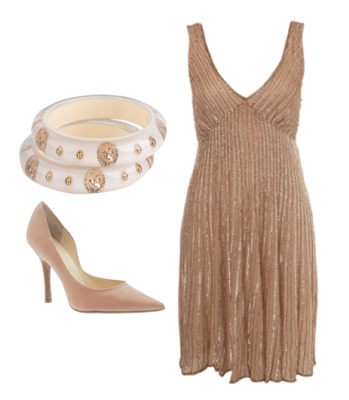 Dress – Miss Selfridge, Shoes – Piperlime, Bangles – Forever21
If you follow my posts, you already know that I'm a huge fan of the nude trend. I love how simple yet classy it always appears, especially if you're wearing a garment that contrasts just enough from your skin tone. This dress is so elegant, and the detailing is gorgeous, so I wanted to keep the shoes and accessories simple. The nude heels will make your legs look a mile long, while these bangles from Forever 21 are not only perfect, but they're cheap too!
Outfit 2: Techno-Tribal Girl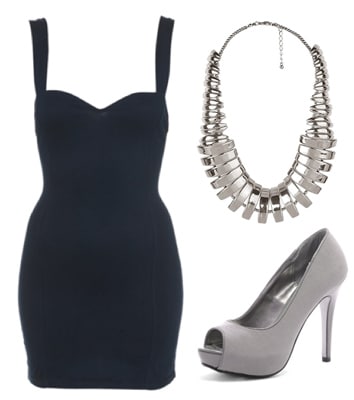 Dress – Topshop, Shoes – Dorothy Perkins, Necklace – Forever21
This navy dress is very simple, but with the addition of a fabulous necklace from Forever 21, you can immediately channel the techno-tribal vibe that we've seeing everywhere in fashion lately. To finish things off, the shoes add a feminine touch to this body-hugging dress.
Outfit 3: Bold Bandage Dress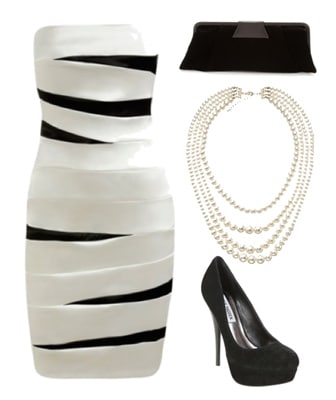 Dress – Arden B., Clutch – Loris Shoes, Necklace – Monsoon, Shoes – Steve Madden
This bandage-style dress is so sexy, but still chic at the same time. It's slightly longer than the rest of the dresses featured, but it's a body con, which is an eye-catching trendy look right now. The black and white combo is both classic and trendy for the season. Finally, the pearls and simple clutch add a classy touch to a more eye-catching look.
Outfit 4: Sequined and Sexy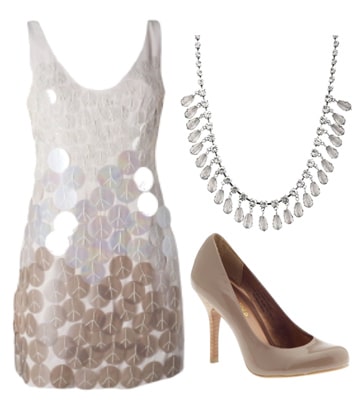 Dress – Madaboochoo, Necklace – Urban Outfitters, Shoes – Piperlime
This sequined number is one of the coolest dresses I've ever seen. I'm a sucker for sparkle as it is, but the peace sign details on these sequins (look closely) made me fall in love with the dress. The peace sign detail is subtle, so the dress doesn't look like an expensive Halloween costume, but instead looks like an intricate work of art. The necklace is a relatively inexpensive way to add even more elegance to this fabulous outfit, while the nude heels lengthen your legs without detracting from the look.
What do you think?
Do you have any formal events coming up? What are you planning to wear? Would you consider wearing any of these dresses to the event? How are you planning to accessorize? Let us know in a comment!