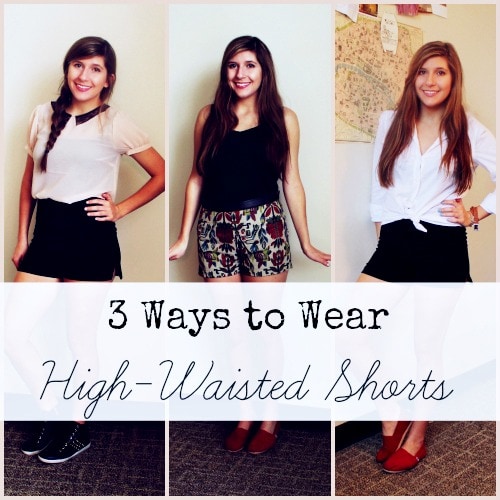 After what felt like the eternal frozen winter (thanks Elsa), summer is here, and that means it's time to break out the shorts. When it comes to shorts, I like 'em better when they're (high) waisted. That is a reference to Tiesto's song "Wasted" featuring Matthew Koma, which is actually a love song about high-waisted shorts.
Below, I'll share three of my favorite ways to wear high-waisted shorts. Scroll down to see 'em all:
1. Sheerly Romantic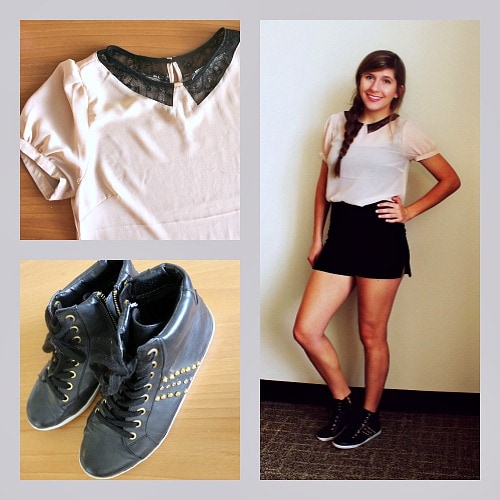 Sheer shirts are better than sliced bread. They're not skin-tight, and they're thin enough that you can walk to class without turning into a gross sweat-puddle. We've all been there. It's not fun.
This particular peachy-nude blouse features puffy sleeves, so I can pretend I'm a princess. The black lace collar-esque trim around the neckline makes this shirt even cuter, and ties in with the black high-waisted shorts. To keep from going overboard with the girly sheer top and side braid, I wore black spiky sneakers. Ka-pow!
I like to call this look princess on the top, punk on the bottom.
2. Neutral Sails to Pattern Island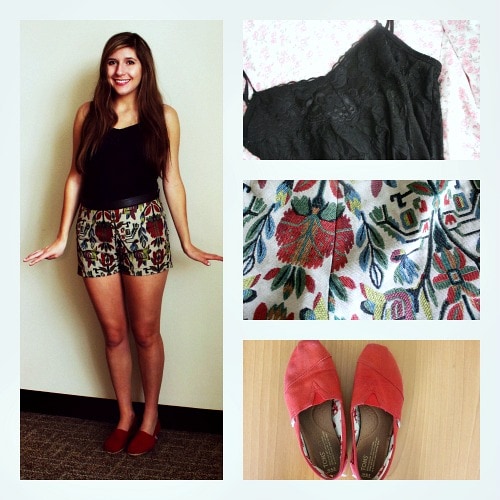 I love wild patterned shorts almost as much as I love sheer tops. My favorite thing to pair with these bad boys is a neutral black tank top. Black tops are foolproof when it comes to matching, spilling, or dog hair.
If your shorts have a smaller, less bold pattern, I think mixing prints would also be super-cute for summer. To keep things casual, I paired this outfit with red TOMS.
3. Off-Duty Waitress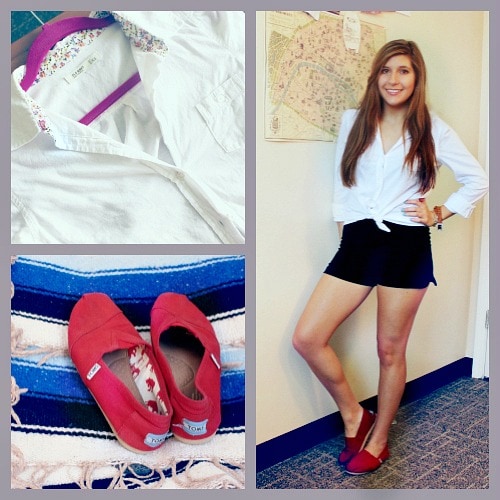 This outfit may look a teensy bit like a waitress from a diner, or a penguin on summer break. However, I wanted to show an outfit that didn't involve tucking your shirt in. I simply tied up the front of a white blouse. I love shirts with ties in the front. Black, white and red are my school colors, but they're also colors I really love wearing.
Again, I went with my trusty TOMS. Shoes like these are the happy medium between beach footwear and casual chic, plus they're perfect for summer!
Your go!
How do you like to rock high-waisted shorts? Are you a crop top girl or a sheer blouse fanatic? Which of these outfits is your favorite? Tell me what you think by leaving a comment!