It's great to be able to wear vintage-inspired pieces all year round – but when it gets close to the holidays, we are all looking for that perfect outfit to wear to a holiday party. That's why vintage-inspired pieces are the perfect solution: they're much more unique than your typical Forever 21 fare, but still totally modern and wearable.
Whether you're getting together with your family or going out with your friends, here are some great vintage-inspired outfit ideas for all your Holiday get-togethers!
Outfit #1: The Classic Dress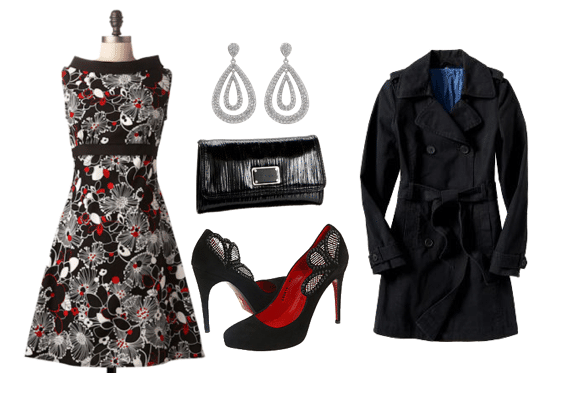 Product Information: Fujita Garden Dress – Modcloth. Steppin' Out Earrings – Zappos. Calvin Klain Patent Clutch – Endless. Cesare Paciotti shoes – Zappos Couture. Trench Coat – Old Navy.
(Note: the Old Navy trench coat is currently out of stock on the Old Navy website. They do, however, have a great selection of similar overcoats and I am keeping my eyes open for when the trench coat comes back in stock!)
When I saw this dress from ModCloth, I fell in love with it – I love all the details. The chic and feminine print, the nipped in waist, the neckline – every part of it is fabulous and I think it would be great for a fancier holiday party. There is something very 1940s about this dress and it would work well for just about any occasion.
That said, for the holidays, I would pair the dress with some simple but chic glittery earrings and some pretty black pumps. For the travel to and from the party, a great trench or overcoat in black is a great pairing to keep you comfy & sophisticated.
Outfit #2: Cute & Comfy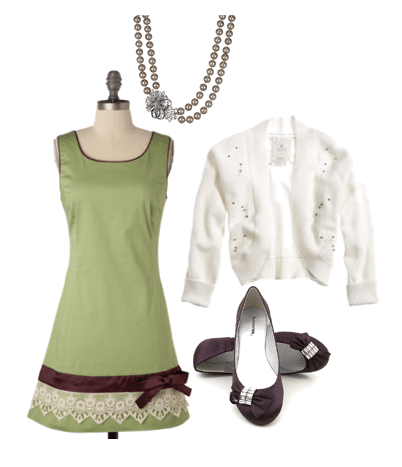 Product Information: Pretty in Peppermint Dress – Modcloth. Pearl & Flower Choker – Oasis. Beaded Shrug – Aerie. Classified Flats – Cutesy Girl.
For a holiday dinner at your friend's apartment or decorating the house with your family, be it for Hanukkah or Christmas, this would be a great outfit.
I love the color of this dress – the lace detail at the bottom creates a lot of visual interest. For warmth and a bit of coverage, I would add a snuggly shrug – this one from aerie is perfect because it has a small amount of beaded detail. Paired with a great necklace and some cute embellished flats, this is a perfect comfortable yet stylish outfit – perfect for your favorite holiday traditions!
Outfit #3: Separates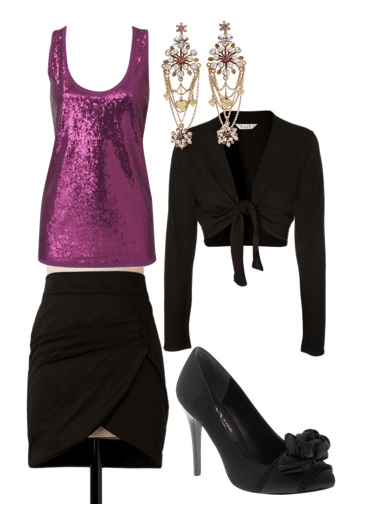 Product Information: Black in Black Skirt – ModCloth. Sequin Vest – Oasis. Multi Chain Earrings by Betsey Johnson – Zappos. Knit Shrug – John Lewis. Nina Zion shoes – Piperlime.
One of my friends mentioned to me the other day that sometimes, when people talk about what to wear for the holidays, they almost always talk about dresses. But that doesn't help her at all because she has a really difficult time finding dresses that fit her correctly! So this outfit is for her.
I love pencil skirts – they are a classic piece that will last you a lifetime. Flattering on every body type, they are appropriate pieces for just about any event: school, going out, parties, work, etc. For this outfit, I chose this pencil skirt from Modcloth because I love the unique details – the slit and the buttons are really cute and add some visual interest. On top, I would tuck this sequined purple top into the pencil skirt. For footwear, a simple pair of black pumps would keep things elegant. For a little visual interest close to the face, I added some earrings. Finally, for warmth, you can always throw on a great shrug like this one from John Lewis or your favorite cardigan.
What do you think?
What do you think of these vintage-inspired outfits? How would you wear these fabulous dresses or separates? Do you like to wear dresses to holiday events, or are you more of a skirt and top kind of girl? Let me know in the comments!