The United Kingdom is known for its bold, daring sense of fashion, and justifiably so. Many trends over the decades originated in England. Punk fashion, Teddy boys and miniskirts all came from the UK, and today, London is still one of the fashion world hotspots.
After moving to the UK from France, I really experienced the difference in fashion in both countries. I realized there was much more freedom than in France, in terms of how people would play with fashion conventions. I noticed this freedom on the street, on my friends, and on other girls on campus. British girls really have no fear when it comes to fashion. They mix and match patterns, fabrics, lengths, styles, and it really shows when they dress for a festive occasion.
Whether they are going on a girl's night out, a concert, or a more formal event, they always look fabulous, and it's really amazing to look at how many styles are out there !
With that in mind, I decided to share with you my 3 favorite UK-based online stores for party dresses, so whether you need a dress for a night out, a date, or a more important event like a graduation ball, I am confident you will find something you love on one of these websites. And don't worry, they all ship to the USA!
1. Miss Selfridge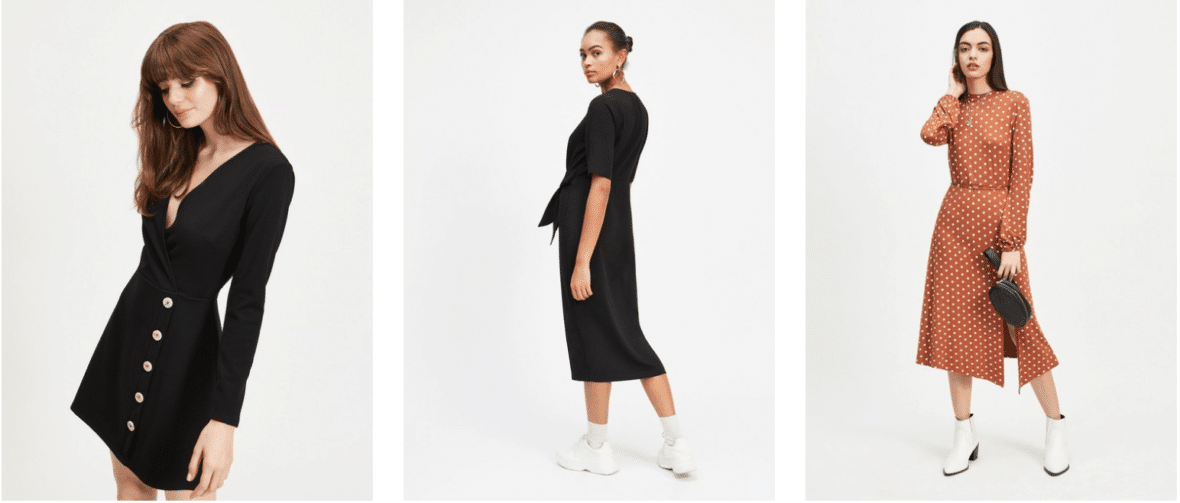 Products L-R: Black mini dress, Black midi dress, Polka dot dress
Miss Selfridge is kinda like the classier, more elegant big sister we'd like to get fashion advice from. Once part of the famous London department store Selfridges, this brand focuses on clothing for younger women, and to me, their pieces really sum up the essence of British style. They have a lot of different styles of dresses, from maxi to mini, and plain to patterned… You name it, they will most likely have it. I would say if you're going for an effortless or casual chic kind of vibe, your best best is Miss Selfridge.
2. Missguided

Products L-R: Rust mini dress, Bandage midi dress, Bandeau midi dress, Slinky midi dress
Missguided is the holy grail of student fashion in Great Britain. Every girl either shops there regularly or knows someone who does. They store many different outfits, and often have amazing sales, so watch out for them. If you're a fashionista on a budget, you will love Missguided, because they will always have a dress in a trendy pattern or color. If you're after a trendy dress that is cheap but that fits well, I would definitely recommend you check them out. If you're looking for something a bit simpler, they also have hundreds of basic dresses.
3. Oh Polly

Products L-R: Purple dress, Ruched dress, Dark red ruched dress, Red dress
Last but not least is Oh Polly. Chances are you've seen Oh Polly's instagram or some of your favorite influencers might be wearing Oh Polly dresses in their posts. Oh Polly quickly grew to be a brand with global influence, thanks to the likes of Kim Kardashian, Hayley Baldwin, and Pia Mia wearing their clothing.
If you're looking for an all glam celebrity-style dress, you will definitely be into their dresses. You don't need to accessorize much to create a very festive outfit, because their dresses are already very bold and attention-grabbing on their own.
They have a crazy amount of styles and colors, in fabrics like suede, silk, latex, denim and more. Another thing I like about Oh Polly is they will often stock different lengths of dresses, so if you love the specific style of a mini dress but would feel more comfortable wearing a midi one, you do have the option.
Do you shop at UK stores online?
What are your favorite UK stores? Do you own a dress from one of these stores already? If not, which store fits your style the most? We'd love to hear your thoughts in the comments section.