Three things are certain in life: death, taxes, and disagreeable weather during Fashion Week. While illustrious fashion editors à la Anna Wintour and golden fashion bloggers à la our very own Zephyr are zipping around the Bryant Park tents, the rest of us fashionistas are sitting at our desks, anticipating the latest image uploads onto Style.com. Luckily for us, the internet updates fast – and we get to escape the dreary weather that has befallen New York City.
At first, the minuscule runway looks sitting upon our computer monitors may look far too unattainable for the average college student. However, after walking around the Columbia University campus for the past two weeks, I've discovered that high-end looks can easily be created on a college student's budget (thank you, my stylish schoolmates!).
Here are three looks straight from the Spring 2010 Ready-to-Wear collections that can be emulated affordably — and worn to class:
Look #1: BCBG Max Azria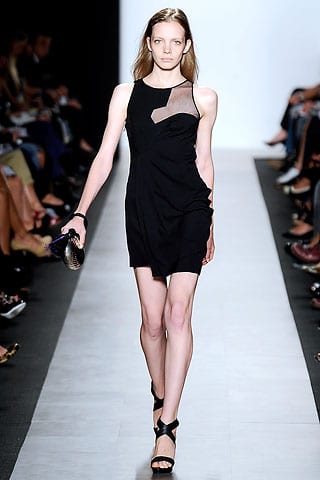 Photo Credit: 1
As always, the eighties vibe is in — but without the flashy embellishments and DayGlo. Consider a revamp of your classic little black dress with daring cutouts, mesh coverups, and slinky silhouettes.
BCBG Max Azria, already the parent company of Hervé Léger, continues its preference for body-conscious shapes this season (see photos of the BCBG Max Azria Spring 2010 RTW collection here). Pair the dress with a metallic clutch and platform heels for a look worthy of a night out. Add a sharp blazer and switch the platforms for oxfords for an edgy look for class. The key to making the cutout mesh dress appropriate for class is to cover up the essentials. Bebe and Guess are selling mesh dresses this season.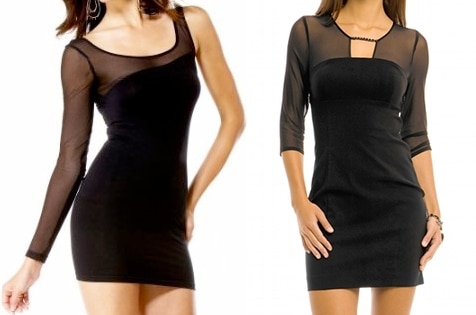 A more daring alternative to the mesh cutout dress is the Nylon Spandex Micro-Mesh Long-Sleeve Mini Dress from American Apparel. Just wear some opaque coverups (a flattering black camisole and a pencil skirt, for example) to make it slightly more school-appropriate!
Look #2: Jason Wu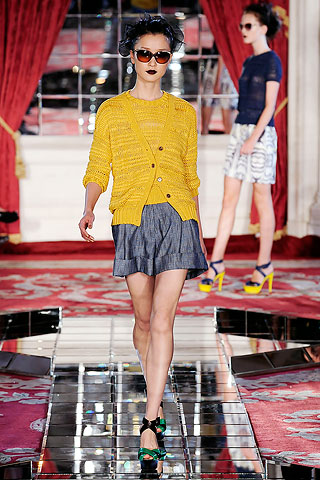 Photo Credit: 1
Sweater sets are no longer just the wardrobe staples of your mother and grandmother! Jason Wu, known for his American sportswear and a well-regarded favorite of Michelle Obama, dives into his quirky side this season with bright knits worthy of any college student's wardrobe.
Knit cardigans and sweaters can be kept young and fresh by veering away from pastels and opting for deep and bright shades and tones instead. Urban Outfitters and Anthrolopologie are selling colorful cardigans and sweaters to spice up your wardrobe.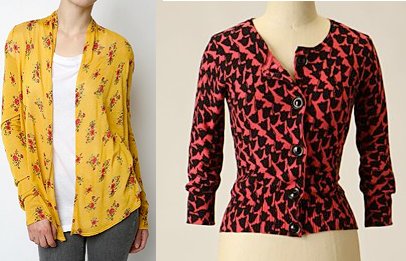 Pair the bright sweater with a dressy pair of shorts and ribboned wedge heels for dapper look for class! Stunna shades are optional.
Look #3: Charlotte Ronson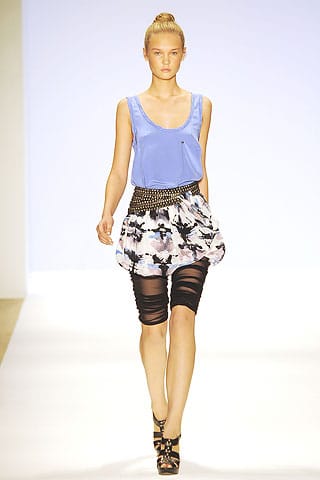 Photo Credit: 1
Combining floral prints with rockin' studs is not a new concept — but it's a great way to combine various trends together.
Taking tips from Charlotte Ronson's show this season, edgy accessories can sharpen a classic pastel floral skirt, while still maintaining an air of femininity. Arden B. and Urban Outfitters currently have a variety of pretty floral print skirts to choose from.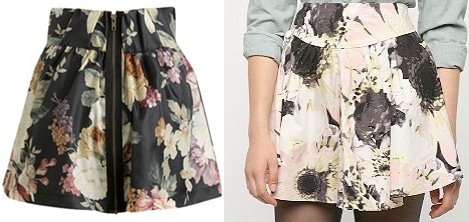 With a look like this, you'll be wearing florals throughout the school year—while recycling your old metal studs and chains.
What do you think?
Though shopping on a college student's budget may prevent you from purchasing pieces straight off the designer collections, you can still look like you walked off the runway—and into the school hallway.
What are some of your favorite Spring 2010 Ready-to-Wear looks so far?