Photo Credit
I'm sure most of you are familiar with Nick at Nite: this block of programming plays reruns of sitcoms that were popular in past decades. While most of us may look to these shows for entertainment, we can also gain fashion inspiration from the main characters.
How is this possible? As our mothers often say, fashion is cyclical. This means that trends that were popular in the past will often resurface in the future. In this post, I will use inspiration from three retro Sitcoms to create looks that are popular today. Don't believe it's possible? Read on…
The Nanny, Fran Fine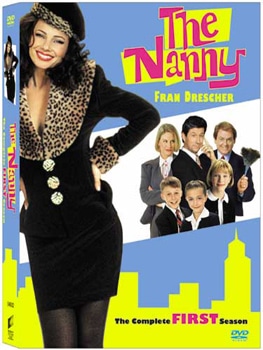 The Nanny was a Sitcom based on a fashionable nanny, Fran Fine, who works for a Broadway producer. The character Fran Fine will be our focus for this outfit.
Fran Fine's costuming incorporates the bodycon trend regularly. Fran wears tight pencil skirts with corresponding blazers in just about every episode. Fran's costumes often include patterned or solid tights and timeless accessories, such as quilted handbags and simple jewelry. Additionally, this character is always wearing heels. These are all aspects we can incorporate into an outfit today: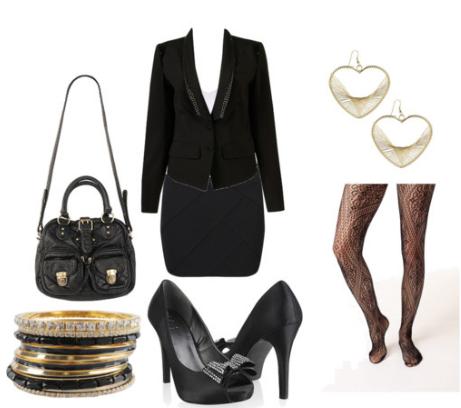 Product Info: Subtle Edge Blazer: Forver21.com. Pleat Seam Skirt: Forever21.com. V-Neck Tee: Forever21.com. Erin Bejewled Pump: Forever21.com. Supple Buckle Shoulder Bag: Forever21.com. Floral Intermix Tights: UrbanOutfitters.com. Wrapped Metal Heart Earrings: Forever21.com. Miranda Mixed Bangle Set: Forever21.com.
The Fresh Prince of Bel Air, Will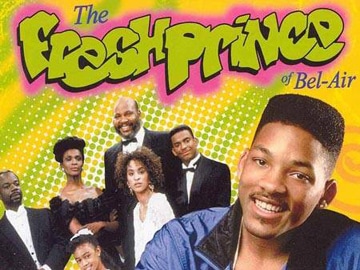 The Fresh Prince of Bel Air is a great sitcom. The main character, Will, was removed from his home in West Philly to live with his rich uncle and aunt in Bel Air. This sitcom follows the mishaps that take place as Will tries to get used to the upscale Bel Air lifestyle, while trying to keep the flavor he acquired during his years in West Philly.
Will's costumes are very early 90s. With neons, bold prints, and mismatched garments,Will's outfits are very similar to those trends that seem to pop up in the spring for those who like to follow the urban chic trend.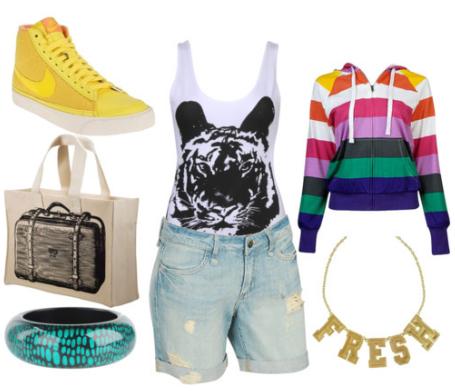 Product Info: Knit Tiger Bodysuit: Forever21.com. Rainbow Striped Athletic Sweater: Forever21.com. Sandy Denim Short: Forever21.com. Nike Mesh Blazer Mid: Urban Outfitters.com. Metallic Reptile Bangle: Forever21.com. Fresh Necklace: Girlprops.com. Baggage Claim Tote: Modcloth.com
Family Matters, Steve Urkel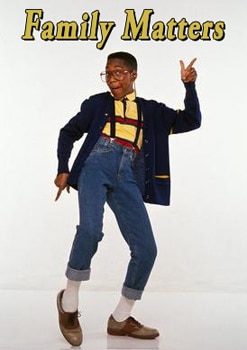 Family Matters is a sitcom that focuses on the life lessons that our families teach us. The character that we'll be focusing on in this section is, of course, Steve Urkel. Steve is the nerdy next door neighbor that visits the family every day, often uninvited. Steve teaches the family about patience and acceptance, as Steve often messes things up and uses the phrase, "Did I do that?" Since Steve is a braniac, he also has the wardrobe to match.
Cardigans, stripes, and oxfords are the staples of Steve's outfits. Steve's costuming is very much in line with the geek-chic trend that is popular now.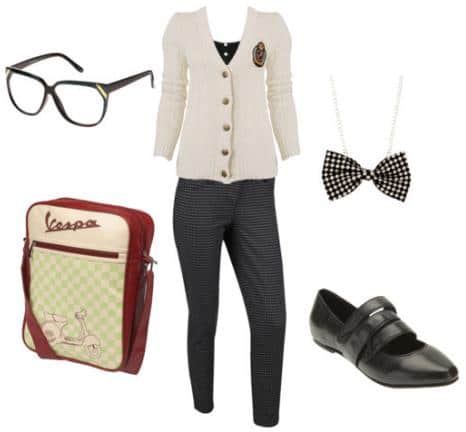 Product Info: Yale Cardigan: Forever21.com. Gingham Check Pant: Forever21.com. Pintucked Slub Top: Forever21.com. Ms. Frizzle Glasses: Modcloth.com. Where Ballerina Oxford: UrbanOutfitters.com. Ice Cream Bag: Modcloth.com. Floutingle Formal Necklace: Modcloth.com.
Let's hear it!
Do you feel I captured the essence of these characters accurately? Do you get inspiration for these sitcom characters? Have you ever thought to look to them for inspiration? Do you wear any of these trends? Let me know by leaving a comment.