Every season, there's that one item that makes you wish it could stay that season all year long — breezy fall jackets, seductive winter boots, sweet spring sweaters… for me, summer's claim to fame is flirty summer dresses. The summer dress is probably one of the most versatile and effortlessly flattering constructions in all of fashion — it's a cinch to accessorize and shows off all of your best assets.
With summer dresses, the options are endless, and I'd buy a whole room full of them if I could. But alas, my college student budget demands that I exercise a little more self-restraint and creativity.
For those of us who don't have the luxury of a Sex and the City wardrobe, here is a list of three essential dresses you need this summer and ideas on how to wear them day to night.
Essential #1: Bold Graphics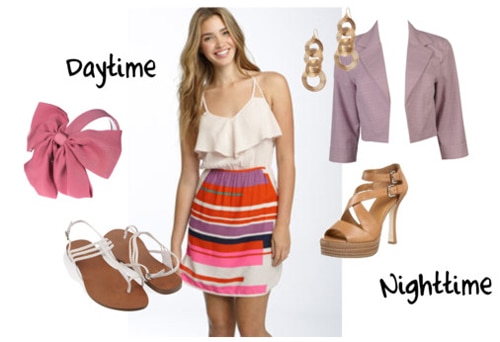 Dress – Nordstrom, Headband – Topshop, Sandals – Forever 21, Blazer – Forever 21, Earrings – Forever 21, Heels – BCBGeneration
I love how the romantic ruffle over the bust of the dress contrasts with the bold, structured print of the skirt. (For this example, I picked a bright, feminine dress, but you can definitely go graphical with darker prints, colors, and cuts as well.)
Simple accessories will complement the dress without overpowering it. During the day, basic flat sandals keep the look casual, while the floppy bow headband takes its color from the print and its structure from the ruffle. In the evening, throw on a structured blazer reminiscent of the purple rectangles, and then spice up your look with glam — but neutral — accessories.
Essential #2: Sweet Florals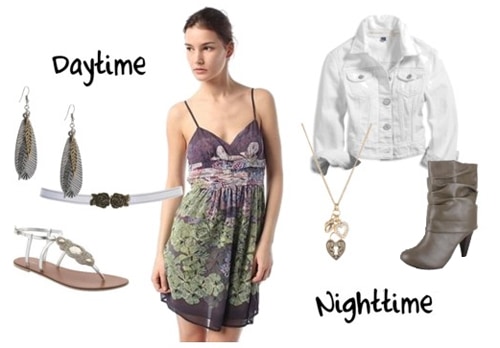 Dress – Urban Outfitters, Earrings – Forever 21, Belt – Topshop, Sandals – Old Navy, Jacket – American Eagle, Necklace – Forever 21, Boots – Go Jane
Florals are a summer favorite year after year because flowers are inextricably associated with warm weather, and designers can always find new ways to reinvent floral motifs. I picked this dress because it has a stylish print made into a timeless and universally-flattering silhouette.
For the daytime, I decided to channel a hippie-chic vibe using a few key accessories — this look is all about the details! This dress proves its versatility with the down-to-earth nighttime look, which, unlike its ethereal, head-in-the-clouds daytime version, is all old-school American charm. You'll be a perfect Western belle in a cropped denim jacket, sexy summer boots, and a sweet charm necklace.
Essential #3: Bright Solids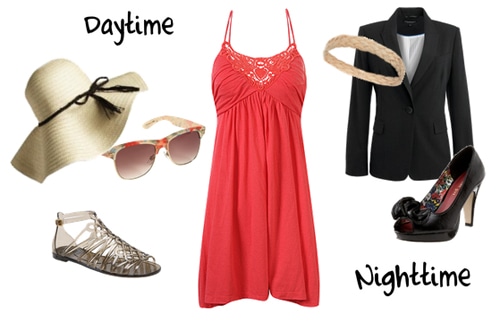 Dress – Forever 21, Hat – Gap, Sunglasses – Topshop, Sandals – Nordstrom, Blazer – Debenhams, Headband – Topshop, Heels – Madden Girl
Ladies, don't underestimate the power of this basic style. Your girl friends will give you lots of style points for the first two dresses, but this one works with the guys too — Cosmo reported a while ago that men respond much better to solid colors and simple, flattering styles than they do to artistic prints and funky silhouettes.
The daytime look is all about summer fun — this is the perfect opportunity to try those funky accessories you've always wanted to wear but never had the guts to! A floppy beach hat, retro sunglasses, jelly sandals… why not? At night, switch to a luxe look with a sleek black blazer and heels that will make your legs go on for miles; I also added a plaited headband to keep the ensemble light and playful.
What do you think?
Which of these types of dresses do you own, and which is your favorite? I admit that I'm partial to the third type — I find solid colors easier to wear, and I also get tired of them less quickly.
Are there any other summer dresses that you'd say are essential? I was debating putting the maxi dress on this list, since it's super trendy and so summer goddess, but I know it doesn't work for everyone, so I decided not to focus on it in this article.
Let us know what you think!