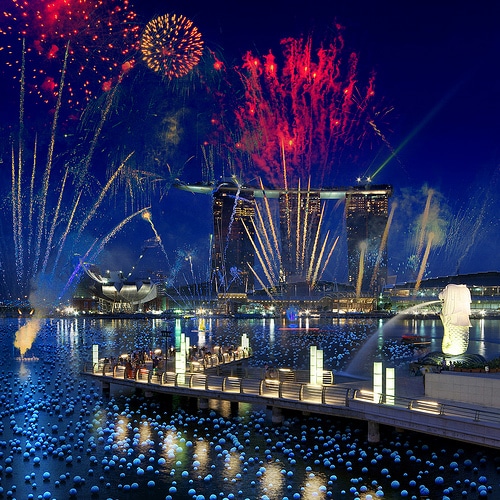 As of 12:00 this morning, we have not only entered a new year but a new decade as well. Thenext ten years certainly have a lot in store for us–most of us will enjoy our remaining years of college, graduate, and move on to our adult lives. Pretty crazy, huh?
So this got me thinking about what advice I'd like to give you CF readers for the exciting years ahead. Instead of my usual column in which I answer your specific "What Do I Wear There" questions, I thought I'd give some general tips to keep in mind to ensure that your next decade is the most stylish yet!
1. Day Look: Just Say "No" To Sweats!
As any avid CF reader knows, we always advocate dressing up for your daily life. Many of our past articles have focused on how to dress up your "comfort clothes" so you can easily avoid wearing sweats to class. However, as the temperature drops, homework piles up, and mid-semester "blahs" begin, the idea of dressing down for class can seem more and more inviting.
That's why I think we should all make it a New Year's resolution to put effort into looking (and feeling) fabulous every day, meaning no sweats allowed for class. (For reasons why this is important, check out this CF classic, 25 Reasons Why You Should Dress Up Every Day!)
Here is my take on how to stay comfortable, yet still look cute and trendy in this new year.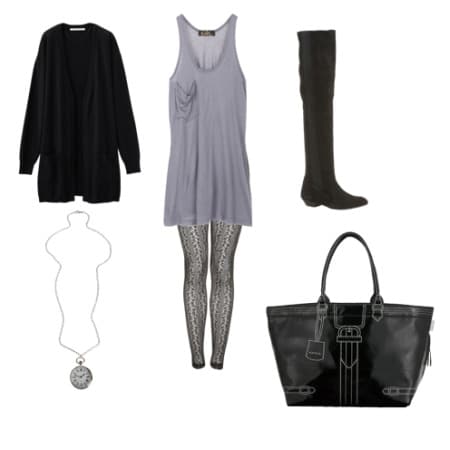 Product Information: Caridgan: Uniqlo.com, Tank: Net-a-Porter.com, Lace Leggings: TopShop.com, Boots: TopShop.com, Watch Necklace: UrbanOutfitters.com, Tote: Yesstyle.com
As you can see, not wearing sweats doesn't mean sacrificing feeling cozy in class!
The grandfather cardigan above will certainly keep you warm and looks adorable over a simple tunic. Add some lace leggings (layer them over regular knit leggings for additional warmth) to make the look feminine and cute, while the addition of over-the-knee boots will make you look like you just stepped off a runway.
The best way to add some flair to your look on those busy mornings when you're rushing around is with fun accessories. The next time you're out shopping, look for some cute pieces with personality, such as the pocket watch necklace above (which will look vintage-chic matched with the grandfather cardigan) or the above printed carry-all, which is the perfect size for toting your books!
2. Night Look: Show Off Your Shape
If you're like me, you spent much of the past decade draped in oversized clothing and excessive layers as part of the popular "urban bohemian" style. However, the oversized bohemian look is definitely on its way out – these days, it's all about shapely looks that show off your curves.
And with all of the revelations the 2000's offered as far as straying away from the super-skinny model look in favor of loving your curves (think Scarlett Johanson and Kate Winslet's looks), there is no time better than the present to be proud of your body!
The best way to accentuate your shape in this new year is with the super-popular "body-con dresses." These dresses come in all sorts of styles, from flowery, feminine frocks to the Herve Leger-esque bandage dresses. But if you are, once again, like me and are a little afraid of foregoing your flowing tunics in favor of something tighter, I suggest going for a more "tough girl" vibe with your body con dress for a comfy and trend-conscious look.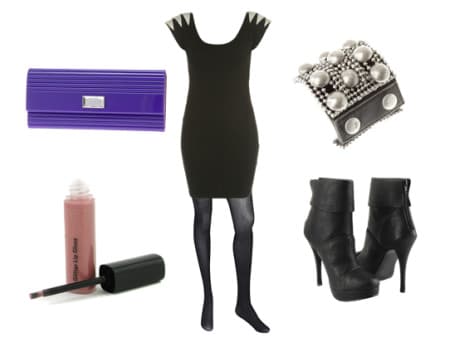 Product Information: Clutch: Aldo.com, Dress: TopShop.com, Tights: Forever21.com, Cuff Bracelet: Bagsofsparkle.com, Lip Gloss: Makemeheal.com, Boots: Forever21.com
The urban biker look has been huge lately, with chains and buckled boots strutting down many a runways this season. Make the look your own by choosing a body-con dress with an edgy design and pairing it with super tall boots, shimmery tights, and an embellished cuff bracelet. For a pop of color, add a sleek, bright clutch.
Keep your makeup simple so you look more biker-chic than actual biker-chick with a simple glossy, nude lip. With an outfit this fierce, it is impossible not to feel as confident as you look!
3. Keep in Mind: Smart Investment Buys for the Years Ahead
As I said in the intro, we are currently in a pretty transitional time in our lives. And as fun as it is to buy trendy clothes for classes and nights out, it's also important to look ahead as you make your clothing purchases.
Now is the time that many of us are beginning to go on job interviews or find internships in our first real offices. Therefore, it is important to start making legitimate investments in classic basics that are necessary for the office.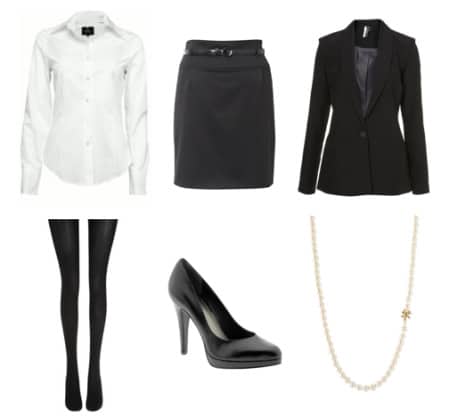 Product Information: Blouse: Debijenkorf.nl, Pencil Skirt: Coast-stores.com, Blazer: TopShop.com, Tights: Barneys.com, Pumps: Piperlime.gap.com, Pearl Necklace: Nordstrom.com
The first basics to buy are definitely the traditional white button-up top and opaque black tights. Both pieces can easily be mixed and matched with a variety of looks for your interviews or in-office work.
Another investment to go for now is a flattering and appropriate pencil skirt. (I love the belt detailing on the one above.) Black is the best pick for interviews, but if you end up in a slightly more stylish office, you can certainly add on to your work wardrobe with skirts in more colors.
Blazers have been a huge trend this fall/winter, so there is no time like the present to find your perfect one. Make sure that you buy one that fits you well for work (so stay away from the boxy boyfriend fits) and consider tailoring it so it fits to perfection.
As for shoes, you can never go wrong with a black, closed-toe pump. Just be careful with how high the heel is so you are office-appropriate. Also, practice walking around in them before throwing them on for a day at the office–you don't want the embarrassment of limping around in painful shoes in front of your boss!
Finally, start asking for signature jewelry pieces as presents for holidays or invest in them yourself if you want to reward yourself for a semester well done. Pearls and other classic pieces will carry you not only through the years ahead but possibly through your whole life, so save the splurging for these pieces and go to stores such as Forever 21, H&M, or TopShop for trendier accessories.
For even more info on this, don't miss our articles on Business Casual Style and What to Wear to Work (or an Internship). Also, check out our Splurge vs Save series for information on what to spend and what to save on.
What do you think?
Are you planning to step up your style for the year (and decade) ahead? What trends are you hoping to try? Are you going to be buying investment pieces? Are there any other investments you think are worth making? Let us know in the comments!
And don't forget to leave your "What Do I Wear There?" questions in the comments as well–you may be featured in next week's article!