This post may contain affiliate links, which means we may receive a commission if you purchase through our links. Please
read our full disclosure here
.
My stomach is a blank space waiting for Thanksgiving. It's going to be turkey, or this table will go down in flames. Until that fateful day when we can eat all the pumpkin pie and sweet potato casserole as humanely possible, we'll have to be thankful for Taylor Swift's new song "Blank Space", and plan our outfit in advance.
1. Sweatersgiving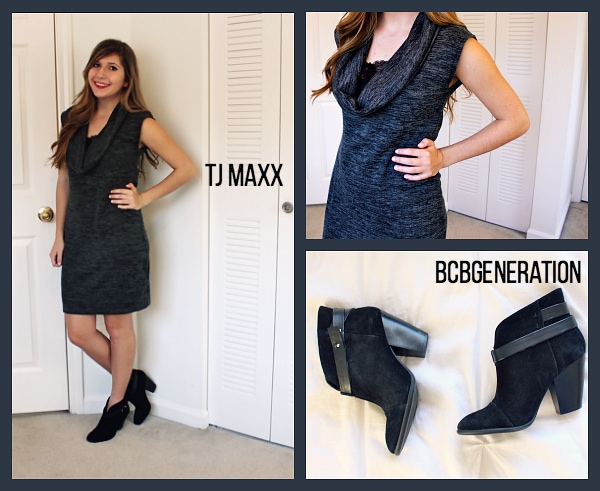 I could gobble up all the sweater dresses I've seen this season. They're cozy, comfortable and still look like time was spent figuring out what to wear. My favorite thing about this particular dress is the cowl neck and tucked away lace detail. A word of caution: sweater dresses can be shapeless, which makes them perfect for consuming massive amounts of rolls, but if it's not Thanksgiving, you could always add a waist-cinching belt.
Instead of accessorizing with jewelry, I added a bold red lip to give the illusion I've been eating cranberries or drinking the blood of my enemies. You pick.
2. Friendsgiving Disguise
If you're having a more casual affair, I'd suggest going for the baggy-tunic side dish. While not the most flattering cut in the world, this flowy top is great for hiding potbellies. To keep things in the fall spirit, I was inspired by tan and burgundy fall leaves. I've recently been loving Southwestern patterns and clothes that remind me of cowboys (why, Leah, why? I have no clue), so I loved the black pattern on this top and these high boots.
You might be wondering, why not cowboy boots, Leah? I've had my cowboy phase. I was three years old. The boots were fire engine red. It was the best of times, and only time I wore cowboy boots.
3. Chilly Thanksgiving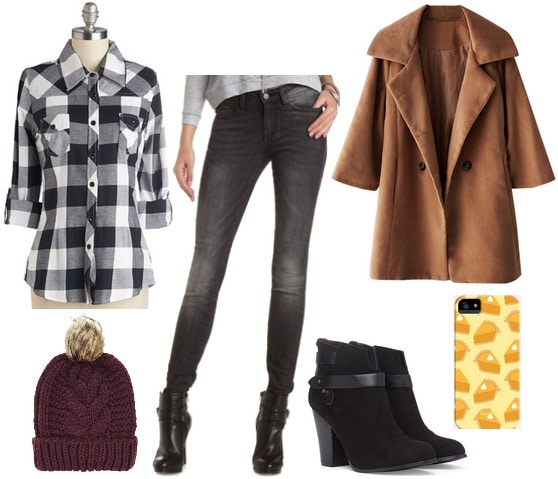 Product Information: Beanie, Phone Case, Gray Jeans, Checkered Shirt, Coat,Ankle Boots
For all my cold weather ladies, I decided to feature an outfit with an adorable camel coat and a perfect-for-fall beanie. But seriously, how cute is that coat? Camel is a timeless color in my book, and I'd much rather meet that coat than meet that animal. Camels kind of scare me.
These black ankle boots with chunky heels are an almost exact match for the ones in my first outfit. And if you don't know how much I love plaid shirts, where have you been? The pumpkin pie phone case needs no explanation.
Do you dress up for Thanksgiving or stay casual and comfy?
What dish are you looking forward to consuming copious amounts of? Pumpkin pie for this one, hands down. In case you're wondering, I am thankful for YOU and all the CF readers <3