This post may contain affiliate links, which means we may receive a commission if you purchase through our links. Please
read our full disclosure here
.
One of the things I tried to do my freshman year was make my entire dorm room look cohesive. This was difficult because living in the dorms meant everything was in a really small space, so you could see from my bed to my desk to our fridge. The result over time wasn't so cohesive after all.
Last year in my apartment I tried something that worked much better and I can't wait to do it again when I move back to Texas and have my own room again. I picked out a color scheme or theme for each room and decorated accordingly, so that individually the rooms looked put-together but walking through the apartment you could see contrast. Our living room was dark blue and green, my bathroom was orange and light blue, and my bedroom was mostly gold and blue. (I like blue, what can I say?)
Want to colorblock your apartment? (I highly recommend it!) Here are some ideas to help you do the same:
Study Zone/Desk: Graphic Black & White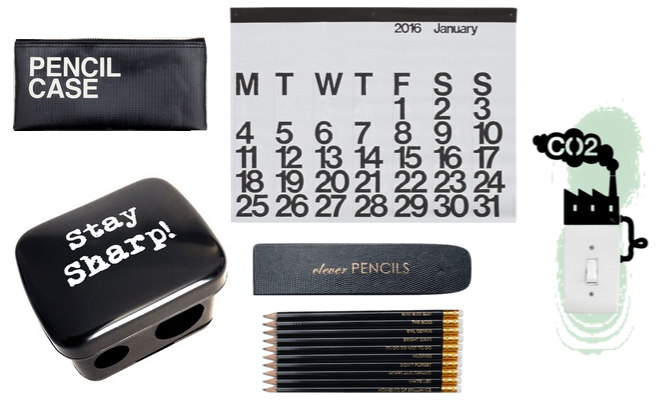 Products: Pencil Case, Calendar, CO2 Sticker, Clever Pencils, Pencil Sharpener
The idea here is either black and white mixed with typography. The color scheme gives the space a minimalist vibe, which can help you feel more productive and allows room to be creative. The CO2 sticker is one of my favorite things: It sticks on right above your light switch as a friendly reminder to conserve. These pencils are also really funny if you read the slogans.
Kitchen/Dining Room: French Cafe Pink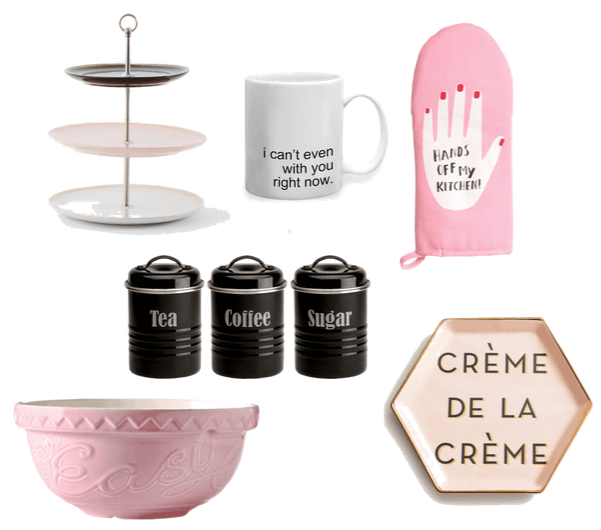 Products: Petit Four Stand, Mug, Oven Mitts, Tray, Storage Containers, Mixing Bowl
Obviously I'm going for a bit of a pink vibe here — something not too bright but quaint enough to remind me of macaroons in a French cafe. I love to bake so this kind of atmosphere is perfect and makes me feel like a pastry chef, but even if you just want to cook your average dinner, you can pick a color scheme that makes your kitchen feel put-together.
Bathroom: Seafoam & Teal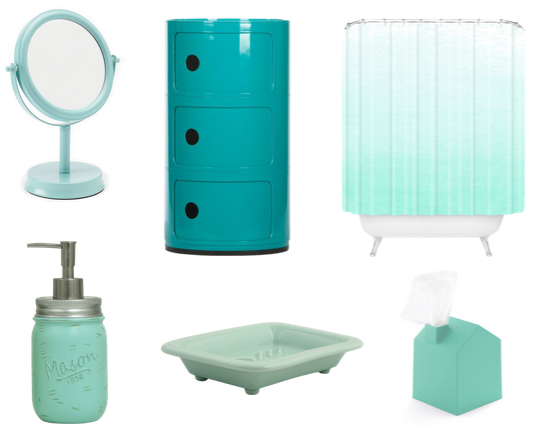 Products: Mirror, Storage Unit, Shower Curtain, Tissue Holder, Soap Holder, Soap Dispenser
I always feel like the bathroom isn't as important because not as many people spend much time here, but it's still nice to have a neatly decorated bath. If you spend your mornings getting ready in here, you'll want to feel happy and ready to start the day, which is why I chose blue as a calming color. It can also reflect well on you as a host if you've shown that you care about the appearance of your entire apartment!
What do you think?
These are just a few ideas to get you started, but finding a color scheme that you like and applying it to just one room gives you the freedom to try different things across your apartment.
Now I want to hear from you. Have you tried something like this in your apartment? Do you have any themed rooms or ideas for themes? If so, I want to hear about them in the comments!