This post may contain affiliate links, which means we may receive a commission if you purchase through our links. Please
read our full disclosure here
.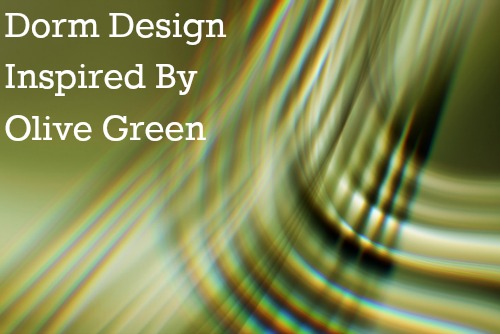 Confession: I am a proud and overenthusiastic member of the olive green fan club. Ever since Michelle Obama was photographed wearing the beautiful (and now ubiquitous) J. Crew Field Jacket, I've been trying on and purchasing olive green-hued clothing so much that I'll probably need an intervention soon.
Perhaps my obsession love for the color is due to its versatility. On any given day, you can toss an olive green jacket over a maxi dress or a chiffon blouse and jeans, or pair a black t-shirt with olive green pants and look like you walked straight out of Pinterest.
Of course, this color isn't limited to just your wardrobe – just like any other versatile color, olive green can play a lovely role in your dorm design as well. Below, I've put together two sample rooms, each with a different palette that revolves around the color, which does an excellent job of anchoring each room's style. Let's get started!
Olive Green, Cream, and Coral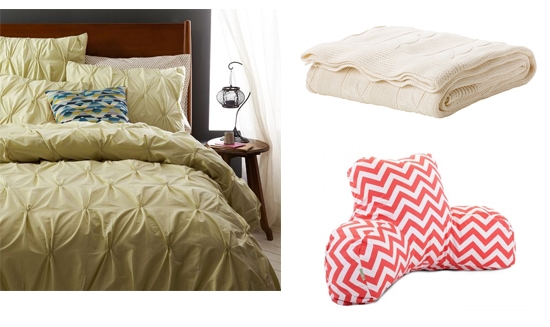 Product Information: Bedding, Throw, Pillow
This color combination is one that I wear to class whenever I'm in need of a classic ensemble with a punch of color – and the same principle applies to your room! Timeless and elegant, you won't be embarrassed by this color palette when you have to transition to the real world.
A pale olive green bedding set is calming, as is a cozy cream-colored cable knit throw. Tie it all together with a pop of color in a coral chevron husband pillow!
Olive Green, Red, and Silver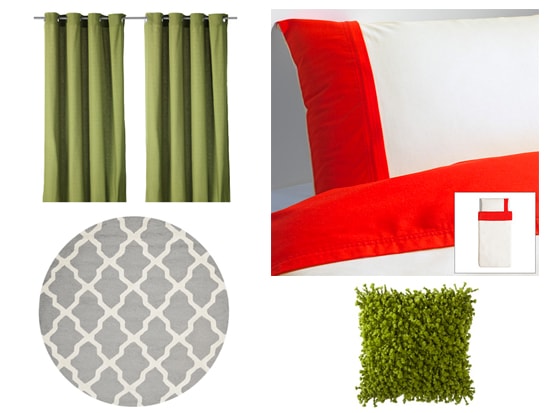 Product Information: Curtains, Bedding, Rug, Pillow
A more retro take on olive green leads to adding bright reds and silvers to contrast with the neutral. A bold, striped duvet cover pairs well with a geometrically-patterned round rug. Anchor the design in olive green with simple draped curtains and a whimsical throw pillow.
What do you think?
Are you a fan of olive green? What do you think of our two room mood boards? Are there any other color combinations that use olive green that you'd incorporate into your own room? Let us know with a comment!