This post may contain affiliate links, which means we may receive a commission if you purchase through our links. Please
read our full disclosure here
.
It looks like CF readers are a big fan of nautical everything — our post about nautical-inspired dorm design got such positive feedback that we've decided to write a Part 2! There are so many wonderful elements that can work seamlessly into a dorm or apartment environment, especially classic patterns, materials, and shapes.
In this article, we'll expound on the endless ways that you can incorporate sun, surf, and sand-inspired pieces into your interior design, focusing this time on patterns and materials. Let's get started!
Stripes
Whether you love stripes on your clothing, sheets, or accessories, one of the quintessential elements of a seafaring lifestyle is this simple pattern. Usually on a crisp background of navy blue or white, stripes can find a home in any part of your interior design, and particularly in the form of DIY! For bonus points, having them on a canvas fabric really gives a warm feeling to the pattern and is a nod to the origins of the trend.
How to incorporate stripes into your dorm or apartment: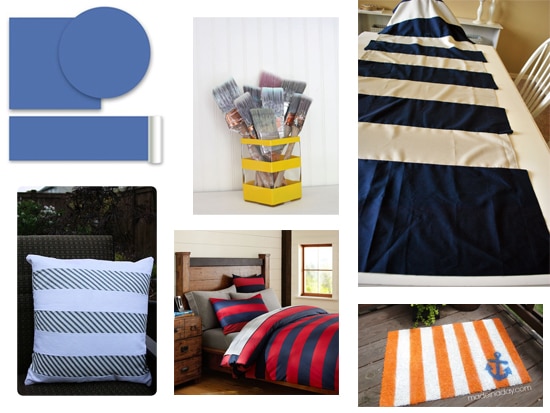 Wall Pops, Striped Vase, Curtains, Bath Mat, Bedding, Pillow
It doesn't matter if you're buying or DIY-ing — there's plenty of striped inspiration available! A simple and eye-popping option is to use WallPops to create vertical striped "wallpaper" on your walls. For bolder displays of stripes, try this DIY curtain, bath mat, or pillow.
Smaller elements that can work with any color scheme include this DIY striped vase. Lastly, for those who want to make stripes the focus of their room, there is plenty of gorgeous striped bedding available, like this bed set from PBTeen.
Anchors
You don't have to live on Nantucket or the Cape to appreciate a classic and elegant anchor motif. Understated and versatile, anchors have plenty of life when they're not being printed on acres of salmon shorts and are surprisingly easy to include in a casual dorm atmosphere.
How to incorporate anchors into your design: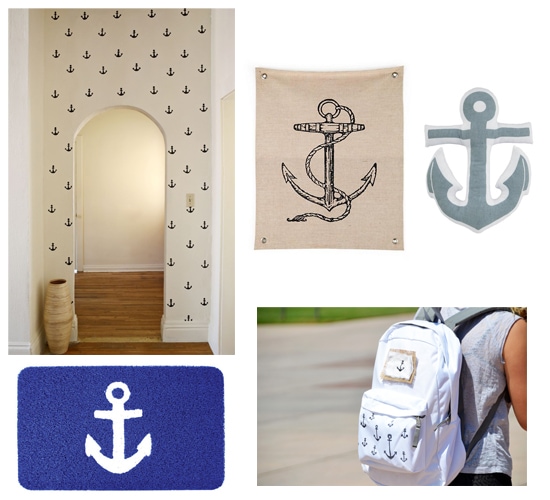 DIY Anchor Wall, Bath Mat, Canvas Poster, Pillow, DIY Backpack
Feeling crafty? Take a tip from the dynamic duo over at A Beautiful Mess and stencil tiny anchors onto a doorway for a quick and simple upgrade. For a splash (no pun intended) of color in your apartment bathroom, try this bright blue bath mat. A calming room color scheme can be anchored (okay, maybe I intended this one) with a gorgeous canvas anchor print.
Finally, if you're more a whimsical type, a fun anchor-shaped pillow and a cute DIY backpack will inject cheeriness as well as the nautical spirit.

What do you think?
Do you love nautical style as much as we do? What other elements of nautical style would you like to see featured? Any other dorm inspiration you'd love to learn more about? Let us know with a comment!