This post may contain affiliate links, which means we may receive a commission if you purchase through our links. Please
read our full disclosure here
.
Have you ever felt slightly overwhelmed when you were presented with a blank piece of paper and told to make art? In elementary school, I felt like Regina from Regina's Big Mistake (remember this book?) every time I picked up a crayon and stared down at my sheet of white construction paper.
Furnishing a dorm room, oddly enough, makes me feel like Regina all over again. I've been given 100 square feet of white wall and tile, equipped with nothing more than basic furniture, and have been told time and time again that my dorm room should reflect "who I am".
The sheer size of the dorm room shopping market, as well as the seemingly boundless choices available, are what prompted me to write this CF article series. We've already learned about creating color schemes, room layouts, and choosing bedding, so let's tackle shopping for dorm room furnishings! These budget-friendly tips and picks will guide you in your shopping and help you deck out your room for fall.
Furnishings
As we've said before in our previous post on furnishing your dorm room, the main things to keep in mind are your roommate and the size of your room. It would be awful to drag a six-shelf bookcase or heavy nightstand up three flights of stairs, only to then realize a) your roommate already brought one or b) It. Doesn't. Fit.
That being said, read on to find out about some chic, inexpensive furnishings that will make you feel more at home in your dorm!
1. Rugs
Even if you are blessed with gorgeous hardwood floors, rugs are simply one of the easiest ways to make a room feel welcoming. The styles on the market vary tremendously from Oriental to shag to Flokati, and the prices can be astronomical if you don't know where to look.
Tips for Buying Rugs
Consider your needs. Shag or Flokati rugs will feel amazing against your toes, but are usually costly. Standard polyester rugs will save you a lot of grief in the spill department, but they aren't the most attractive. Practicality is key, but don't lose too much aesthetic appeal.
Buy dark rugs. Even if you want a white or ivory rug to match your color scheme, it's always best to err on the safe side in a college environment. Try to select one in the darkest color of your scheme.
Check out your local wholesale store for inexpensive ones. I found a 6′ x 8′ crimson rug for only $30 at mine.
Area rugs or accent rugs? A few circular accent rugs can look much more cheery than a standard rectangular area rug.
Anthropologie has a fantastic list of rug tips for the decorator in all of us.
Some of Our Rug Picks
Click through the gallery below to see our favorite rugs for 2015:
2. Nightstands
Nightstands are possibly my favorite room furnishing, apart from, of course, my bed. There are so many ways to use them, and even more creative ideas for nightstands themselves! They bring so much charm to a room, and obviously provide ample space for the tottering pile of books I peruse every evening.
Of course, you can purchase a standard nightstand (like the one pictured above) from nearly any furniture or home decor store, but what about something more unique? Keep reading to hear some in-lieu-of-a-nightstand ideas!
Instead of a Nightstand, Try…
Some of Our Nightstand Picks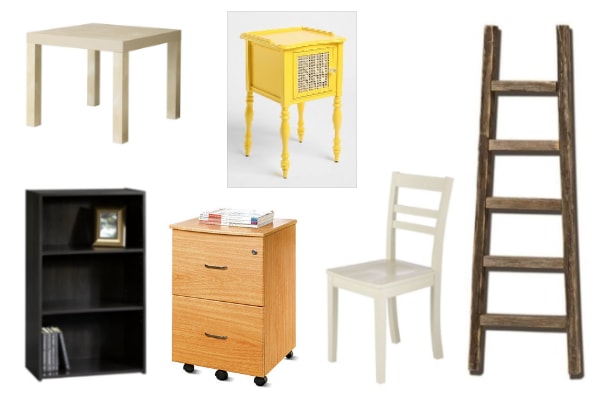 Product Information, left to right, top to bottom: LACK Side Table (IKEA), Yellow Nightstand (Urban Outfitters), 3-shelf Bookcase (Target), Rolling File Cabinet (Walmart), White Chair (Target), Wooden Ladder (Amazon)
3. Chairs
I've never been one to be picky about where I sit. I actually favor hard wooden chairs when I'm studying, as I often find myself drifting off if I'm in a comfortable one. However, this might not apply to you, and you may develop a terrible hatred for that awful rocking wooden chair with the puce-colored upholstery that you see on move-in day.
Where to place our (stylish) posteriors, then, on those long all-nighters? Read on for tips on selecting and buying the desk chair that will last you through every midterm and final!
Tips for Buying Chairs
There are many categories of desk chair, including swivel, pod, and task. Find the type that suits your needs: will you be using it primarily for sitting and chatting with friends, or will you actually need to hunker down and get to work in it?
Don't get a huge leather office chair, unless you recently won a partnership at a law firm or something equally marvelous. It won't fit through your door, and may take up more space than your desk does.
Try to get a chair that will fit, at least partway, under your desk.
Get a chair with wheels for easy movement.
Some of Our Chair Picks
Click through the gallery below to see some of our favorite chairs for 2015:
What Do You Think?
Were these tips for furnishing dorm rooms helpful? What furnishings did you bring to school with you, and why did you choose them? Do you like the rugs, nightstands, and chairs we selected? What advice do you have for students setting out to furnish their rooms? Let us know with a comment!