This post may contain affiliate links, which means we may receive a commission if you purchase through our links. Please
read our full disclosure here
.
Welcome to the latest Dormspiration article! My semester is quickly winding down (only 6 weeks left of freshman year, yikes!) and since I'm deciding where to live next semester along with everyone else on campus, I've already started brainstorming design ideas for my room in the fall.
Two Dormspirationsubmissions stood out to me this week, courtesy of Kayla, a sophomore at the University of South Carolina, and Caitlin, a senior at the University of Virginia. Their classic dorm decor is versatile and welcoming, and they were nice enough to share how to overcome some common communal-living gripes. Let's go explore their rooms!
Kayla (University of South Carolina)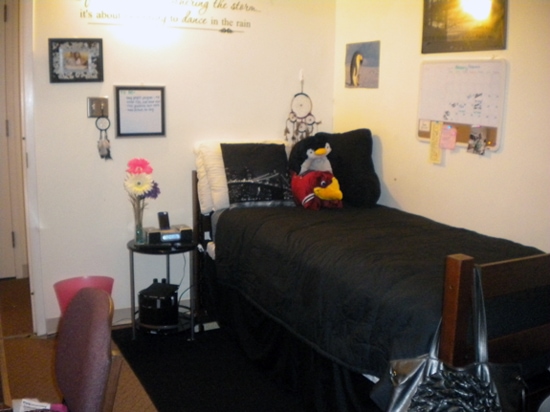 Kayla, a sophomore at the University of South Carolina, describes her interior design style as "neat, simple, and chic."
The elegant black and white color scheme (inspired by the black and white New York and Paris posters in her room) is the perfect backdrop for her pops or color. Her room also displays her crafty side – she DIY-ed key decor elements like her trunk and fashion collages. She kept her walls simple and feminine, using battery-powered candles and creative jewelry holders to make her room feel "cozy, romantic, and well put-together."
Read on to see how Kayla achieved her style!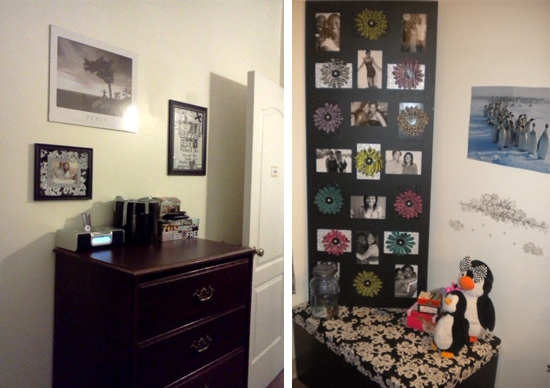 The elegant geometric collage propped against the corner draws the eye upward in Kayla's room. Keep a lookout for the penguins in her room!
1. What inspired your design?
"I wanted a simple design. I didn't want my room to be too bright and typical 'college dorm' colors. I was inspired by a cityscape pillow that I found in Walmart. It was black and white, but it looked so cool that I based my entire room off of that. I kept the walls neat and simple, with black and white posters, a wall quote and a fashion collage that I made. I wanted my room to feel cozy, romantic and well put together. Since candles aren't allowed in dorms, I added fake candles that are battery powered so I could still have the candle feel. I also hung my necklaces up using push pins on the cork board backing of my desk. It's kind of Parisian Chic."
2. What are your favorite pieces and where are they from?
"My favorite pieces are actually the ones that I found in my garage and at a yard sale. I found my dad's old military trunk, spray painted it black and then glued paisley fabric on the top of it to make it cute. I found the picture frame at a yard sale, replaced some of the picture slots with flowers and added black and white pictures to keep it simple."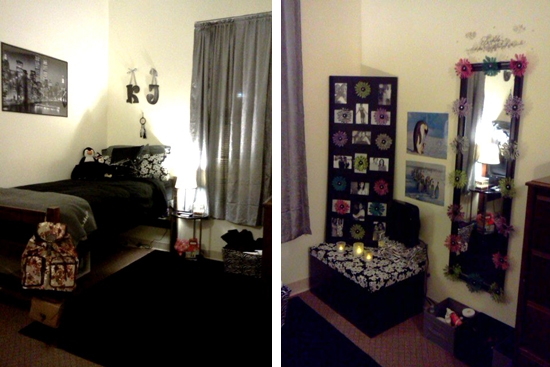 I don't know about you, but I can hardly tell that Kayla's fake candles aren't real! They give the room such a warm and intimate atmosphere.
3. What's your secret for decorating on a budget?
"DIY and reusing old things! My bedspread is actually from freshman year, just on the reverse side to switch things up a bit. I made Mod Podge collages on old shoeboxes to store things and used the back of my desk to hang my jewelry with pushpins. Also, look for cheap decorative items! My New York and Paris posters both came from allposters.com for only $6 each!"
4. What's your favorite memory of something that's happened in your room?
"My room is larger than most, because I'm in the apartment-style dorms with 3 other girls. We each get our own room, and two people share a bathroom. My favorite memory in my room would have to be the night me and two of my other friends decided to make tents like when we were little kids. We got all of our sheets and blankets and draped them around my room to make a huge crawl-under tent. Then we somehow got my TV to work underneath the tent, and lay there and watched movies all night."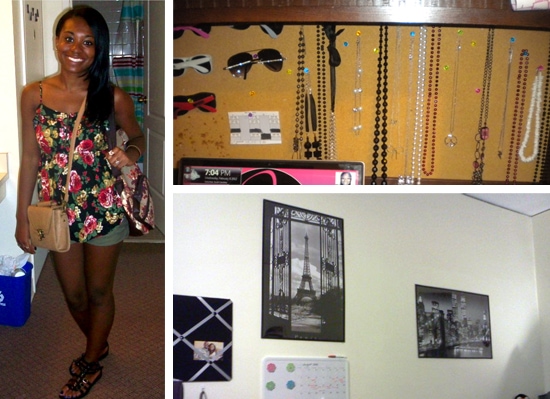 Dressed in a sweet floral top and accessorizing with a cute cross-body bag, Kayla is classy and feminine, just like her room!
Caitlin (University of Virginia)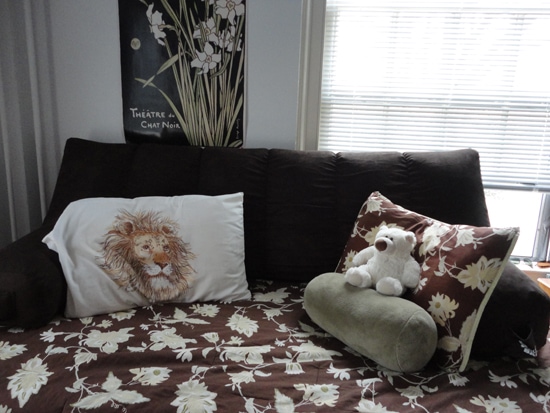 Caitlin's room at UVA is the epitome of cozy and inviting — especially because her boyfriend proposed to her in it! In regards to her style, Caitlin says,
"As my senior year arrived, I was inspired to make my dorm room as home-like as possible, even though we are not allowed to put up things like lights, curtains, or very many posters at UVA. The reason I'm drawn to everything homey is mostly my lifestyle. I'm getting married two weeks after I graduate this May, so I think my mindset is really becoming oriented towards settling down and feeling at home. Also, I don't have a meal plan, but I cook all my meals in our dorm's tiny kitchen (hence the crammed shelves and two mini-fridges!). Having shelves and a little table for all my girly stuff has been a lifesaver! I also love my inflatable (but very comfy) couch-top that allows me to turn my bed into a cozy spot to curl up with my fiance or my friends, drink wine, and watch a movie!"
Read on to get her interior design style for yourself.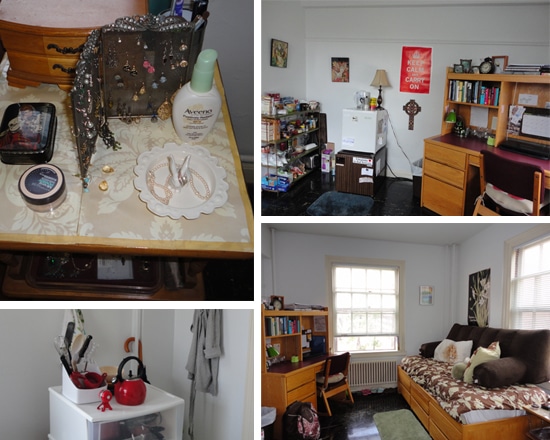 1. What inspired your design?
"Over the past four years, I've built up a collection of colors, prints and images that I like. Every year my room changed a little, but I never tried to do a big overhaul. My room turned out feminine, textured, and earthy without being, well, too hippy — with a twist of fantasy geekiness thrown in! I loved mixing different shades of green, brown, cream, and, over the past year, a bit of scarlet (!) But I did it all pretty gradually, so I think it worked!"
2. Where are your favorite pieces from?
"My favorite things are from Bed, Bath and Beyond (the couch top, which that has SAVED my back during many a movie night and reading marathon!) and Target (my bedspread). I picked out the bedspread first and went from there. I knew that since poster space is limited, the bed would be the largest decorated area in my room. I made sure to get a comforter I loved (with contrasting printed sheets, of course). The whole style has to tie in to that bedspread; it's my yardstick."
The unique pieces in Caitlin's room (like the floral cushion, left, and the vintage antique table) showcase her tastes wonderfully, and the paper chain has a sweet side — she's using it to count down to her wedding!
3. What's your secret for decorating on a budget?
"Build up your style. I'd say, repeat the same colors but with varied patterns and sizes of pattern, to make a style that's varied enough to be interesting yet still coherent. I've kept my dorm purchases within the same color family for all four years I've been at school, so my fourth-year room is by far the most comfortable and pretty. I also like to look at magazines like House Beautiful and Better Homes and Gardens for style inspiration, so I can decide on a look I like before going out and buying things. Finally: laminate or frame your paper decor!
Tips I've picked up after living four years in a dorm:
Attach as many hooks or Command strips as possible to your walls: you'll use them! They're great for your robe, umbrellas, towels, hats, scarves…
If you love it, frame it. A $10 investment in a cheap frame is worth it, to save that poster, concert flier, or photo you want to have up every single year.
Crates. For laundry, dirty dishes, or corraling shower stuff: everything looks better neatly packed into right angles.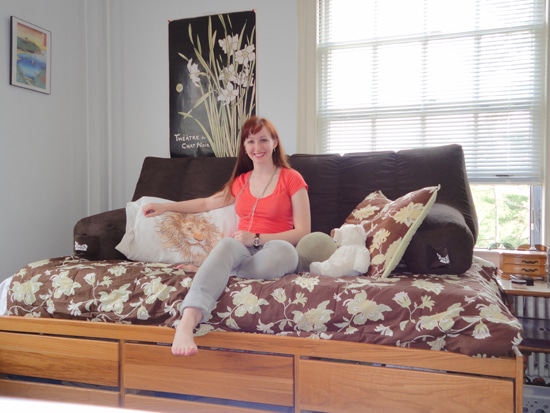 Caitlin's gradual four-year accumulation of dorm style has worked out perfectly — her dorm is every bit as unique as she is!
4. What's your favorite memory of something that's happened in your room?
"Hands-down, it was the Tuesday night my boyfriend walked through my door, handed me a dozen white roses, and got down on one knee to propose. I can point to the exact spot on the floor where he knelt!" Sidenote: Congrats on your engagement, Caitlin!
What do you think?
Would you like to see your dorm or apartment featured on CF? If so, send 1-2 photos of your decor and a brief description to [email protected].
Which room was your favorite? Were Kayla and Caitlin's tips for decorating on a budget helpful? Let us know what you think with a comment!