This post may contain affiliate links, which means we may receive a commission if you purchase through our links. Please
read our full disclosure here
.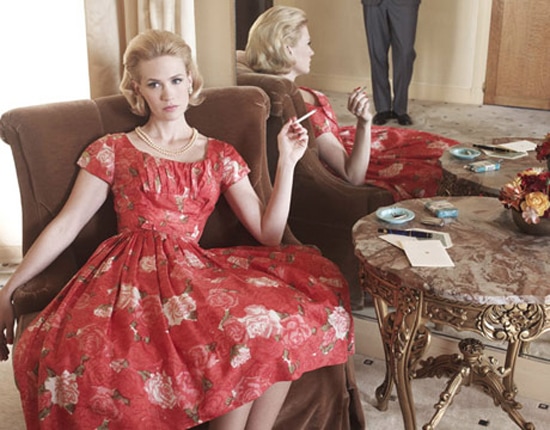 Photo Credit: AMC
Mad Men, the highly acclaimed AMC show about 1960s-era advertising executives and the social tensions of the decade, is hands down my favorite television show. The only thing I love more than Roger Sterling's one-liners and Betty Draper's endless wardrobe is the show's incredible interior design.
It's hard to say which home is my favorite. The detailed femininity of the original Draper home is gorgeous, as is the clean geometry of the Sterling Cooper offices and the cheerfully loud style of the Romano household.
You'll have to forgive me — I began watching the show during its fifth season, and have so far only gotten up to the middle of season three on Netflix. (I know, I know! I need to finish watching!) I'll try my best not to let any spoilers slip through, and this article will be mostly based on my knowledge of the show up to the third season.
Below, I've selected a few of the most inspirational interiors from Mad Men for this special edition of Dormspiration, a column that usually showcases the real-life dorm rooms and apartments of CF readers. Don't forget to submit your dorm or apartment to [email protected] for a chance to be featured in the next student edition!
The Draper Residence: Living Room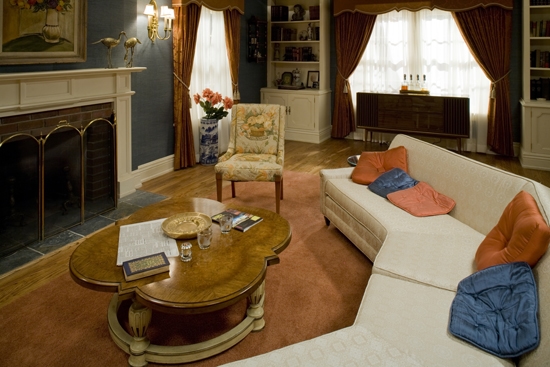 One look at the Draper living room and you're immediately swept into the charm and subtlety of the 1960s. Gentle muted tones were customary, as were geometric lines and ornate metal accents. Pops of retro colors, rich fabrics and delicate floral prints tie everything together.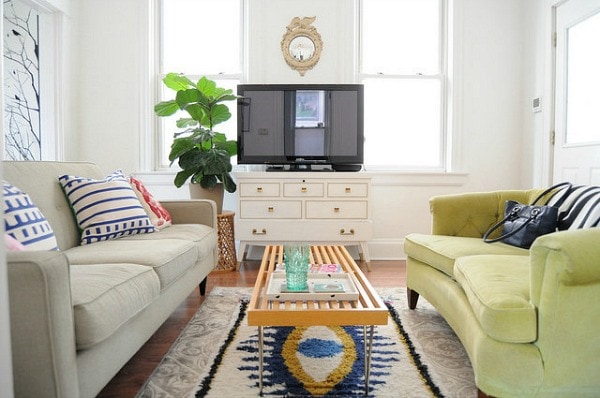 Product Information: Floral Chair, Frames, Media Stand, Cushion, Coffee Table
Channel the Draper home with an armless floral chair (if you're on a budget, just buy a floral sheet to use as a slipcover for an armchair), geometric frames, a vintage-inspired media console, and flat cushions. Round out the ensemble with a retro coffee table with built-in storage as a nod to the contrast between sleek lines and delicate flowers.
The Draper Residence: Bedroom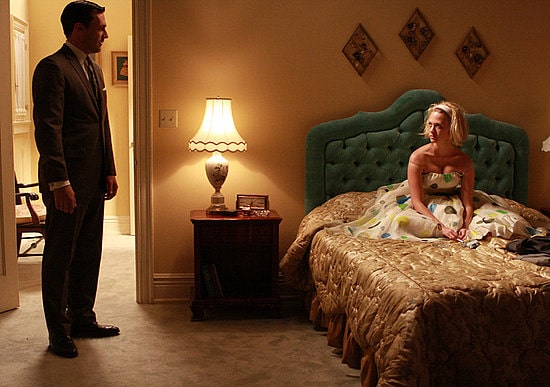 Photo Credit: AMC
Few pieces of TV set furniture have inspired as many posts (and replicas) as the gorgeous teal tufted headboard that defines Don and Betty's bedroom. Just like the rest of the show, their room pays homage to the style trends of the time, though with a decidedly feminine leaning. (It's clear who spends the most time there!) Again, neutral muted tones (this time a gentle buttercream) are played up with low lighting. Soft furnishings contrast sharply with the heavy varnished side furniture.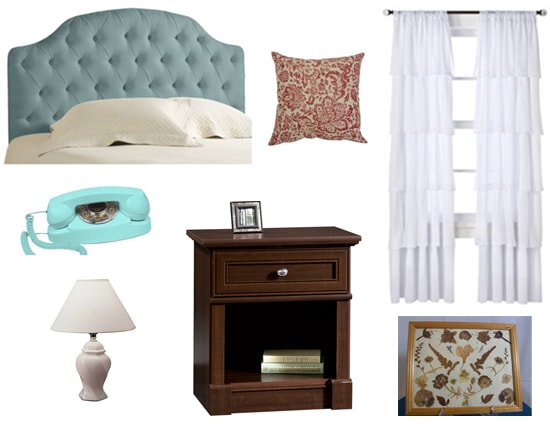 Product Information: Headboard, Pillow, Curtains, Pressed Flowers, Nightstand, Phone, Lamp
Tufted headboards can definitely be pricey, and finding the exact teal velvet in stores can be difficult. If this one's out of your price range, try making your own à la Design*Sponge! The damask pillow is a nod to the pattern on the bedspread, and the white ruffle curtains are a staple of their bedroom. Buy or make your own framed and pressed flowers, add a dark varnished cabinet with a ceramic lamp and princess phone, and you've got yourself a Mad Men bedroom.
Sterling Cooper: Don's Office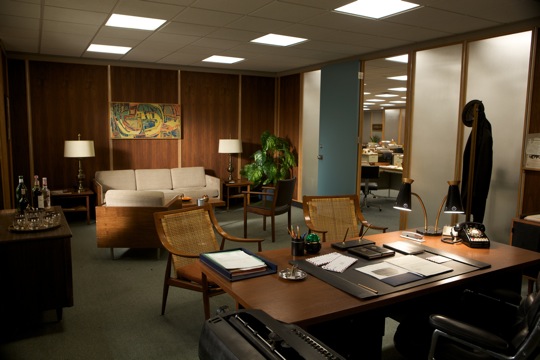 Photo Credit: AMC
If you're looking for a true 1960s-style office, Don Draper's is pure perfection. The simple black office supplies and utility lamps combined with the slim lines of the office furniture (and the ubiquitous blue door) are hallmarks of Don's profession. Want a killer office like his? Recreate it with the tips below.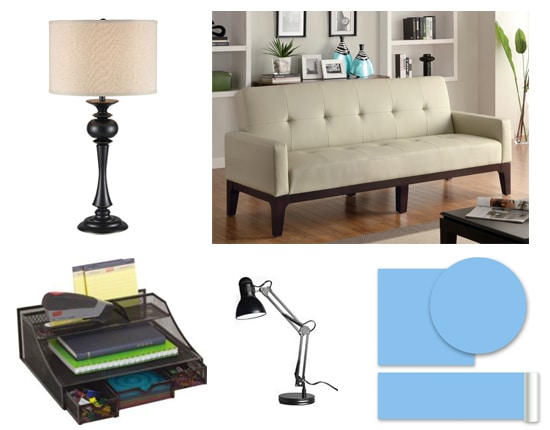 Product Information: Lamp, Sofa, Wall-Pops, Desk Light, Mesh Organizer Set
For an office (or corner of your apartment with desk) that Don would be proud of, start with a candlestick-inspired lamp (or two) on matching nightstands, placed between a simple sofa bed in a pale neutral. The desk is very minimalist, with only a few black mesh desk accessories and a highly industrial desk light on the varnished wood. Finally, to emulate that fantastic blue door, stick a few decals onto your wall (perhaps in a striped pattern behind your headboard).
What do you think?
Are you a fan of Mad Men? Which room is your favorite? Which rooms would you like to see profiled next on CF? Do you already have some 1960s-era interior design in your room?Are there any more TV shows or movies with fabulous interior design that you'd like to see featured? Let us know with a comment!