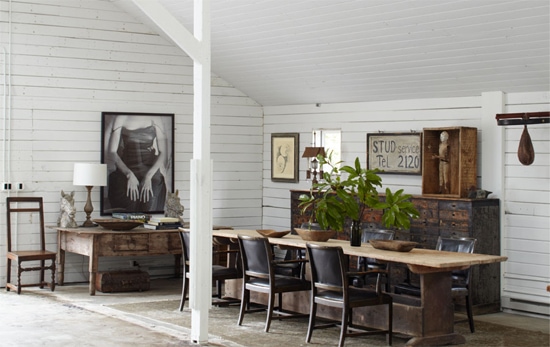 All photos courtesy of ELLE Decor
If you're currently suffering from the muggy summer humidity, having an airy and minimalist country retreat sounds close to heaven. Luckily for Ellen DeGeneres and Portia de Rossi, their Santa Monica ranch in Southern California is just that–a gorgeously, spaciously built set of barns and cabins, all outfitted in smooth white and natural textures. Their enviable taste, full of vintage pieces and flea market finds, can be yours as well, for a fraction of the cost!
In this latest installation of Dormspiration, we'll explore the couple's beautiful mountain home, complete with equestrian accents that even non-horse lovers will appreciate. Their design is fresh, elegant, and wonderfully understated–let's get started!
The Cabins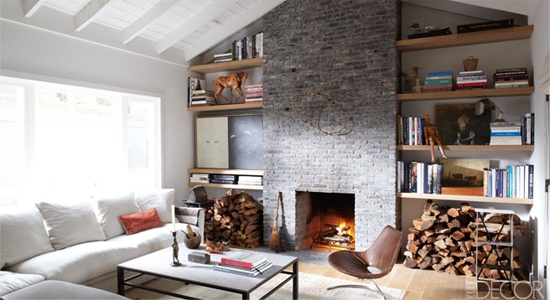 The sprawling home includes eight individual cabins, each decorated with a different aesthetic. Cabin 8, pictured above, is my personal favorite–I love the earthy textures contrasted with the sharp edges of the coffee table and carefree elegance of the sofa.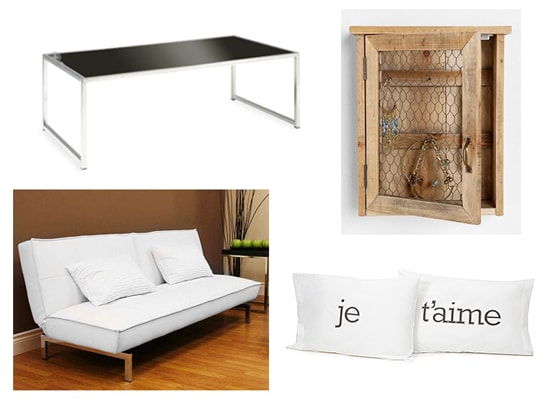 Product Information: Table, Organizer, Pillows, Futon
Get the sleek and airy design for your own with a few cheap and chic pieces. A glass-topped, angular coffee table is a great alternative to the granite-topped one in Ellen and Portia's home, and contrasts beautifully with a reclaimed wood jewelry holder that doubles as a cupboard. A white futon, which could be dangerous in a pizza setting (but is oh-so-beautiful) can be easily mimicked by throwing a white bedsheet over an existing futon, or simply protecting the fabric a lot before you bring it home. Finish up the look with some sweet and minimalist pillows and your Cabin 8 look is complete!
The Art Barn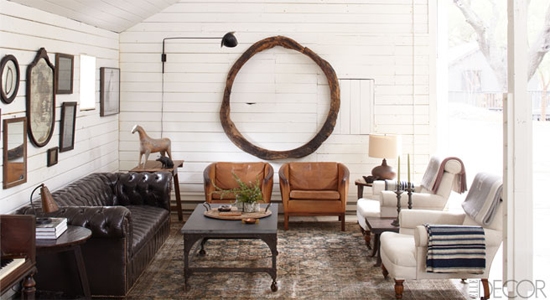 The property also includes numerous barns, among them the Art Barn, the Horse Barn, and the Romantic Barn–each with its own style and story behind it! In the Art Barn, above, vintage and flea market steals reign supreme.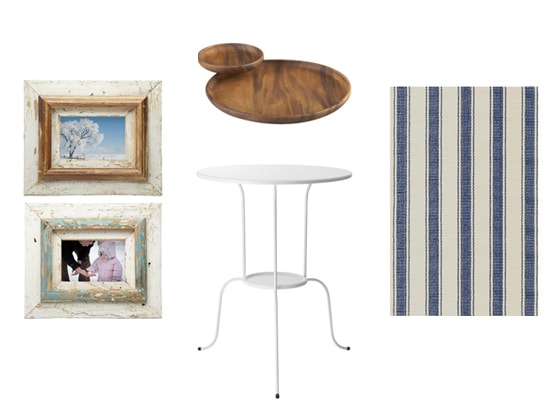 Product Information: Frames, Tray,Table, Rug
Again, contrast is a staple of the home's design, but the Art Barn has it in a more understated way–darker pieces are selected, along with a broader range of texture. Mimic the design with repurposed DIY wooden frames, then add a blue-and-white striped rug for a textile-inspired feeling. A delicate side table with curved legs contrasts beautifully with a wooden serving tray repurposed as a catch-all for your keys, phone, and ID, and you've got a balanced room that Ellen and Portia would be proud of.
What do you think?
Are you a fan of Ellen and Portia's laid-back but wonderfully sophisticated country style? Any celebrity homes you'd like to see featured? Are there any minimalist pieces in your dorm or apartment? Let us know with a comment!