This post may contain affiliate links, which means we may receive a commission if you purchase through our links. Please
read our full disclosure here
.
For those of you new to the series, Dormspiration showcases gorgeous and creative dorm rooms submitted by interior design-savvy CF readers. Over the weeks, we've seen everything from sorority chic style to rooms where every inch of the walls is covered in decor to everything in between!
This week's Dormspirationfeatures two of the most unique submissions I've seen yet. Cassidy and Ellie's dorm at Duke University has two chalkboard walls for their friends to draw on, and Madison's homey single at University of Texas at Arlington is filled with vintage pieces and cozy thrifted finds. Read on to learn more about their dorm design!
Cassidy and Ellie (Duke University)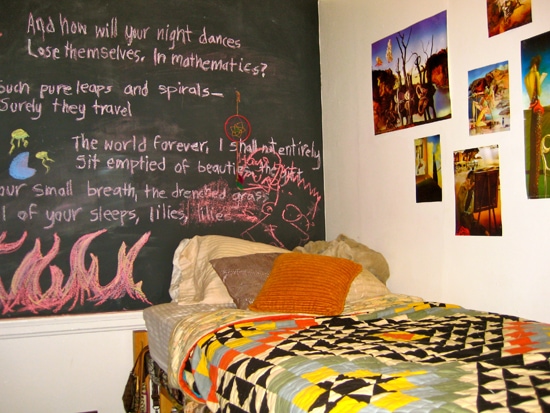 When I first saw their submission, I was blown away by Cassidy and Ellie's unique dorm decor. Both juniors at Duke University, their two chalkboard walls are covered in their doodles and inspirational quotes, and friends are welcome to add their own thoughts to the mix.
Their color palette is similarly eclectic and unique, boasting a rich and fiery combination on a backdrop of geometric prints. Bright red, yellow, and orange accents evoke the fire drawn on the chalkboard above, and make the room feel vibrant and exciting.
Cassidy and Ellie even have their own sitting area by a bay window, which they've decorated in the same vivacious color scheme, complete with matching red plush armchairs. They've done a great job of incorporating their personal styles within a common color theme, something many college students struggle with. Read on to see more of their interior design!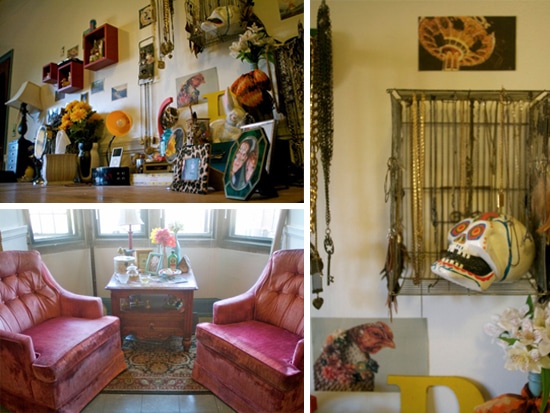 At top left, their wall is covered in some of the most one-of-a-kind decor I've ever seen in a dorm, including bright red shadowboxes! Their matching faded red armchairs (bottom left) are a focal point of the room, and a closeup of a jewelry holder (right) reveals a fantastic collection of unique pieces.
1. What inspired your design?
"College life is so transient and it feels like you never really have a place that you can call your own. We wanted to create a space where we felt totally at home. Ellie and I opted for warm colors and eclectic accessories to capture our personalities. We didn't really know each other when we first became roommates, but, over the past two years, our decorating styles have evolved together. As far as outside inspiration, we really like the aesthetics of Free People and Anthropologie. Their store displays capture the feel that we were going for in our room."
2. Where are your favorite pieces from?
"The pieces that I'm most proud of are the arm chairs by the window. I found them at Goodwill when I was home for summer break. They were only $20 for the pair! I knew I had to snap them up before someone else did. I'm still not sure how I managed to fit both of them into my little green Bug, but I did. They've turned out to be a great investment. From tea time to late night study sessions, these chairs have seen it all."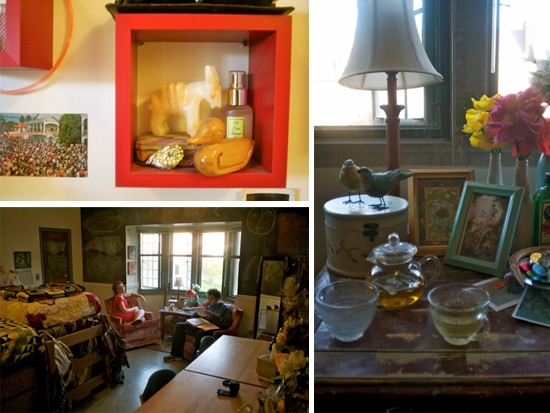 I can't put into words how much I love the photo at bottom left. All of their vintage pieces get new life with their vibrant color scheme, and the light streaming in through the bay window makes me feel like I'm right there with them.
3. What are your tips for decorating on a budget?
"Thrift stores are your best friends! Most of the things in our room are from Goodwill or antique stores. With a fresh coat of paint, anything can look just like new. Also, don't be afraid to get creative. I made a jewelry holders out of a cheese grater, an old banana hanger, and a wire cage that I found in my back yard (after thoroughly washing it). Just because an item is supposed to be used in a certain way doesn't mean that you can't repurpose it to fit your needs."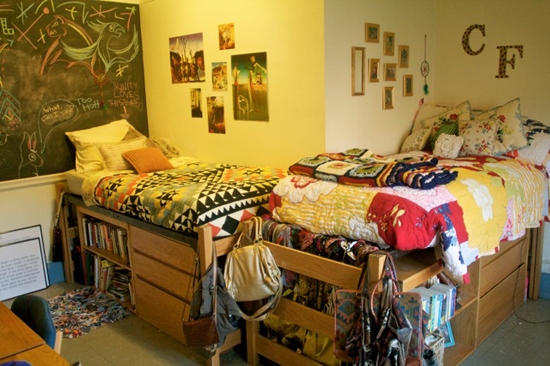 Even though one bed has a geometric print and one has a patchwork quilt, the two aesthetics blend so well in this eclectic room that any traditionally "mismatched" prints look perfect together.
4. What's your favorite memory of something that's happened in your room?
"One Sunday morning, our next door neighbors burst into our room and decided to host a mock talk show called "Good Morning Glory" in our room. It even featured guest appearances from our hallmates. Ellie and I just sat in bed and watched. It was definitely a unique way to be woken up."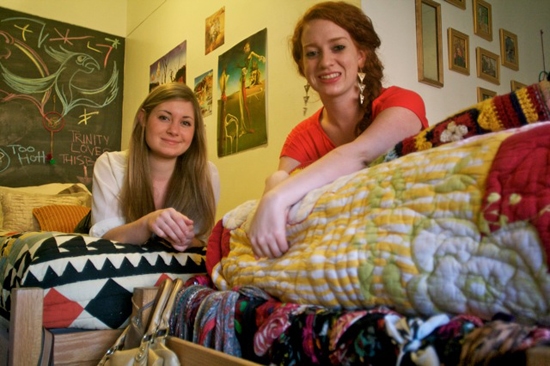 The geniuses behind this phenomenal dorm: Ellie (left) and Cassidy (right)!
Madison (University of Texas at Arlington)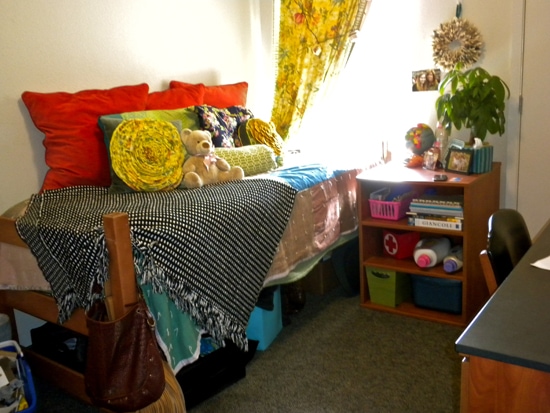 Madison, a sophomore at the University of Texas at Arlington, describes her room as "happy, vintage, and eclectic." I absolutely adore her cheerful and lighthearted blend of textures, colors, and aesthetics. Her room has every element of a bold, modern college dorm room, while still managing to evoke a homelike, cozy feeling that makes you want to flop down on the bed or floor and chat for hours.
Madison loves "having random things that make me smile", and found most of her favorite decor from thrift stores, garage sales, and her mom's attic. Her color palette of sunflower yellows, oranges, and varying shades of blues and greens helps make her room one of the most effortlessly wonderful dorms I've seen.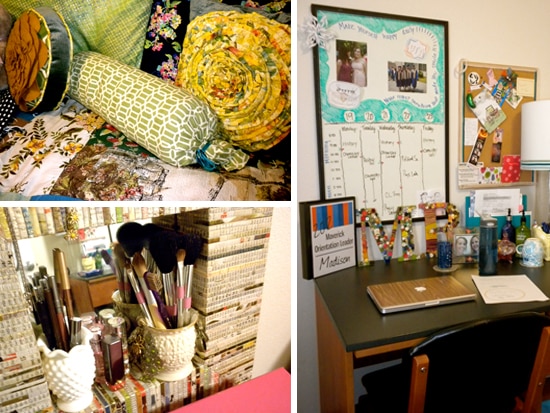 Madison took the spring 2012 digital prints trend and brought it to her interior design (top left) on her wonderfully diverse mix of throw pillows. Her desk is functional without being bare, and boasts plenty of homemade and quirky elements (I love her laptop skin!), and the DIY makeup holder is absolutely fantastic.
1. What inspired your design?
"The inspiration for my room came from this amazing quilt that my mom found at an antique store when she was in college. It has amazing colors and fabrics mixed together. Mostly though, I like to decorate using things that make me happy, be it a quilt or pillows I made this past summer or my 'money tree' plant. I wanted my dorm room to feel 'homey' and inspiring. I do A LOT of doodles and drawings that I put on my walls as easy and cheap art, it makes me happy to see things I made all over my room."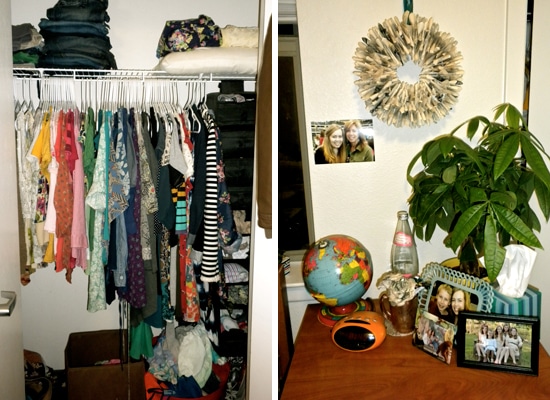 A tiny closet is a difficult thing to get right, but Madison nailed it! At right, her assorted pieces (like her vintage mini globe) combine with the lush green plants to add life to the room.
2. Where are your favorite pieces from?
"My favorite pieces would be my vintage mini globe, my plants, my giant orange pillows on my bed, and my color-coded closet. I found the mini globe at a thrift store shoved in with the kid's toys; I knew right away it needed a home. The plants are actually from IKEA but you can find them anywhere. I like to think my 'money tree' will pay off someday, haha. Also, my giant orange velvet-ish pillows are from IKEA too and they are so comfy to lean against! About my closet, I love having it color coordinated! It makes my mornings so much more efficient."
3. What are your tips for decorating on a budget?
"To decorate on a budget I always think of thrift stores and garage sales. You never know what you'll find! However, thrift stores will usually give you a vintage vibe. Stores like Ross and Marshalls usually have awesome picture frames and decore at great prices for a more modern or edgy look. Also, I have been known to revamp a find using paint, old buttons, lace and ribbons and some old book pages. Sometimes you have to imagine an item as how you wished it looked and then make it look like that!"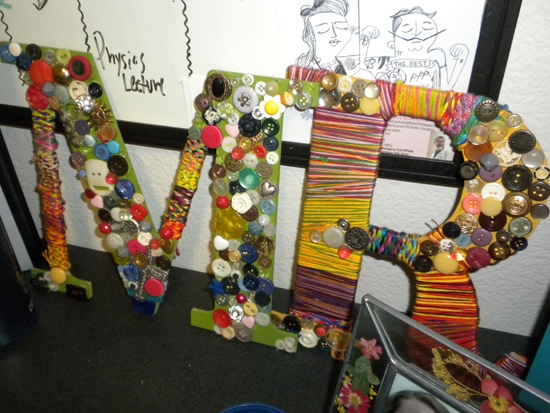 If you're looking for an easy and creative way to personalize your room, decorating with giant monogram letters is a great place to start. Madison's initials are every bit as vibrant and colorful as her room.
4. What's your favorite memory of something that's happened in your room?
"One of my favorite memories in my room was probably move-in day! My two roommates were already settled in their suites and I showed up with a gigantic pile of stuff. (I'm not good at packing.) They both looked at me like I was crazy and thought I would never be able to fit all my stuff into my tiny room, but I did! Now well into my second semester of this year I just love having my friends crammed into my room and watching a movie, eating snacks and chatting up a storm!"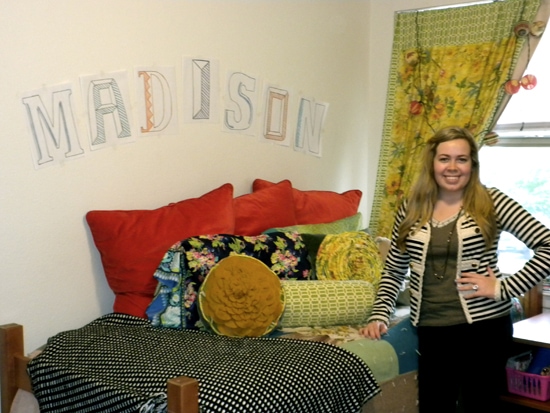 Cheerful and easygoing, Madison perfectly reflects the homey spirit of her room!
What do you think?
Which of the rooms was your favorite? What color scheme are you using in your dorm right now? Would you have a chalkboard wall in your room? Have you got any more tips for decorating on a budget? Let us know with a comment!