This post may contain affiliate links, which means we may receive a commission if you purchase through our links. Please
read our full disclosure here
.
Welcome to the second installation of Dormspiration, where we showcase the dorms and apartments of fabulous, interior design-savvy CF readers! In this article, we'll be taking a gander at two beautifully and creatively decorated rooms: one from Amelea of the University of Oregon, and one from Gillian of the University of Wisconsin-Stout.
As with the first Dormspiration installment, these posts will show you that it is possible to create a chic, unique dorm on a college student's budget. Amelea favors a calm, cozy room with warm lighting and plenty of colorful inspiration, while Gillian's room is full of typographic elements and quirky accents. Read on to check out their rooms!
Amelea (University of Oregon): Calm and Cozy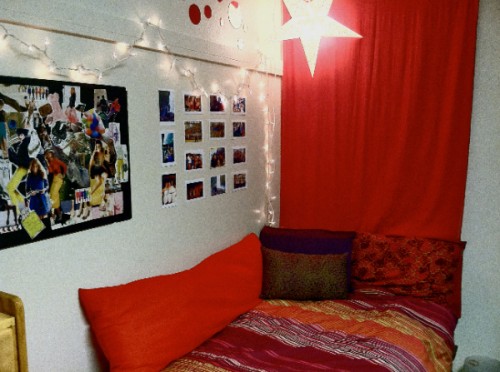 Meet Amelea, who's studying public relations, business, and Japanese at the University of Oregon. Her room reflects exactly what she wanted it to. Says Amelea,
"Coming to college, I had no idea what my dorm room would be like. I just wanted to make sure that it was super cozy and relaxing. I made sure I had lots of color, lights and photos of my friends and family."
She certainly achieved the calm and cozy look! The warm, dark reds are perfect to come home to on a cold winter night, and I love how she mixes patterns and textures in her pillows, bedspread, and the curtain that serves as a faux headboard. The rich colors help to counteract the chilly pale walls, and the ambient lighting (I love that star light!) makes the room feel relaxing.
I especially love her photo displays, and the contrast between the collage and the grid-like organization of the pictures. The juxtaposition of the two adds so much visual interest, and the round mirrors on the wall draw the eye upward and create an illusion of more space.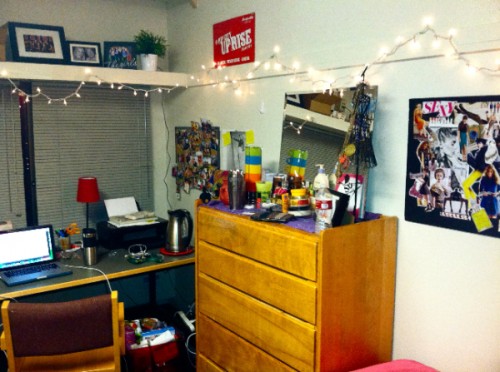 Amelea added a few more cool details to her room. First, she turned her dresser into a vanity by propping up the square mirror against the wall – such a cool idea! I also love how her Christmas lights continue all around her room. The plant in the corner of her dorm brings so much life into it, and I like how the red color scheme continues on with her desk lamp.
Want more info on Amelea's dorm? I asked her a few questions about what inspired her dorm room design.
1. What inspired your dorm design?
"I love the color red so I wanted the red curtain behind my bed to be the main focal point of my room. Going into college, I knew that the rooms were going to be pretty bland, so I wanted to use as much color as possible without going overboard."
2. What are your favorite pieces in your dorm?
"I love my white star lamp above my bed. I turn that on along with my Christmas lights when I want to relax. We're not allowed to have candles in the room so I wanted to have some other form of lighting to create a calm atmosphere."
3. What's your favorite memory of something that's happened in your room?
"My roommate and I invite people from our floor to have 'Just Dance' parties with us on the Wii."
4. What are your tips for decorating on a budget?
"Since dorm rooms are very plain, have fun with color, print and other fun details that will bring life to your room. You don't have to spend money to have a great dorm room. I made an inspiration board with pictures from my favorite fashion magazines and also printed out pictures to hang on my wall to remind me of home. Another thing that adds A LOT to your room is lighting – Christmas lights are fun all year round and very inexpensive."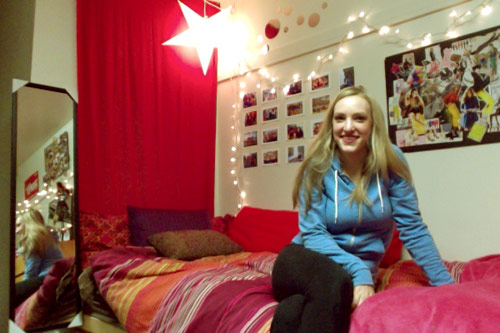 Amelea in her gorgeous and relaxing room
Gillian (University of Wisconsin-Stout): Vintage and Graphic Design-Inspired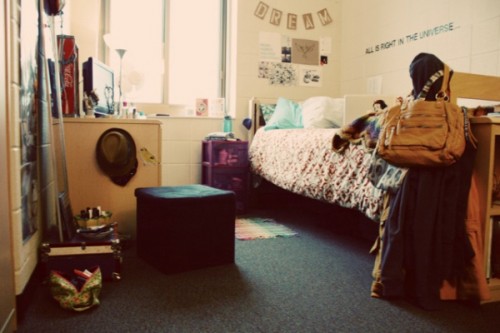 Gillian, a Graphic Design major at the University of Wisconsin-Stout, sent me a few photos of her dorm there, and I fell completely in love. She merges vintage touches with graphic design elements like typography to create a wonderfully unique room filled with quirky elements and fun prints. Gillian classifies her interior design style as "artsy-hippie-vintage", and her walls are covered with her own sketches, collages, and photographs.
Gillian used an eclectic, muted color palette to create her room's soothing ambiance, and her room is filled with gorgeous surprises, like the Snow White laptop decal and artwork displayed everywhere. Let's go explore her room!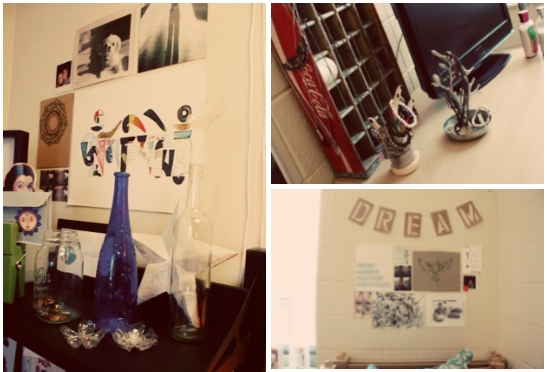 Gillian's unique pieces make her room fascinating — everything from the graphic design displays to her vintage Coke bottle holder and jewelry holders adds something to the room.
1. What inspired your design?
"Everything! Art, design, music, typography, photos, my Mom & Dad & sisterface, fashion, traveling, my friends…I could go on forever! I think my room really reflects my personality, its a warm inviting and creative space."
2. Where are your favorite pieces from?
"A lot of my favorite pieces – including my Coca-cola bottle holder, the roller skate box, patterned record boxes and the bowls that hold my makeup – are all from my parents. They have always has a great eye for vintage pieces, which is probably where I developed my taste for antiques. I also love my globe lamp that I bought at a furniture consignment shop in Chippewa Falls, WI. The majority of the other pieces are gifts from friends or thrift store finds. Most of the art on the walls are my drawings and photographs, mixed with old postcards and inspiring pictures from magazines."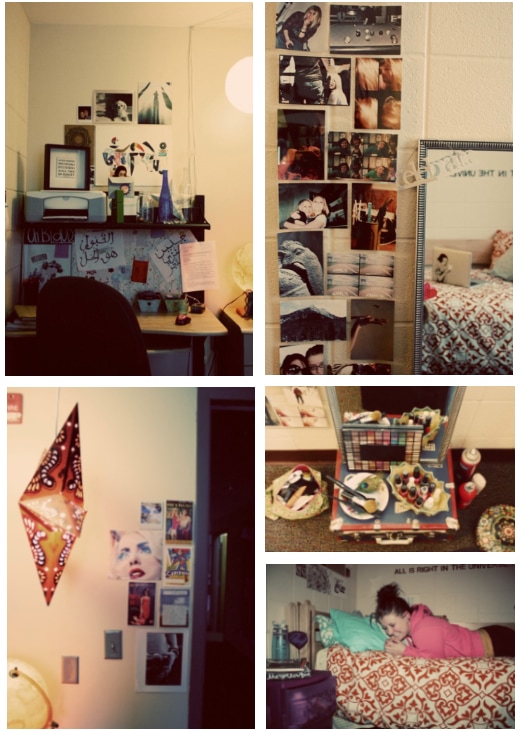 I absolutely love the geometric arrangement of magazine pictures and photos — they add structure to her room, which is balanced by the star light and colorful paints and artwork.
3. What's your secret for decorating on a budget?
"Thrift stores, consignment shops, antique stores, and garage sales! I am always keeping my eye open for unique pieces and I've been collecting since I was 15 or 16."
4. What's your favorite memory of something that's happened in your room?
"Anytime my friends are around – I love that people feel comfortable to just come and hang out in my space."
What Do You Think?
Did you like this second Dormspiration installment? What are your favorite aspects of Amelea and Gillian's rooms? Do you have any tips for decorating on a budget? Let us know with a comment!
Want to be featured in an upcoming Dormspiration article?
Send 1-2 photos of your room and a brief description of your decor to [email protected] for a chance to show off your fabulous interior design to hundreds of thousands of other college students! Can't wait to see your submissions!