This post may contain affiliate links, which means we may receive a commission if you purchase through our links. Please
read our full disclosure here
.
Welcome back to campus, CF readers! As you get ready for another thrilling semester of college life, here at CF, we're busy documenting the new trends and updated classics that your fellow fashionistas are wearing at their schools.
Of course, no new semester is complete without a few new additions to your dorm decor – whether you're adding new art to the walls or just getting more organized, there's no better way to kick off the semester than in an inviting, comfortable space. To get your ideas going, our Dormspiration series is back! (In case you missed past editions, see Dormspiration Part 1, Part 2, and Part 3!)
This fourth installation of Dormspiration takes a trip across America, showcasing three stellar dorms from Columbia University, the Fashion Institute of Technology, and Stanford University. Let's let these gorgeous dorms and sorority houses speak for themselves!
1. Jessica (FIT): Modern and Trendy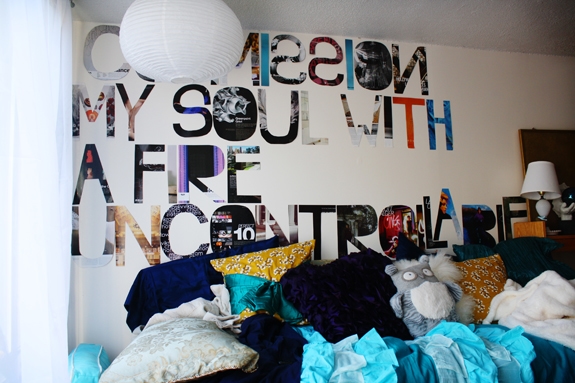 According to Jessica, a student at FIT, her roommate once called her dorm room a "photographer's paradise". That compliment certainly rings true when one takes a peek at her beautiful room, which perfectly blends modernity and personal touches, all while using generous splashes of brilliant color. The ruffled bedspread adds texture and visual interest to the room, while the oversized typography on the wall echoes the bed's colors and speaks to Jessica's tastes.
1. What inspired your design?
"I was inspired by so many things. I wanted my room to be as much of a reflection on myself as possible. I don't really include myself in any sort of specific style (fashion-wise) so I didn't really want my room to be any sort of specific style either. I just figured that if I'm decorating for me, I can just throw things I like together and hopefully it will turn out nicely.
I'm a very visual person so it was really important to make the room as visually pleasing as possible. In addition to fashion (I'm a Fashion Design major) I'm very interested in photography. Photography helps me capture inspiration floating around in my head and it also helps me remember exactly how certain memories felt. All the photos on my walls in my room are my own photography and they remind me of all the beautiful things I have seen and experienced. I'm also really into nature and not so into New York, so my nature photos are there to make me feel better about living in a city where there aren't many trees or flowers."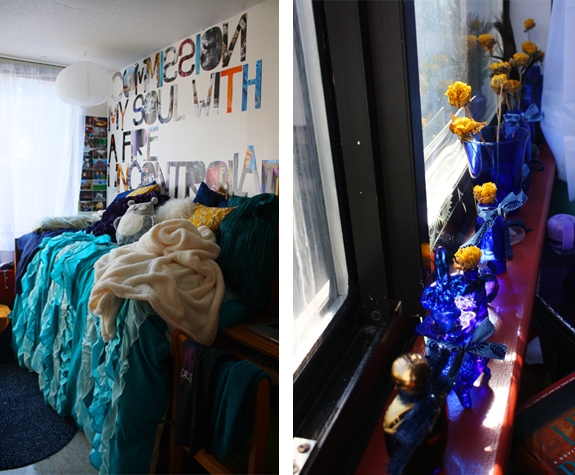 Jessica explains, "The quote on my wall has a lot of meaning to me as well. I believe that God has called me into the fashion industry despite it being in a place that I'm uncomfortable. Because it's my first time living away from home (and home was in a farm town in Pennsylvania) and because I'm at such a competitive school, I have to have a lot of trust that God's gonna make sure I'm taken care of. 'Commission my soul with a fire uncontrollable' reminds me of what I'm at school for: to follow my passions and to follow where God's leading me."

2. What are your favorite pieces and where are they from?
"I really love my bed, I feel like it's the main focus of the room. My mom made the big blue ruffle duvet for me and some of the pillows. I also really love all my blue glass on my window ledge. That specific color blue is such a gorgeous color. Most of the pieces came from my mom but one came from my Papaw who lives in Ohio. I'm pretty sure all of them are antiques."
3. What's your secret for decorating on a budget?
"I'm sure it is not much of a secret but making things and buying from thrift stores or antique stores saves so much money! I actually preferred the pieces I found in thrift stores to new ones: I could mesh together so many different things that I liked and spend very minimal money on all of it. My paper lantern, my rug, some of my decorative vases/jars, and all of my pots, pans, and dishes came from Goodwill.
As I said before, a lot of my pillows were homemade, along with my duvet cover. My mom actually copied it off of a duvet cover I had wanted from Urban Outfitters and she did it in some of my favorite colors. My walls are covered with my own photography and the quote above my bed I cut out myself. I ended up spending less money than if I had shopped at Target and my room ended up being much more interesting than a room copied out of a store catalog."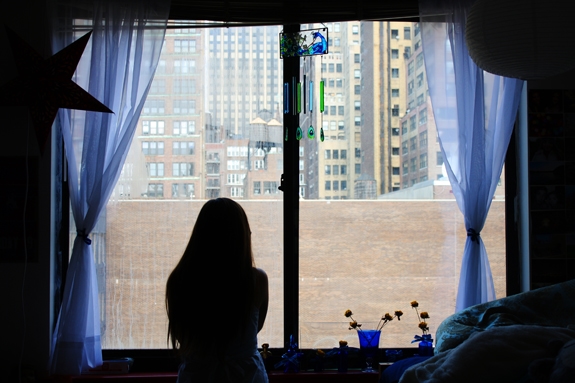 The rich, blue glass placed against the window bathes the whole room in a luxurious glow.
4. What's your favorite memory of something that's happened in your room?
"I don't get to spend a lot of time being social or hanging out in my room because my program is so intensive, but I have enjoyed some good times in my room nonetheless. My favorite is when my boyfriend Ryan comes to visit. We are in a long distance relationship so I don't get to see him much so when I do see him I value the time a lot. When he visits I am finally able to relax and focus on something other than homework and do things that are more fun (like watch movies and eat junk food!)."
2. Amanda (Columbia University): Cozy and Crafty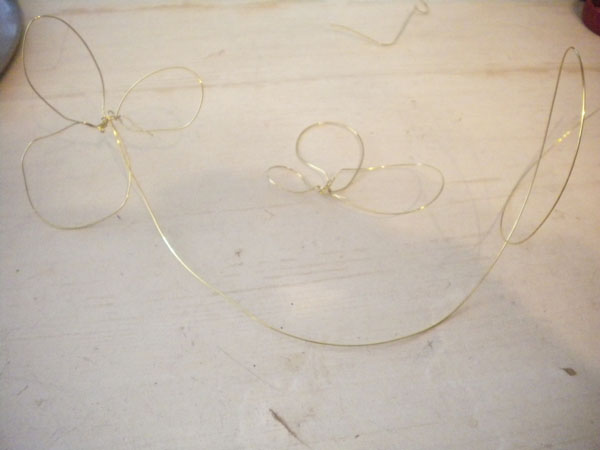 Amanda, a freshman at Columbia University, has a dorm full of mementos and DIY elements, making it the perfect single to kick back and relax in! Her personal touches are in every corner of the room, from wall decals she made herself to mustache-inspired decor. Below, she details the inspiration behind her design.
1. What inspired your design?
"Everything, but I focused on do-it-yourself (DIY) projects, fun & things I love, and coziness."
2. What are your favorite pieces and where are they from?
"My favorite pieces are things that I made myself, actually! When I moved in I had only two suitcases and the chance to decorate a completely new space, so I pulled together cheap used furniture and focused on decorating the walls. One of the things I enjoyed creating was a quote made out of letters that I cut out of magazine ads and taped above my desk, near the ceiling. Also, Zazzle.com lets you upload and design your own posters; I made one of a picture of my hometown in Hawai'i!"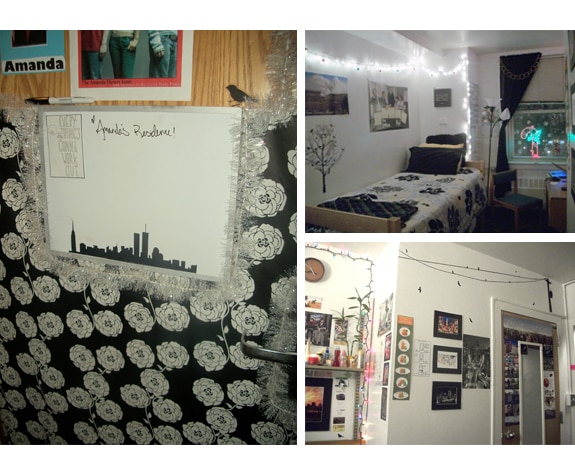 At left: Amanda's door is decorated just as much as the inside of her dorm is, which ties her whole room together. Also, the wall decal of the telephone pole (bottom right) is adorable and perfectly placed!
3. What's your secret for decorating on a budget?
"Make anything and everything! Firstly, wall decals are very pricey – I was looking at ones from Etsy and Urban Outfitters and they can be quite expensive. However, a roll of contact paper (it's like wrapping paper with a sticky backing) can be purchased for $4 in any type of pattern or color you desire! I bought a roll of plain black, and I traced out my own designs. It's like a DIY wall decal! I used contact paper to make a skyline of NYC that I put on my door, moustaches that are all over the place, and birds on a wire on the wall above my closet. Basically, anything you find, you can make yourself, and save TONS of $$!"
4. What's your favorite memory of something that's happened in your room?
"Sometimes it can get lonely because this year, I live in a single, and all my friends live together a few floors up. However, the other day, a whole bunch of them came down to surprise me and check out my room. It made me so happy to be the host for once! We took pics and hung out for a little while. It meant so much to me!"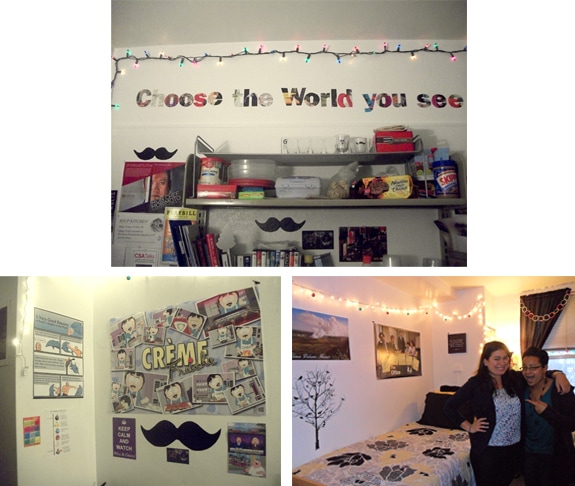 I love the posters Amanda put up in her room, as well as the clean and classic yellow-and-grey color scheme. Gorgeous design!
3. Danielle (Stanford University): Sensual Parisian-chic Meets Studious American Girl
When you think of Stanford University, high-end fashion might not be the first thing to pop into your mind. However, Danielle, a senior and sorority sister, proves otherwise. Her stylish and richly textured dorm room in a Stanford sorority house is chic, creative, and reminiscent of posh residences in France. As a Palo Alto native myself, I'm thrilled to showcase Danielle's dorm, which features warm fabrics and a color scheme ripe with dark reds and blacks.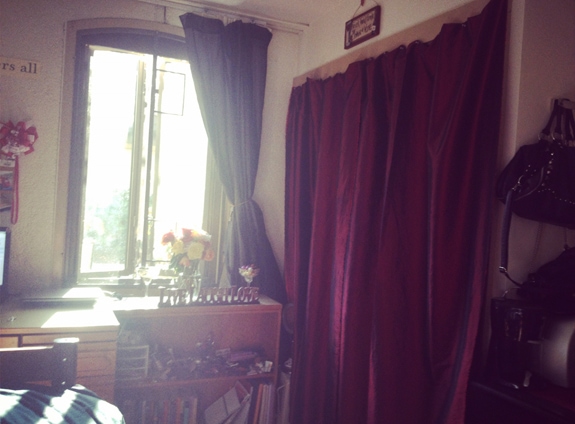 When entering Danielle's room, the rich red curtain immediately evokes a sense of mystery, and is countered by the cheerful blooms of fresh flowers that sit on naturally lit surfaces. Danielle makes excellent use of sunlight coupled with textured fabrics to create a sense of air filtering through a dimly lit, upscale boudoir. Below, she describes her interior design in greater detail.
1. What inspired your design?
"My room décor is inspired by Parisian sensuality and elegant glamour. I chose rich shades of red and black as my color scheme, with lots of soft textures to make a potentially stark, standard-issue white-wall dorm room look cozy. I love candles, fresh flowers, and subtly feminine details, like rhinestones on the stick-on wall chandelier, golden keys as a curtain tie, and satin pillowcases. I wanted the overall motif to be classy and romantic.
I'm a double major in American Studies and Human Biology, doing pre-med requirements, and writing an Honors Thesis, so I do a ton of studying in my room and needed to have space conducive to creativity and productivity. I put up quotes and pictures that inspired me, while keeping the majority of the wall space and desk clear and clutter-free. I'm also quite the neat freak… my room is always cleaned and vacuumed!"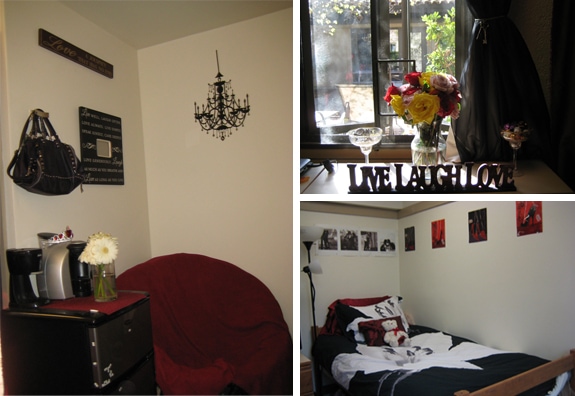 The Parisian air is echoed in the wall decor, with a classic chandelier wall decal and artwork in the room's colors. The inspirational words balance the sensual interior, perfectly speaking to Danielle's personality. She declares, "You just can't wear sweatpants after seeing Angelina Jolie and Victoria Beckham's outfits."
2. Where are your favorite pieces from?
"I made my curtains, my closet 'doors', and my chair cover from fabrics I bought at a craft store. The room originally had an accordion-style closet door, which I replaced with a rich red fabric that reminded me of elegant European stage curtains. I printed and taped photos of my style-icons and outfit pairings (mostly from College Fashion!) to create a border around my full-length mirror for fashion inspiration every morning.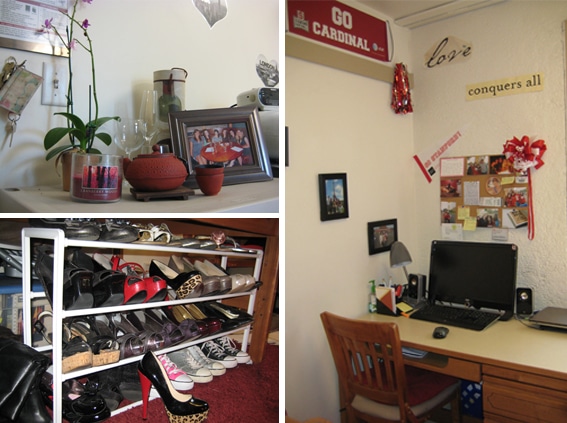 3. What's your secret for decorating on a budget?
"My advice is to invest in pieces that would also be suitable for an apartment after college. I also recommend organizational pieces that are both functional and aesthetically pleasing. Things I use the most often, like makeup, I keep in clear sectioned trays on my shelf, which keeps everything organized and within easy reach. I originally had my shoe collection hidden away in my closet, but now I have my many pairs of stilettos displayed under my bed on a multilevel shoe rack, and my boots are placed in three rows next to it. Seeing all my shoes makes me happy!"
4. What's your favorite memory of something that's happened in your room?
"Watching all of Stanford football's victorious away games streamed onto my computer screen with my fellow Tridelts (can you tell I LOVE my school?) or styling hair, applying makeup, and blasting music with my friends while getting ready for various senior year social events."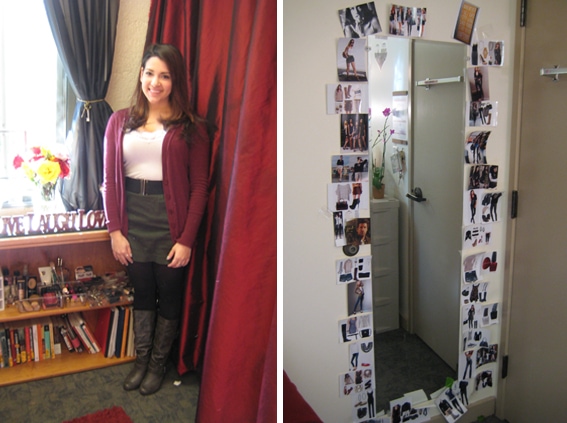 At left, Danielle is every bit as classic and richly attired as her room is.
What do you think?
Got any feedback on Dormspiration's fourth installment? Have some creative tips for college fashionistas looking to spruce up their rooms? Which of the three rooms did you like the most? Let us know with a comment!
And if you've got a gorgeous dorm or apartment…
Send 1-2 photos and a brief description of your decor to [email protected] for a chance to be featured in an upcoming Dormspiration article and to show off your style to thousands of readers across the country!