This post may contain affiliate links, which means we may receive a commission if you purchase through our links. Please
read our full disclosure here
.
With the ever-expanding dorm room market (and the ever-shrinking dorms!), making a space your own while conserving and utilizing precious space has become increasingly difficult – but with a little creativity, it's possible to turn a boring, standard-issue dorm into an amazing space.
In this new series entitled Dormspiration, we'll be showcasingthe very best dorm room decor, proving that it is possible to transform a 9′ x 12′ empty space into a room you can truly call your own — all on a college student's budget!
In this first installment, we'll look at three beautifully decorated rooms, each uniquely furnished by their inhabitants. Emily focused on a clean color scheme, letting images and quirky decor speak for themselves, Mallory and Allegra used an eclectic blend of colors and materials, and Andy proved that men can (and do!) decorate their rooms with taste and class. Let's get started!
1. Emily (Oberlin College): Simple, with a Unique Twist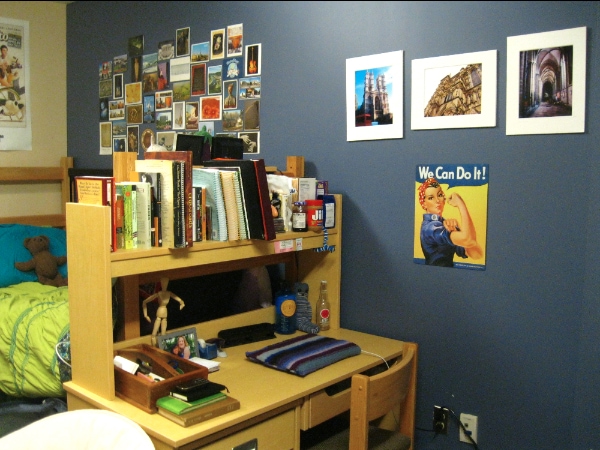 Emily's side of her double room at Oberlin, based around a clean color scheme of blues and greens, perfectly reflects her pensive personality. The gorgeous collage of pictures and postcards adds so much visual interest, and contrasts wonderfully with the simply matted prints and Glee poster on the opposite walls.
If you look closely, you'll see all of Emily's unique pieces that bring so much life and creativity to her room: everything from her knitted eggplant to her vintage desk accessories. The coolest thing is that she makes all of her knitted decorations herself! Emily is one of my best friends, and I've always been in awe of her impeccable taste.
Read on to see what inspired her dorm style!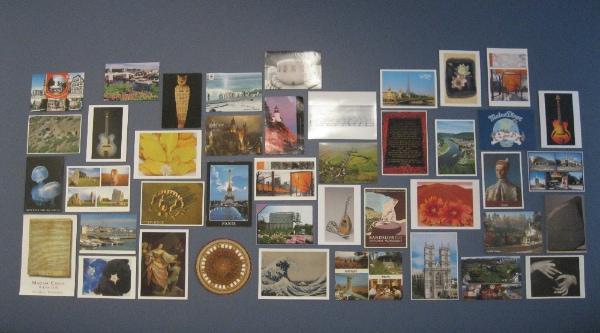 Emily's collection of pictures and postcards are grouped into a simple collage that showcases her interests perfectly.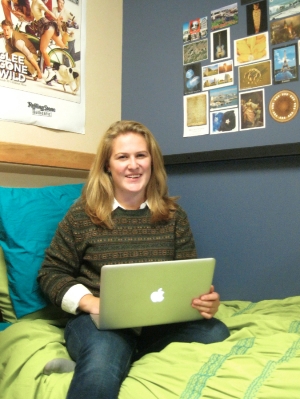 Did you have a theme in mind when you set out to decorate your room?
"I began with a color scheme — I wanted a blue and green room, since they're common colors and also my favorites. It worked out perfectly because my room has blue walls. I didn't really choose a theme, I just chose a color scheme and went from there."
How did you achieve your room's look?
"I started with my blue and green duvet, and some matching pillows to set up the color scheme. The postcards are from friends, museums, and my travels, and I also used a few posters and photographs I've taken."
What are your favorite pieces in the room?
"I really like my hand-knitted tchotchkes, the cat made out of a sock sitting on my desk, and the knitted garlic that sits next to my alarm so that I see it every morning and smile. One time, I uploaded a photo of the knitted pea pod to Flickr, and someone from a British smoothie company emailed me about using the photo on their packaging. They ended up paying me one hundred pounds to use it, and I got a bunch of free stuff from them!"
What are your tips for decorating on a college student's budget?
"Use things you already have! I didn't buy all that much to decorate; I used a chair I had at home, and I already had the photos and posters. I only bought the bedding new."
Were there any challenges?
"Oberlin paints their dorm walls different colors. In my room, two of the walls are blue, and two are oatmeal. Before coming here, I was worried that the walls would be a weird color (the walls upstairs are red), and I didn't know how big my room was going to be. I had to guess and hope that everything would fit."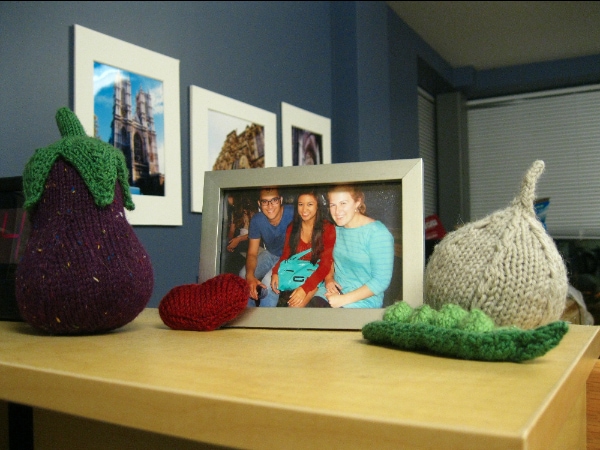 Emily's hand-knitted pieces are probably my favorite part of her room.
Mallory and Allegra (St. Lawrence University): Vibrant and Eclectic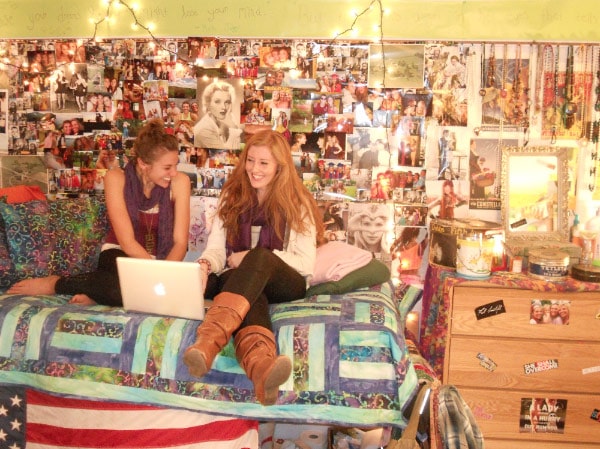 Mallory (left) and Allegra's (right) room is covered in everything imaginable, from photos and posters to magazine covers and wrapping paper. Their creativity and love for art and clothing is perfectly reflected in their room design, and their styles complement each other seamlessly.
You could stay in their room for hours and not see everything that they've added to their dorm — and that's just the way they want it. According to the two roommates, they're constantly adding things to the walls, and are always on the lookout for new pieces. When I first stopped by their room one Saturday night, I was immediately struck by how different it was from any room that I'd ever seen, and I just had to ask them about their interior design style!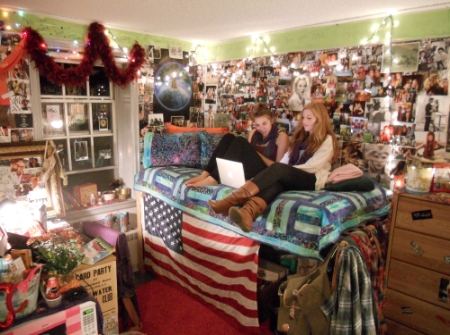 Mallory's side of the cozy double.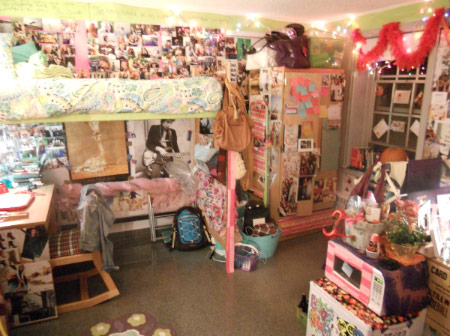 Allegra's side of the room.
Does your room have a theme?
"We decorated our room around songs and movies. Our intent was to cover every inch of the walls, and to make it as homey as possible. We love color, and the more space we cover with decorations, the more comfortable we feel. It's important to like the room you live in — your dresser and closet are just wood, but you can make them your own. We have quotes everywhere, pictures of friends from back home; it's a good mix. We literally put up anything we could find: cards from home, candy wrappers, fairy wings from Halloween, Victoria's Secret bags, and so much more."
Did you have a color scheme in mind?
"We didn't really have a color scheme — the more colors, the better! We had already bought our stuff, and it just happened that we both had blues as the main color with extra colors added, and it makes sense to us now that we know each other. The decorations become more cohesive as we get to know each other."
What are your favorite pieces, and where are they from?
Allegra: "The vintage Coca-Cola bottle on my dresser is from Mallory's dad's hophouse (basically a giant barn filled with the coolest antiques ever). For our Finding A Voice class, we had to make instruments, and Mallory's dad told us to go through the hophouse and bring back whatever we wanted. One morning, Mallory left me the Coke bottle with a lollipop, and I thought it was just too cute to eat. I also love the cards I've received from people, like one from my ten-year-old cousin, and one from Mallory's grandparents."
Mallory: "My bulletin-board frame was from my aunt Jodie as a graduation gift, and I added family pictures and a sort of whiteboard-thing I can write on. My friend who's majoring in dance got a new pair of ballet slippers, and she signed and mailed me one of her old slippers when she got her new ones. I also have a record player that my dad got for me. My collection of records has grown over the years — I wasn't going to bring the record player to school, but it was almost like I had to."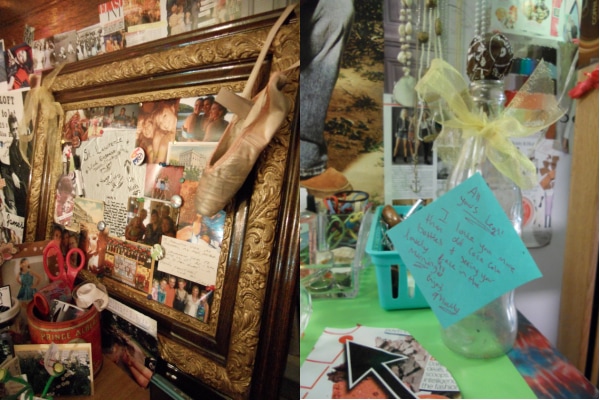 Left: Mallory's bulletin board made from an antique frame, with her friend's ballet slipper dangling over the top. Right: Allegra's vintage Coca-Cola bottle, a gift from Mallory, adorns her dresser with a cute yellow ribbon and Tootsie Roll Pop.
What are your tips for decorating on a budget?
"Magazines, wrapping paper, and ribbon! We did the border and bottom drawers of our closets with wrapping paper, it's so easy to stick it up and put things on it. We also love our colorful duct tape — we have tie-dye, gold, and leopard print. We use lots of scarves: anything that's not pretty, just toss a scarf over it."
What's your favorite memory of something that's happened in your room?
"It's where we first met each other — we always think back to that one night where we all did our nails. We're really close with two girls down the hall, that day sort of solidified our friendship. So much has happened in here that I haven't realized it's all happened in here."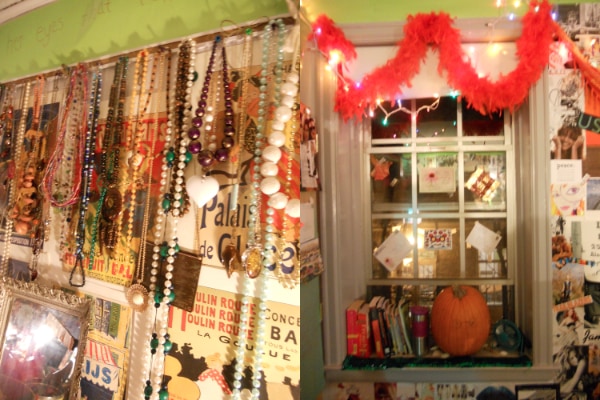 Left: Mallory's jewelry collection is artfully organized above her dresser in a simple bulletin strip. Right: Allegra's window reflects her personality perfectly with quirky details like the Harry Potter pumpkin and seashells.
Andy (St. Lawrence University): Classic and Preppy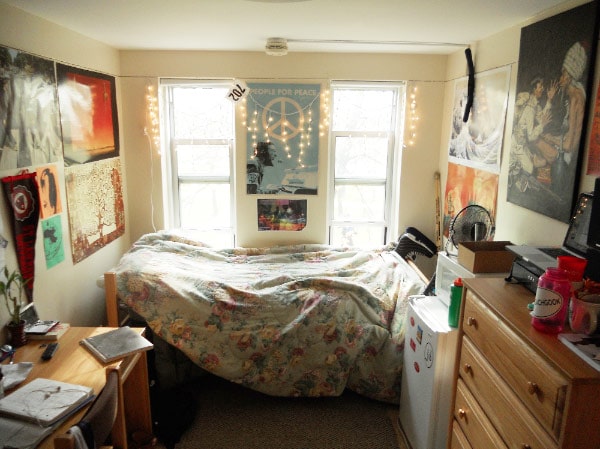 Andy's room is the epitome of a classic, tastefully decorated dorm. There's a tremendous shortage of well-put-together men's dorms, and when I heard about Andy's room, I had to go see it for myself.
Andy uses similar-sized posters and a number of unique elements to make his dorm his own, utilizing white space and symmetry. It just goes to show that a guy's room doesn't have to be bare or decorated with a solitary Sports Illustrated poster — dorm design should never be exclusively a "female" thing. Andy's room is a room that everyone wants to hang out in, and partly because he put effort into making it more than just a place to sleep and do homework.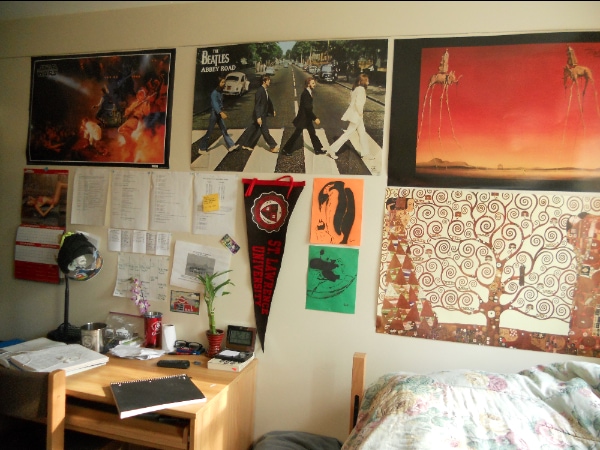 Andy uses a lot of preppy elements in his room like the St. Lawrence pennant and Salvador Dali poster — and who doesn't love a guy with a floral comforter?
How did you decorate your room?
"I brought this painting I got in New York City, and most things I got for free or from places like Wal-Mart. My mom sent me the Christmas lights–I didn't really bring most of my decorations."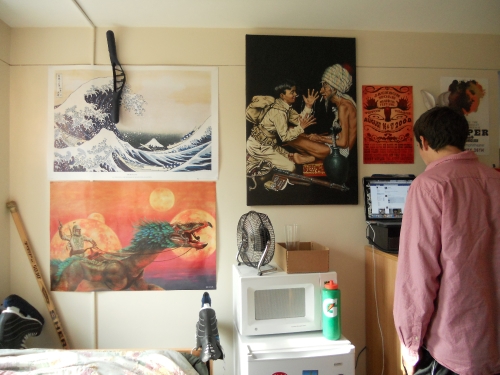 What are your favorite pieces, and where are they from?
"My favorite is the painting from NYC — I got it from a vendor outside the Metropolitan Museum of Art. It was dirt cheap, so I bought it. I took the erg (rowing machine) handle out of the erg room, and I like the Christmas lights — especially when it's dark and people are hanging out in my room, it's great."
What's your favorite memory of something that's happened in your room?
"Nothing you can publish!"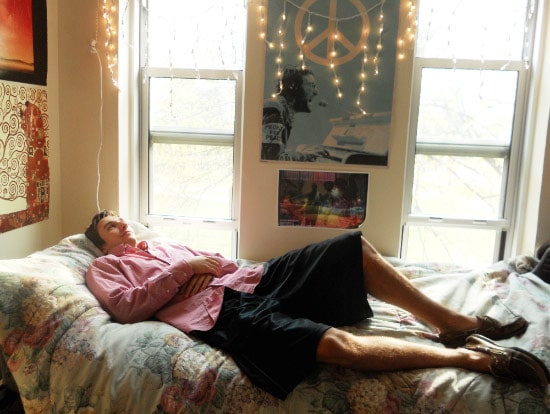 Andy: as preppy and chill as his room.
Want to be featured in an upcoming Dormspiration post?
Would your room medal if dorm room design was an Olympic event? Is your apartment an interior design haven? We want to know about it!
If you'd like to be considered for a Dormspiration article, email 1-2 photos of your room or apartment (bonus points if you can have a friend take a photo of you in your room!) and a brief description of your design to [email protected]. Can't wait to read your submissions!
What Do You Think?
How did you like the first installment of the Dormspiration series? Which room was your favorite? What are your best tips for decorating on a budget? Let us know with a comment!