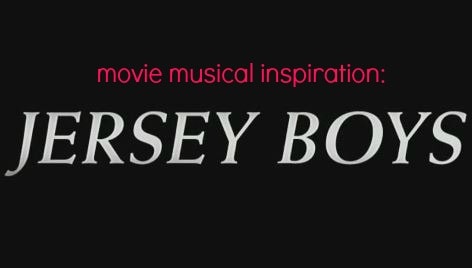 Pantone, the color powerhouse, is well-known for releasing Fashion Color Reports that often dictate the runway trends of the season, especially unique hues and combinations like mixed greens and tangerine.
Their annual Pantone View Home and Interiors publication is no different. The 2013 edition features nine color palettes, which Pantone Color Institute Executive Director Leatrice Eiseman described as, "[creating] the 'magic' that ultimately leads to sales in the marketplace, colors for 2013 will need to coax and cajole, soothe or astonish, renew and replenish."
The nine color palettes definitely deliver on that promise, covering a broad spectrum of moods and tones. Below, I'll feature dorm designs inspired by three palettes predicted to influence interior design trends in 2013, which range from classic, muted tones to cheerful and bold styles.
Palette 1: Footprints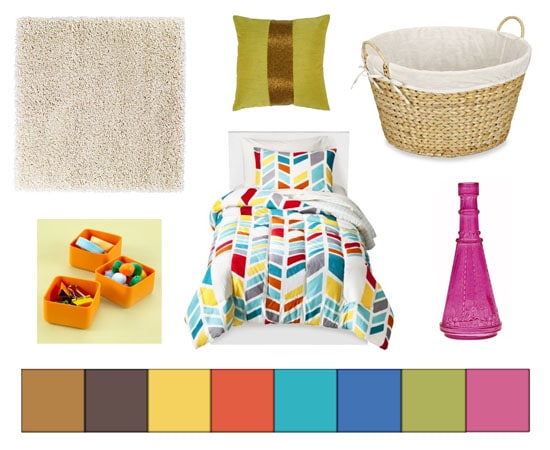 Product Information: Rug, Pillow, Hamper, Bottle, Bedding, Desk Accessories
A tribute to bold and vibrant hues, Footprints is a color scheme bursting with color and energy.
Channel the restless and dynamic feel with a colorful herringbone print duvet set, then supplement the bright pink and orange with a stained glass bottle (to be used as a bookend or accent) and playful desk accessories. A woven laundry basket and muted shag rug are nods to the earthy hues in the palette, and the whole room is rounded out with a metallic accent pillow that picks up on the color scheme's gold tones.
Palette 2: Rugged Individuals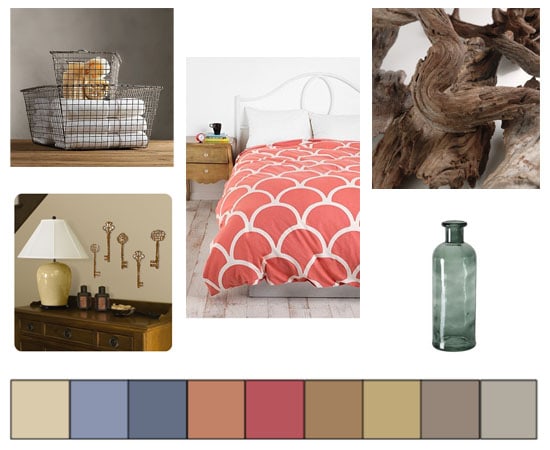 Product Information: Locker Baskets, Bedding, Driftwood, Bottle, Keys
With colors like Baked Apple and Prairie Sand, the Rugged Individuals palette is a wonderful take on the classic rustic scheme. Industrial and recycled products are staples for these colors, as well as anything inspired by the elegant asymmetry of nature!
Start off with a muted coral bedspread, then add some unique industrial pieces, like these upcycled pool locker baskets to hold towels or linens. A piece of natural driftwood looks striking placed on an empty surface or on the wall, and the sea-green hues of the recycled bottle are a perfect complement to dried flowers. For a final touch, add mirrored key decals to the wall for a feminine and classic decoration.
Palette 3: Out of the Ordinary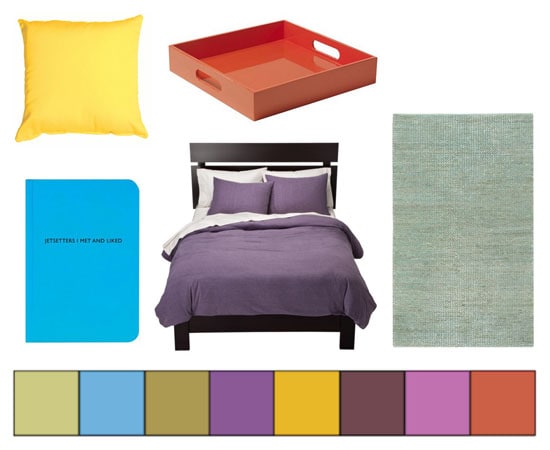 Product Information: Pillow, Tray, Rug, Bedding, Journal
Whimsy is the name of the game, according to the Out of the Ordinary color palette. Fun and dramatic hues like Chocolate Truffle and Bright Violet energize the scheme, though some softer shades like Bonnie Blue keep you firmly grounded.
A bright yellow accent pillow is the natural partner to a faded purple comforter, and the bright colors are continued with a fun rosebud-colored lacquered tray, which could be anything from a door-side catch-all to a handy place to corral toiletries. Add some muted tones with a woven seafoam rug, and a travel journal is a fantastic way to get the conversation going!
What do you think?
Which of these three palettes is your favorite? What do you think of Pantone's 2013 interior design color predictions? Do you have a favorite color palette that hasn't been featured? Let us know with a comment!
One more thing…
Dormspiration is now up and running for the fall semester! If you haven't heard of it yet, Dormspiration is a column where we feature the fantastic dorm rooms of CF readers. Check out this post and this post for an idea of how the column is structured.
Want to be featured in an upcoming Dormspiration article? Send a brief description of your decor and 1-2 photos of your college dorm room or off-campus apartment to [email protected]! Looking forward to seeing your submissions!