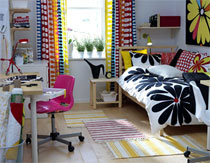 Even though it's only July, it's never too early to start shopping for back-to-school. Whether you're going to college for the first time or just want to make your room a bit cuter this year, dorm room shopping is at the top of most every college student's list.
Thankfully, affordable furniture retailer IKEA has your dorm room covered. The company has just launched the new college dorm website Roommate Living, which features lots of cute and affordable furniture and dorm room decorations.
The Roommate Living website also mentions IKEA's College Night, which is Wednesday July 25th from 6-9 PM. At participating IKEA stores on that night, you can get "advice on what you need for your dorm or off-campus housing."
If you're going to attend college night at IKEA, don't forget to bring your high school senior or college ID. Students with ID's will be entered to win free furnishings, IKEA gift cards, meals, or an entire purchase for free.
Here at College Fashion, I'm all about making your dorm room cute on a budget. Check back soon for more on this subject as Fall 2007 draws closer.