This post may contain affiliate links, which means we may receive a commission if you purchase through our links. Please
read our full disclosure here
.
A few weeks ago, we covered ten things under $10 to prep yourself for finals week, that include various clothing, accessories, and tools to get you through the most agonizing part of every semester.
Of course, we at CF believe in staying fashionable and practical in all aspects of our daily lives, so equipping yourself for some serious studying doesn't have to stop in your closet! Arming your dorm room with a few key gadgets and other must-haves can transform it into the perfect review space.
These tools don't have to cost you much, either — check out our list below of dorm room essentials for finals week and get ready to crank out those papers!
Our Dorm Room Picks for Finals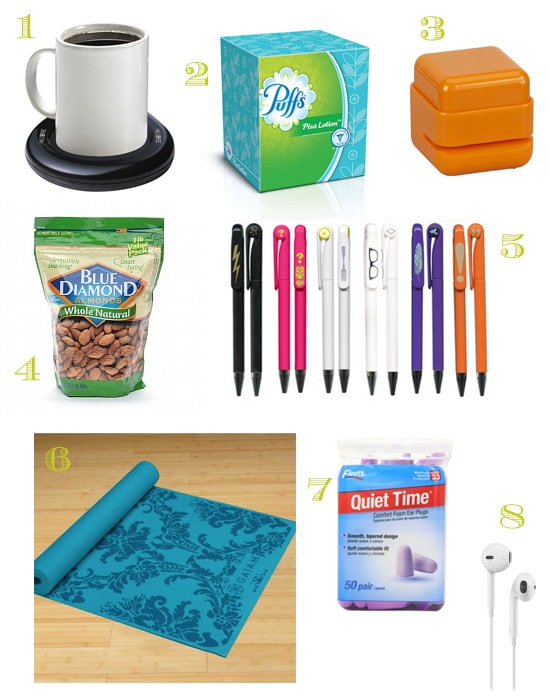 1. A portable mug warmer, like this one, can plug into your laptop's USB drive (!) and keep your caffeinated beverage toasty.
2. Tissues are a must, especially lotion-infused ones — the stress of exams is probably weakening your immune system, so make sure to pamper a potentially runny nose!
3. Library staplers never seem to have staples when you need them most. Remedy this problem with a staple-free stapler, like this one, which is an eco-friendly way to keep your pages together.
4. You can never go wrong with healthy snacks, and almonds are chock-full of protein, which will help you feel full and energized.
5. This past week, all of my pens have mysteriously run out of ink. These seven-year pens, available here, claim to be able to write 1.7 meters every day for seven years. Pretty cool, huh?
6. If you're not able to go to the gym to pound out a few miles of frustration, a yoga mat, like this gorgeous Gaiam one, can turn your dorm room into a makeshift workout space. Try meditating to calm you down or, if you've been hunched over your desk for a long period of time, use the mat to stretch out your arms and legs.
7. Have rowdy people in the library with you (or worse, already done with finals and celebrating as loudly as they can)? Comfy and cheap ear plugs, like these, quickly make your surroundings peaceful.
8. No one wants to get stuck a long walk away from your room with earbuds that chose that particular moment to break. Keep an extra pair on hand!
What do you think?
What do you stock your room with before finals? Anything we left out in our list that is an absolute must-have? Let us know with a comment!