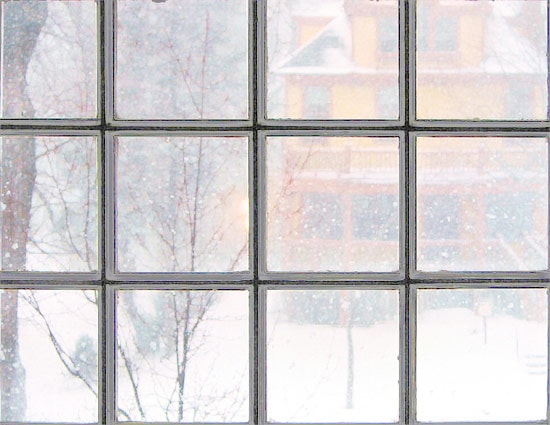 In the past, we've done articles drawing dorm design inspiration from the color blue, the color yellow, and spring 2012 pastels, to name a few. Keeping the latter in mind, it's been a while since I've been really and truly inspired by a season's trendy color palette.
All that changed, however, when I read Ashley's article on the top 5 color trends for fall/winter 2012. I've got a penchant for rich, warming colors, and this season's oxblood, cobalt, and olive green hues have not only made their way into my wardrobe; they're also being featured in my room's decor.
Want to know how you can incorporate the trendiest colors of fall & winter 2012 into your dorm or apartment without breaking the bank? Read on for tips!
1. Cobalt Blue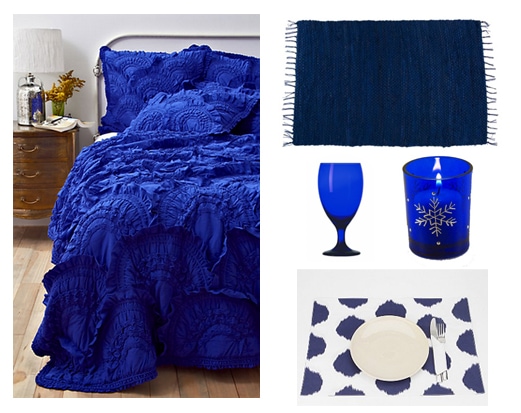 Product Information: Bedding, Rug, Glass, Candle, Placemat
Bold yet elegant, cobalt has got to be one of my all-time favorite colors. It goes with nearly everything, and immediately warms up a room.
For a dramatic look, try cobalt bedding like this gorgeous set from Anthropologie. Not sure how long this trend is going to stick around? Opt for less of a commitment, like a sweet and soft rag rug or placemat set.
If all you're looking for is a pop of this trendy color, there are plenty of options for you, like a set of cobalt wine glasses or even a printed candle.
2. Olive Green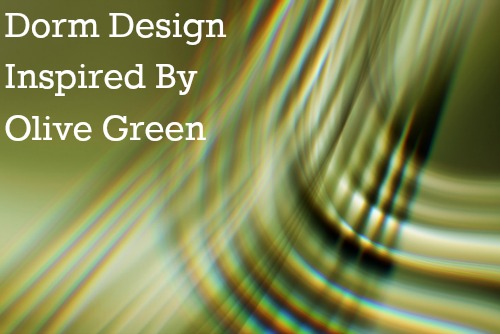 Product Information: Throw, Poster, Bedding, Rug
While olive green is easy to incorporate into an everyday outfit (olive green skinnies, anyone?), it can be a challenge to use this unique hue in a dorm setting. However, green is the most restful color to the eye, and olive green pairs beautifully with a wide variety of colors, especially a pale robin's egg blue, like the shade shown in the throw above.
For an earthier feel, blend olive green with a darker forest green, or even a warm red-orange and a golden yellow. The possibilities are endless, and you can start anywhere! A striped throw will instantly make your bed feel cozier, as will an olive green shag rug that easily transitions into spring.
For a quick burst of green, try this Andy Warhol print, or, if you're feeling ultra confident, pick up an olive green comforter.
3. Oxblood / Dark Red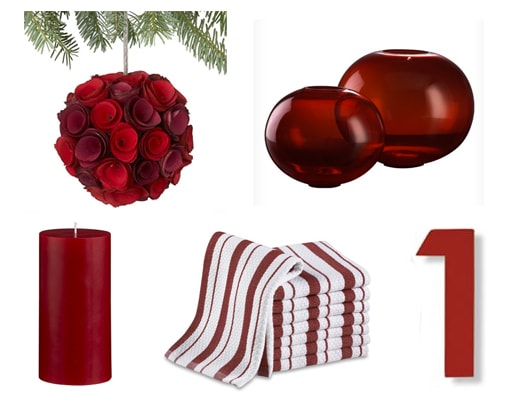 Product Information: Ornament, Vases, Candle, Towels, Number
Ah, oxblood. For our third and final inspiration, this moody and refined relative of red has been on everyone's mind all season. In The Washington Post, writer Megan Buerger quoted designer Alessandra Branca, who likened oxblood to a spice, saying,"It's there to accentuate and give balance. It is not the main ingredient. I would never paint a gargantuan room dark red, because that would be too much of a good thing."
Well, if you, like most of us, have neutral beige dorm room walls to work with, you're in luck: they actually go surprisingly well with the richly dramatic oxblood. The perfect accent hue for those who love red but want to err on the side of caution, there are infinite possibilities when it comes to adding oxblood to a room.
For a hint of this trendy hue in your dorm or apartment, try this luxurious wood curl kissing ball, or add to the mysterious vibe with a tall candle. (Just make sure they're allowed in your building before buying, ok?) Oxblood-striped hand towels are gorgeous and functional, as are pod-shaped vases for small plants. Lastly, a metal house number is a fresh way to add some interest to your wall.
What do you think?
Which of these three trendy fall & winter colors is your favorite? Will you be incorporating any of them into your dorm or apartment decor? What are your tips for mixing accent colors into a living room or bedroom? Let us know with a comment!