This post may contain affiliate links, which means we may receive a commission if you purchase through our links. Please
read our full disclosure here
.
Isak Dinesen once famously wrote,
"The cure for anything is salt water: sweat, tears, or the sea."
It's the latter-most form of salt water that this article focuses on – July is winding down and the water is beckoning, whether you're cooling off in a local river, going water-skiing in a nearby lake, or even exploring the coastline. Bringing an element of nautical design into your dorm room can provide the perfect touch of summer to combat those dreary winter days, and it's surprisingly simple to do!
There are so many sea-inspired looks and pieces out there that it's easy to get carried away, so this article will focus on more universal aspects of water and sailing, as well as some classic color schemes and textures.
Want to know how to infuse your interior design with a touch of the nautical? Read on!
1. Maps
Probably the easiest (and most versatile) way to add some seafaring elements to your room is using maps. Of course, this is also a simple and adorable way to personalize your room – simply grab a map from your local town hall, customize it a la Pinterest, and pop it up on your wall.
If you're going for a vintage feel, I'd recommend checking out your town's archives, or even a local library. There's a wonderful archive center in my college town that had a box of vintage town maps selling for next to nothing, and, when using maps, the possibilities are endless. Don't be scared of the price tags in some of the below suggestions, as many of them can be easily DIYed!
Some ideas for incorporating maps into your design: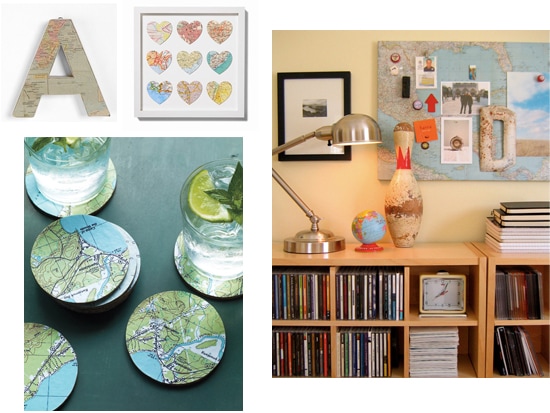 Product/DIY Information: Letter, Heart Map, Coasters, Message Board
2. Rope
Another equally gorgeous and rustic nautical element, rope appeals to a wide variety of audiences. If you're a climbing enthusiast or sailing aficionado, then you've definitely had your share of experience with it – and even if you're not, the rough texture and industrial feel are a great balance for feminine fabrics and colors.
Rope of all shapes and sizes can be picked up at your local craft store or West Marine, or you could always go searching for some on your own. With the help of a glue gun, all kinds of possibilities open up, like the ones below. Of course, for those who aren't DIY-savvy, there are plenty of rope-inspired products you can find.
Suggestions for using rope in your interior design: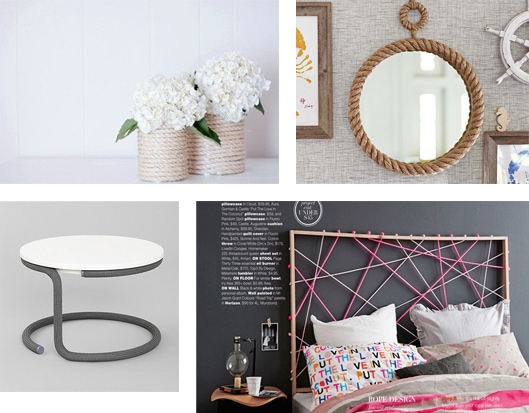 Product/DIY Information: Vases, Table, Mirror (DIY here), Headboard
3. Aged Wood
Whether it's driftwood, reclaimed wooden boards, a wooden pallet, or anything in between, aged wood has always been reminiscent of nautical adventures. It's easy to find a uniquely twisted piece of driftwood at the beach, and they serve as excellent centerpieces, or as bookshelf accessories. Their neutral tone and soft gnarls draw visual attention without being too heavy on the eyes, making them a truly excellent element to decorate with.
How to incorporate aged wood into your design: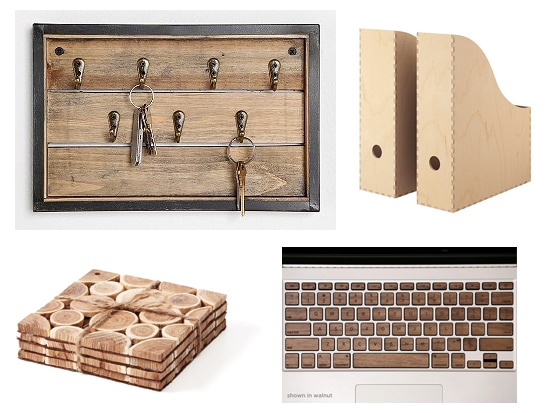 Product information: Jewelry Holder, Magazine File, Keyboard, Coasters
What do you think?
Are you inspired by all things nautical? Which of these three nautical elements was your favorite? Is there anything in your dorm or apartment inspired by the sea? Let us know with a comment!