This post may contain affiliate links, which means we may receive a commission if you purchase through our links. Please
read our full disclosure here
.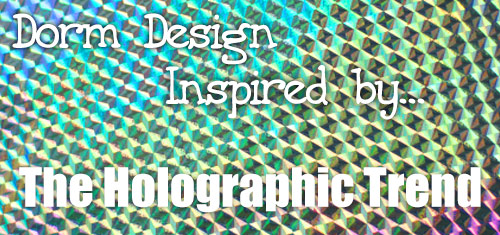 I don't think I'll ever be as surprised by a trend as I was about the recent influx of holographic clothes and accessories coming down the runways. I was skeptical at first, but it turns out that you can easily incorporate the trend into your dorm design! All it takes is a little creativity and some confidence, and you can even find some classic pieces that still speak to the whimsical, slightly subversive style of holographic prints.
Below, I've created three interior design inspiration boards that take their cues from various aspects of the holographic trend. Let's get started!
Jewel Tones
Itching to try this trend but afraid of investing too much money in what might be a one-season fad? Don't worry, there are plenty of ways to tone down the "futuristic" side of the style. When I first saw the trend, I immediately loved the jewel tones that popped out in some of the more understated pieces. Channeling those rich, elegant colors is a great way to find the classic side of the trend.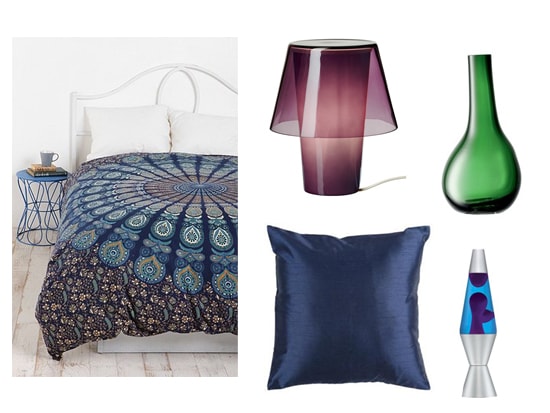 Product Information: Bedding, Lamp, Pillow, Vase, Lava Lamp
For this jewel-inspired room, incorporate moderately reflective surfaces with the warm jewel tones that underly many holographic images. A dark duvet cover sets the scene for this edgy mood, and a purple ombre lamp is a nod to the trend as well. Add a sateen throw pillow or two and an emerald-colored vase, and finish a touch of whimsy in the form of a lava lamp.
Mirror, Mirror
I love the rainbow effect that's created when light falls on a reflective surface, and the holographic trend is a perfect way to implement that kind of color vibe into your design. Focus on clean, glossy surfaces to draw more light into your room and make it feel brighter.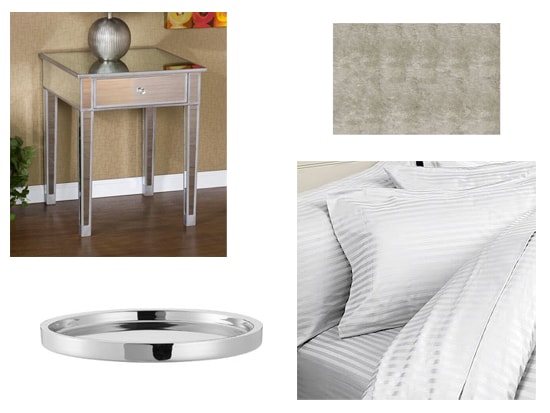 Product Information: Mirrored Table, Tray, Sheets, Rug
Mirrored accent tables are popping up all over the place, and they make a perfect addition to nearly any room color scheme. (Just clean it every so often with some Windex!) This gorgeous stainless steel bar tray makes a great catch-all for your keys and ID at the end of a long day, and striped sateen bedding is clean, simple, and incredibly comfortable. A rug in a lustrous fabric completes the reflective room ensemble.
Right On Trend
Loving the throwback trend? Good for you! This next inspiration board is a collection of some of the best holographic pieces for your dorm or apartment.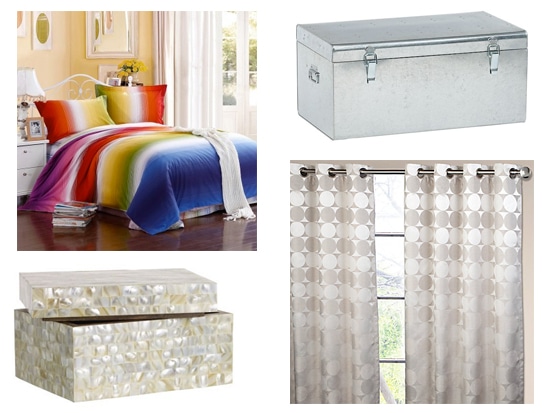 Product Information: Bedding, Trunk, Curtains, Storage Box
To start off your holographic room, try this beautiful mother-of-pearl storage box, which creates gorgeous iridescent reflections whenever it catches the light. Bright rainbow bedding is a nod to the holographic trend as well. Finish off your design with hologram-paneled curtains, and store everything else at the foot of your bed in a reflective galvanized trunk!

What do you think?
How do you feel about the holographic trend? Would you incorporate it into your dorm or apartment? Which of these three inspiration boards was your favorite? Let us know with a comment!
* Lead image: iStockPhoto.com