This post may contain affiliate links, which means we may receive a commission if you purchase through our links. Please
read our full disclosure here
.
When it comes to fashion, I always try to buy at least one trendy piece each spring, to get myself out of my comfort zone and try something new. This season is no exception: my new mint-colored shorts are a gorgeous hue, and they prompted me to write this post about decor inspired by pastels.
Pastels are classic, feminine, and versatile, with hundreds of different styling variations. In this article, I'll be talking about three of the trendiest pastel colors: mint, coral, and lilac, and how they can translate into interior design. (Other articles in this series feature dorm design inspired by blue and yellow.) Let's get started!
1. Mint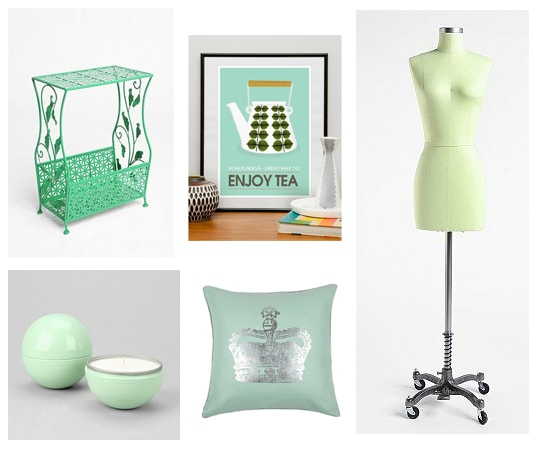 Product Information: Side Table, Illustration, Dress Form, Candle, Pillow
Studies show that we tend to associate pale greens with wide, open fields, and therefore feelings of tranquility. Wonderfully easy on the eyes, mint is delicate and refined, a perfect source of decor inspiration.
Mint shades range from mint cream (the color of the interior of an after-dinner mint), to magic mint (a Crayola hue), to mint leaf itself, the brighter parent of the previous two. Its versatility can be attributed to its diverse — but equally gorgeous — array of shades.
Channel the soothing nature of this wonderful color in your dorm design with the pieces above. A bright mint side table is elegant and functional, a whimsy and minimalist art print is a simple way to incorporate a splash of mint into your decor, and a pale mint soy candle is a modern spin on the trend. Try a mint dress form to hold your jewelry, scarves, and a hat or two, or simply add a mint throw pillow to your bed.
2. Coral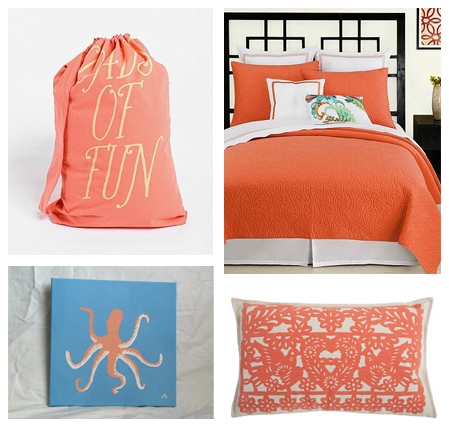 Product Information: Laundry Bag, Bedding, Art Print, Pillow
Coral is a color that's here to stay. Bright, flexible, and classic, it has plenty of avenues in fashion and in interior design. Coral evokes the feeling of a beach sunset, packing just enough energy to revitalize you without jolting you to your senses.
Incorporate some coral in your dorm design with these pieces. I absolutely love this fun laundry bag that can be easily hung on a bedpost or displayed next to the bed, and the cheerful octopus art print is another easy way to bring the color into your room. For a more coral-centric room, try some coral bedding in a shade that's warm and welcoming, and round it all out with a beautifully patterned coral throw pillow.
3. Lilac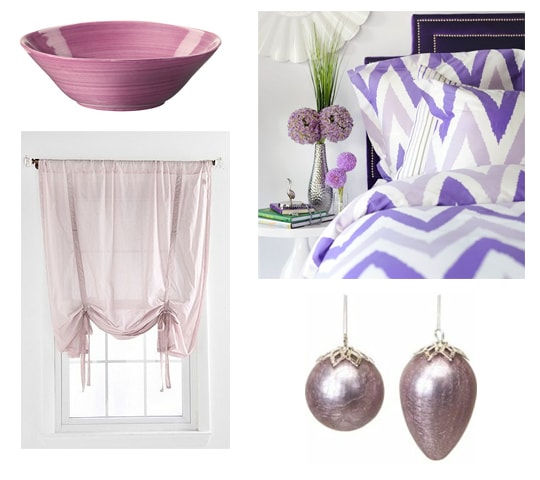 Product Information: Bowl, Curtains, Bedding, Ornaments
Besides being Gilderoy Lockhart's favorite color, lilac is an under-appreciated pastel that has tremendous potential. Often brushed off as a shade more suited for nurseries, it can easily be used to give a room a refined and sophisticated feeling.
Since the lighter shades of lilac can almost be considered neutral tones, the hue goes with virtually any other color scheme you have in place. Try a shallow bowl as a catch-all for your keys and ID when you come in the door, and let the sun gently filter in with gorgeous lilac curtains that bathe your room in a warm glow.
If you're a big fan of lilac, this chevron bedding has an interesting interplay of lilac and its darker cousin, medium purple. Finally, for some unconventional (but absolutely gorgeous) decor, hang lilac ornaments from the ceiling à la Design*Sponge.
What do you think?
Which of the three pastel-inspired dorm styles was your favorite? Are there any pastel hues in your own interior design, and if so, which ones? Do you think that fashion trends and interior design trends go hand in hand? Let us know with a comment!