This post may contain affiliate links, which means we may receive a commission if you purchase through our links. Please
read our full disclosure here
.
Spring has (finally) sprung in northern New York, and on particularly warm days, everyone is outside in shorts and sundresses, soaking up the delicious atmosphere. As such, the colorful, geometric floral designs of Lilly Pulitzer are everywhere, and it's impossible not to be inspired by their cheeriness and sunny patterns.
The Lilly Pulitzer brand took off after Lilly, the brand's founder and namesake, opened a juice stand in Palm Beach, Florida, and wore a sleeveless dress in a colorful floral pattern to hide the juice stains. From there, Jacqueline Kennedy wore a 'Lilly' on the cover of Life magazine, and the rest is history!
As a college fashionista on a budget, the gorgeous printed dresses are a little outside of my spending range… but nothing's stopping me from infusing the iconic Lilly style into my dorm decor! Classic and ultra-feminine, you can't go wrong with clean-cut florals, whether you're wearing them or hanging them up in your room.
Ultra-Feminine Florals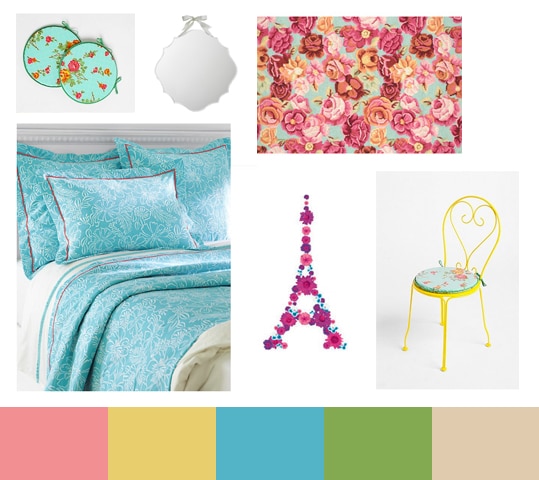 Product Information: Bedding, Cushions, Mirror, Rug, Cafe Chair, Wall Decal
Channel the girly pastels with this dorm design collage and color palette! A Lilly Pulitzer Home bedding set in a gorgeous ocean blue with red piping is clean and feminine. Disguise the rigid corners of a dorm room or small apartment with these lovely café chairs, set with molded backs and matching floral seat cushions. Round out the floral theme with a sweet and delicate rose-printed rug and a whimsy Eiffel Tower vinyl wall decal, and you've got a room that Ms. Pulitzer herself would be proud of!
A More Subtle Palette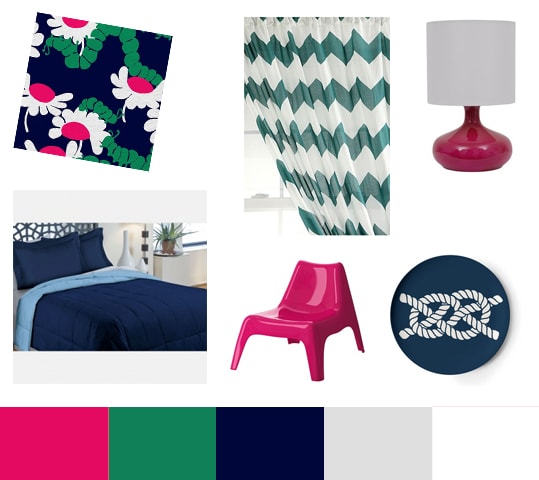 Product Information: Bedding, Chair, Tray, Lamp, Curtains
Not a girly-girl? Ms. Pulitzer's prints aren't limited to uber feminine floral displays! This dorm room color scheme was inspired by the rich navy blue, pink, and deep sea green featured in the Yum Yum print. A perfect mix of lighthearted sophistication and refined maturity, this bold palette is sure to welcome guests into your dorm or apartment.
Set the warm tone with soft navy blue bedding, and bring a bit of the stormy sea to your interior design with the zigzag patterned curtains. Throw in a splash of hot pink with a modern easy chair and gently curving lamp, and infuse a bit of nautical style with a navy blue in-tray with a rope motif.
What do you think?
Are you a fan of Lilly Pulitzer's prints? What do you think of the sample dorm designs that she inspired? Is your interior design style ultra-girly and floral, or more subtle and contemporary? Let us know with a comment!