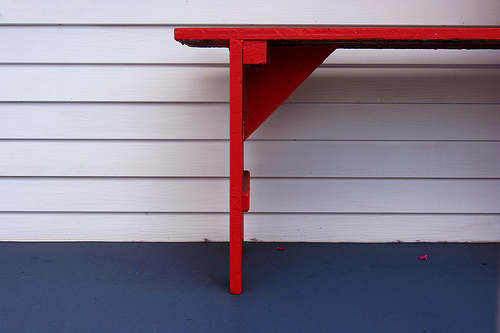 In honor of yesterday's holiday, I'm devoting an article to the color official color palette of the Fourth: red, white, and blue.
Now, I've always had a soft spot (or, honestly, an obsession with) red. Whether muted in preppy tones or loudly cheerful in candy-apple-red, the color has a place in everyone's decor, and I can't get enough of it. Red is a warm and powerful shade that is perfectly counter-balanced by a cool and mellow blue. Throw in a neutral white hue, and you'll have a harmonious and patriotic dorm room design.
Want to get inspired by shades of red, white, and blue? Read on for tips!
1. Scarlet and Robin's-Egg Blue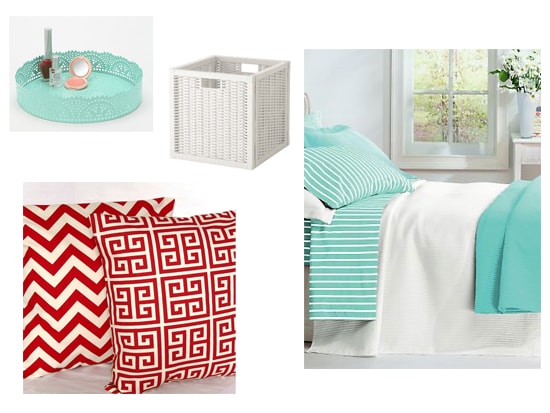 Pillows, Vanity Tray, Basket, Bedding
Confession: this is my dorm room's color palette, and has been for the past three years. (It's partially because I fell in love with a gorgeous and hideously expensive scarlet and pale blue duvet cover the summer before my freshman year, and my mother said that I had better love it, because she wasn't going to spend that much money on another color palette for me.)
The wonderful thing about this combination of colors is how well the red works as an accent, but also as a cornerstone of the design. The robin's-egg blue brings out the darker blue undertones in the scarlet, and the two colors together are so clean and refreshing that it's impossible not to feel relaxed around them. Get this style for yourself with a lovely pale blue bedding set accented with a few oversize scarlet pillows, then complete the details with a simple white basket and a delicate blue vanity tray.
A New 'Old Glory'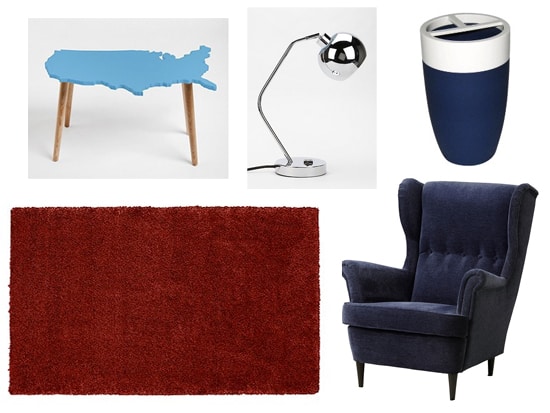 Table, Lamp, Toothbrush Holder, Chair, Rug
Put a new spin on the classic red, white, and blue combo with a moodier, more soothing mix of the colors. This color palette is perfect for a bathroom or anywhere else you'd like to infuse with a bit more calm. In this case, the navy blue is the focus, with a warm red rug and smaller accents breaking up the cooler tones.
Channel a darker All-American look with this deep red shag rug that sits under a gorgeous navy blue wing chair. Add a silver lamp as a subtly bold accent, paired with a whimsical USA table (DIY one if you're crafty!) and finished off with smaller navy blue accents, like this toothbrush holder.
What do you think?
Do you use a lot of red in your decor? Which shade of red is your favorite? Is red best used as an accent or as a cornerstone of a color palette? What do you think when you see a lot of red (no pun intended)? Let us know what you think!