This post may contain affiliate links, which means we may receive a commission if you purchase through our links. Please
read our full disclosure here
.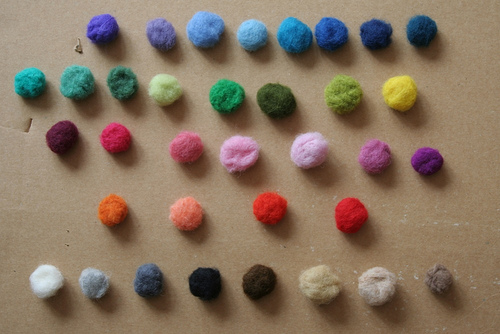 With the proliferation of spring color trends and the immense popularity of colorblocking, it seems that the fashion world is going back to basics and recognizing how important bold colors are to an ensemble. It's no different with interior design, where colors are often overlooked in favor of texture or shape. The color scheme of a room is the first thing people notice when they walk in, and, if done right, can immediately change their mood.
Blue is generally acknowledged as one of the classic favorite colors of most people. Versatile and gorgeous in every shade, blue can convey everything from comfort (like the blue of your favorite pair of jeans) to mystery (like the blue of a just-darkening sky) to polished elegance (like royal blue, which was invented to win the competition for a British queen's dress design). With so many options, blue is a staple color in the world of dorm design.
Below, I'll focus on four dorm room themes incorporating the color blue, each with a totally different feel. If you're looking for an easy room revamp, or a total redesign, a new color scheme is just right. Let's get started!
1. Waterfall Blues: Delicate and Soothing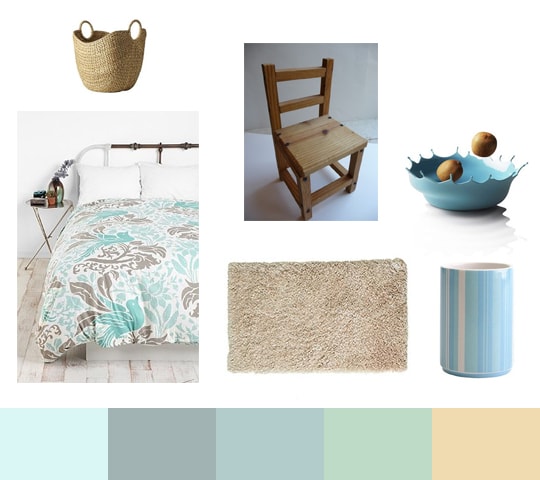 Product Information: Basket, Chair, Bowl, Tumbler, Rug, Duvet
This color palette, inspired by the muted blues and blue-greens of waterfalls, is calming and easy on the eyes. Set up the cool and refreshing scheme with a gorgeous duvet cover, then playfully build on the water theme with this modern bowl and striped tumbler. Bring a sense of gentle earth tones with the woven basket as a laundry hamper or hold-all container and the sand-colored shag rug, and give a nod to beach shacks by using this vintage wooden chair as a night table.
2. Modern Primary Colors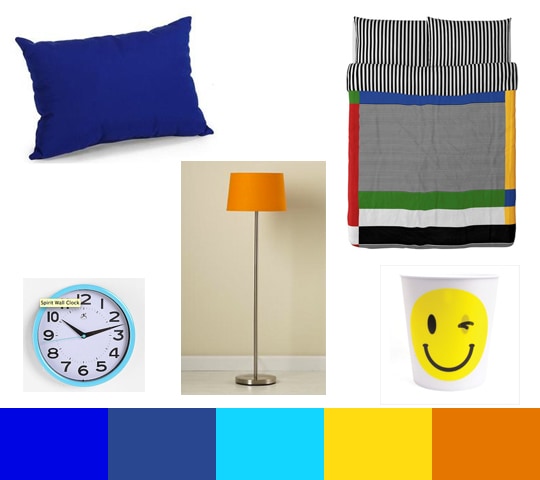 Product Information: Pillow, Lamp, Bedding, Trash Can, Clock
Bright, eye-popping primary blue is a fantastic starting point for a mod dorm room inspired by vivid primary colors. This color scheme immediately energizes you and fills you with creativity. Channel the palette with this colorblocked duvet, then build on the solid color theme with a whimsy modern trash can and simple orange lampshade. Stay on time for class with a bright retro wall clock and round out the blue scheme with a comfy blue throw pillow! This palette is perfect for the cheerful girl-on-the-go with lots of energy and optimism to spare.
3. Wishing On A Star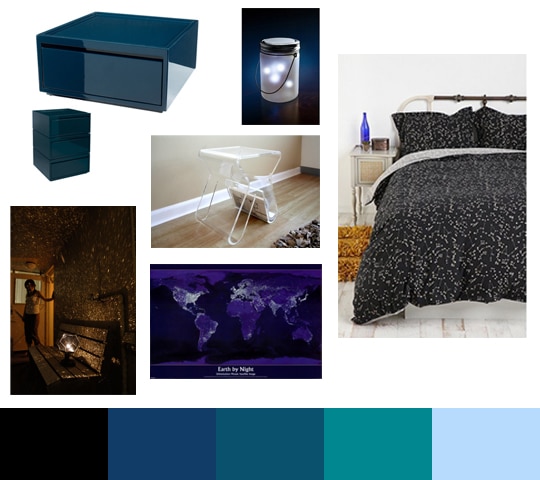 Product Information: Stackable Drawers, Dreamlight, Duvet, Clear Side Table, Poster, Star Projector
Inspired by stars and the mysteries of space, this rich blue and black color scheme is perfect for an edgy room with a hint of geek chic. Play with mixing navy blue and black with this constellation-print duvet, and keep your things neatly out of sight with these midnight blue stackable drawers. I especially love this clear acrylic side table for its unique shape and functionality. Plus, it won't take up visual space, making your room seem larger!
Complete your star-studded room with this gorgeous luminous dreamlight and the iconic poster of Earth by Night, as seen from space. For a really mystical and unique touch, this star projector is such a cool alternative to Christmas lights, and can even be synced up to match the real night sky!
4. Tiffany Blue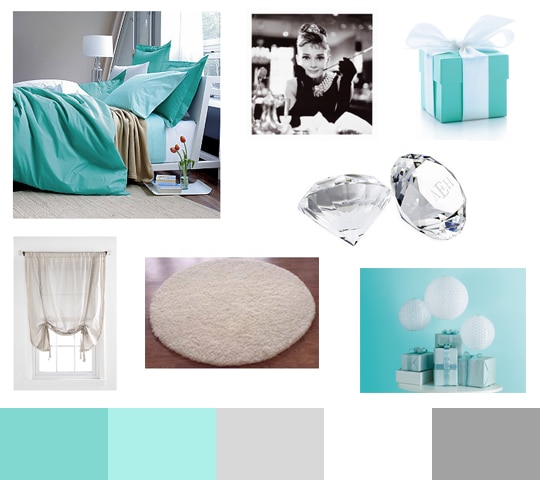 Product Information: Bed Linens, Audrey Hepburn Poster, Crystal Paperweights, Paper Lanterns, Shag Rug, Window Shade
No post about the color blue would be complete without the most iconic blue shade of our time — the famed (and coveted) Tiffany blue. Classified as a medium shade of robin's egg blue, Tiffany blue is a trademarked color, custom produced by Pantone, and actually isn't publicly available! Our favorite shopaholic Becky Bloomwood of the Shopaholic series said it best: "Audrey Hepburn was right: nothing bad could ever happen in Tiffany."
Bring the classic jewelry retailer's feminine and refined color palette to your dorm with these style suggestions. A richly colored robin's egg blue bedspread sets the hue up to mix with the classic black and white Audrey Hepburn photo and a soft, furry shag rug. Keep your stacks of papers under control with these crystal diamond-shaped paperweights and add delicacy and depth with doily-print paper lanterns. Finally, round off the whole ensemble with a white draped window shade, and you've got yourself a room Holly Golightly would be proud of!
What do you think?
Which blue-inspired room theme was your favorite? Did you organize your room around a color scheme, and if so, which color(s) are most prominent? Which color should be featured next? Let us know with a comment!