This post may contain affiliate links, which means we may receive a commission if you purchase through our links. Please
read our full disclosure here
.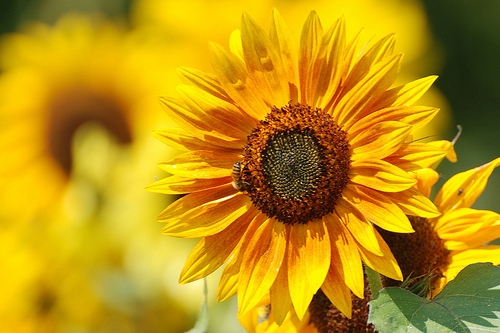 I've got to be honest — yellow is my favorite color. Strangely enough, I don't have any yellow pieces in my closet (except for my favorite yellow peacoat), but just seeing the hue puts my mind at ease and makes me feel rejuvenated. I have a slight obsession with yellow in interior design, not only because of its therapeutic qualities, but also because of its unique versatility.
Yellow is one of those colors that can stand out on its own, and therefore looks great with colors that provide a gentle backdrop for its flamboyance. However, it is also widely used as a neutral, coupled with whites and greys in soothing tones. Whether you're inspired by the gorgeous yellow of a sunflower or the pale yellow of a sunrise over the ocean, everyone can find a way to work yellow into their dorm or apartment style! Read on for some yellow-inspired interior design!
1. Sunflower Yellow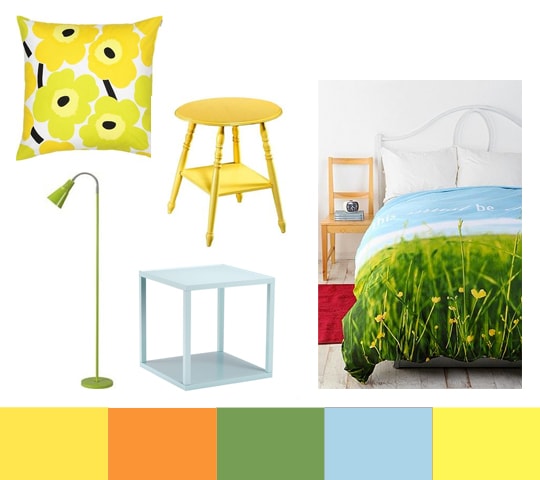 Product Information: 20″ Pillow, End Table, Duvet Cover, Stacking Cube, Floor Lamp
Channel the natural beauty of the sunflower with this sunny color palette. I love the serene yellow accents in the duvet cover (which says "this must be the place" on it!), and the cheerful floor pillow can double as a faux headboard. Bring some natural glow into your room with this gold end table that can be used as a going-out table or catch-all, and round out the room with a lovely pale blue stacking storage cube and earthy green floor lamp.
2. Modern and 'Eggy'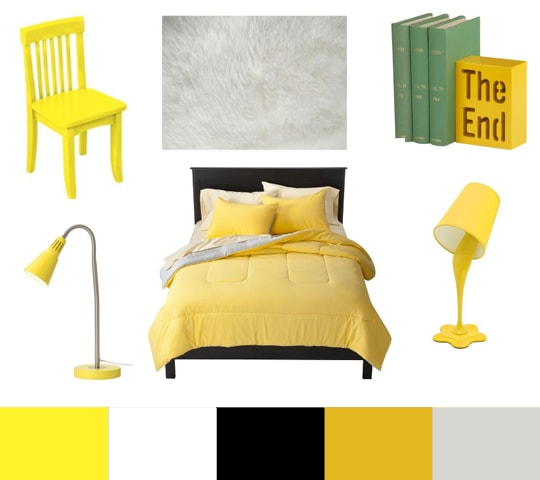 Product Information: Chair, Flokati Rug, Bookend, "Spilled" Lamp, Bedding, Work Lamp
Inspired by the incredible edible egg, this modern and whimsy color scheme is perfect for an airy room that belongs to a fashion-forward CF reader! The minimalist color palette utilizes a bright canary yellow offset by a more modest goldenrod to achieve its edgy (or "eggy"… pun intended) feel. Start off the palette with a simple yellow and white bedding set, then build on the simple yellow-and-white with a unique lamp and bookend. Cover your floor with a deep Flokati rug, and use this children's chair as a nightstand!
3. Sophisticated Yellow and Grey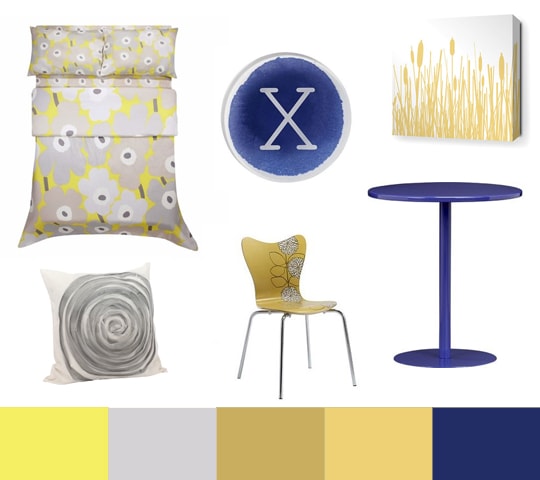 Product Information: Bedding, Tray, Wall Art, Table, Chair, Throw Pillow
Yellow used as a neutral is gorgeous and sophisticated, surviving the test of time and maintaining its role as a classic. In this color scheme, I've made cobalt blue the standout color with yellow and pale grey as a gentle backdrop, creating a modern color scheme with soothing roots that has a place in every room. The bold print on the bedding is balanced by its soft tones, and the grey is echoed in the swirl print on the throw pillow. Add some more yellow with the scoop-back chair and the stretched canvas wall art, and incorporate the pops of rich cobalt blue with this all-purpose side table, rounding out the room with the monogram tray that can be used as a catch-all for your keys and ID when you come home!
What do you think?
Do you consider yellow a neutral or a standout color? What do you think of these three inspiration boards? Have you used yellow in your decor, and if so, how? What color should be featured next? Let us know with a comment!