This post may contain affiliate links, which means we may receive a commission if you purchase through our links. Please
read our full disclosure here
.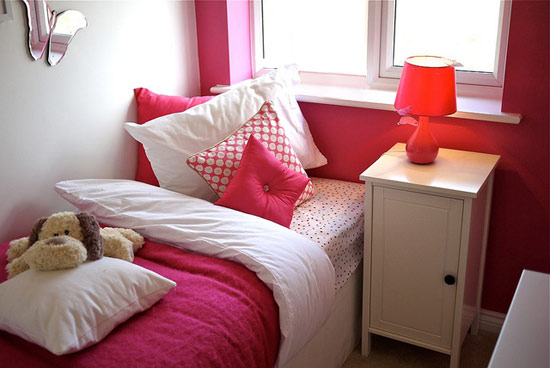 I'm the first to admit that I usually shy away from pink when I'm decorating or furnishing. The garish shades that usually end up comprising the vast majority of the clearance bins at department stores used to be enough to turn me off to the color forever, but thanks to the recent abundance of Valentine's Day themed posts on Pinterest, Tumblr, and of course, here at CF, I've been able to consider pink in a brand-new light.
I used to think that pink was solely for pops of color and hair bows, but there are so many shades of pink that it can be anything from a dramatic statement to a neutral. Whether you're a diehard pink fan or a newcomer to the color like I am, there's a way to incorporate the classically feminine hue to any style of dorm room.
Read on for some pink-inspired interior design — and check out our other posts on interior design inspired by blue and yellow!
1. Light-hearted Pink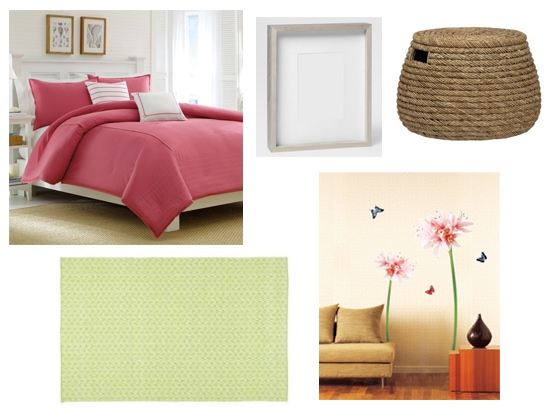 Product Information: Bedding, Rug, Wall Decals, Basket, Frame
This soft, floral-inspired pink is perfect for a trendy and feminine dorm room or apartment. Channel the delicate, nature-based colors with a sweet solid pink duvet cover, and add a gentle warmth with a pale green rug. I personally love wall decals in lieu of headboards in dorms, and these ones pick up on the green and pink hues perfectly! Round off your design with a natural woven storage basket, and hang up some minimalist designs or pressed flowers in unfinished wooden frames.
2. Pop of Pink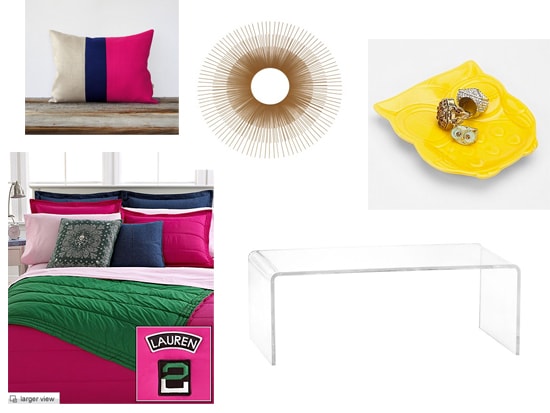 Product Information: Pillow, Bedding, Console, Dish, Mirror
What would college be without hot pink? For a whimsy twist on the traditional pink, black, and white (and animal print) dorm room, try using pink as a base mixed with other bright primary and secondary colors!
Try a solid, brightly colored comforter to start, and combine it with a color-blocked pillow. All of that color can be a little much, so balance out the energy with a clear plastic console or coffee table, which carries very little visual weight. Add another color pop with this bright yellow catch-all dish, and finish up your design with a classic sunburst mirror that reflects all that color back at you.
3. Neutral Pink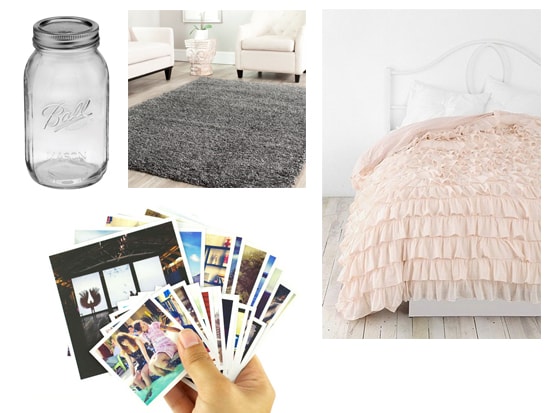 Product Information: Mason Jar, Rug, Bedding, Prinstagram
This is definitely my favorite of the three inspiration boards–I love the idea of using pink as a soft neutral for an understated, minimalist room design.
A classic waterfall duvet is ethereal and beautiful, and is balanced out by a darker grey shag rug that's both functional and comfortable. Keeping with the delicate nature of the design, keep your things in clear Mason jars (anything from pens to extra makeup tools), and let the focus of the room be on your photographs. This company, Prinstagram, lets you print out Instagram photos in a variety of sizes. Arrange them on your wall in a grid or pattern, and your room's complete!
What do you think?
Which of these three pink rooms was your favorite? Are you a diehard pink fan, or have you never really used the color in your design before? When you think of pink interior design, what's the first shade that comes to mind? Let us know with a comment!