This post may contain affiliate links, which means we may receive a commission if you purchase through our links. Please
read our full disclosure here
.
I've never been lucky enough to have my own bathroom (I have two siblings and lived in dorms all through college), and I learned very early on that the bathroom can become a very ugly monster of disorganization when we slack even a little on cleaning.
More than any other room, the bathroom is where organization matters the most, especially if you've haven't got a lot of space and will be sharing with other people. That being said, one of my favorite quotes (anyone know the source?) always comes to mind when I contemplate a cluttered bathroom sink or shower:
"If it can be done in five minutes, do it now."
That little aphorism, coupled with this post's five tips and tricks for an organized bathroom, are sure to transform any messy tiled space into a haven for all things hygiene. Let's get started!
1. Use Magnets to Free Up Space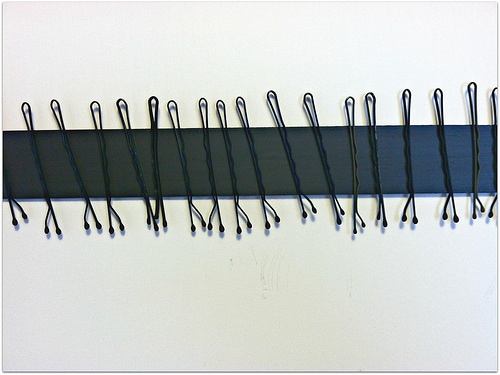 The classic magnetic strip (available at any craft store) is the small bathroom's best friend. It can be used for so much more than simply corralling bobby pins – use it for any of the following ideas:
Affix small magnets to the backs of makeup and use it to mount your eyeshadow, bronzer, and blush on the side of the medicine cabinet, or try this DIY.
Attach magnets to small toothbrush holders and save some valuable counter space.
2. Invest in a Double-Lined Shower Curtain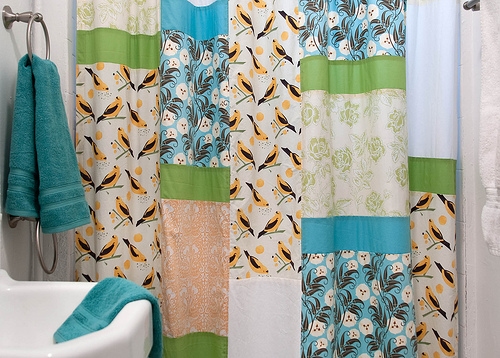 There are generally pretty limited options for color in a bathroom, especially if you're renting and aren't able to do anything to the floors or walls. Because of this, a shower curtain is a great way to give your bathroom a dose of your personal style.
Invest in a double-lined shower curtain for maximum efficiency. A plastic inner liner (some even come with pockets) is easy to wipe down, and a pretty cloth outer liner can be easily tossed into the washing machine on laundry day.
For a shower curtain designed to hold up against all kinds of stains, try looking into medical supply stores for the heavy-duty stuff that can take whatever your apartment (and roommates) throw at it.
3. Use a Ladder as a Towel Rack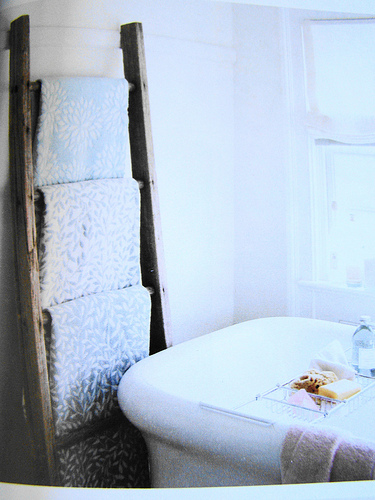 Command hooks designed for bathroom usecan get pricey, so why not upcycle an old ladder and use it as storage? Easy to fit into any nook or small corner (behind the toilet is an oft-underutilized space), a ladder is a great way to display and organize everything from small washcloths to bath towels.
4. Get a Big Shower Caddy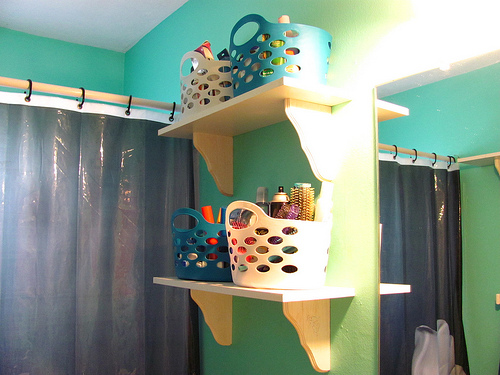 If you're lucky enough to have your own bathroom, you can skip this one – but for those of us who are less fortunate, consider using a giant shower caddy (or even a small laundry basket) to corral all of your tools and products.
This is especially necessary if you don't have much cabinet or counter space. Equip your bathroom with an over-the-toilet shelf, allocate one bin or shelf to each roommate, and make organization easy. 
5. Shower Catch-Alls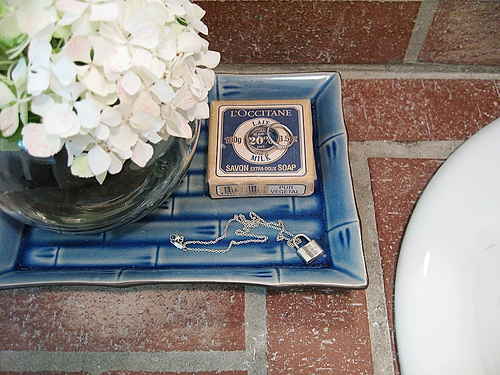 If I had a dollar for every hair tie or bobby pin I lost while getting into the shower, I'd probably be able to pay for medical school in cash.
A cute small catchall on top of the sink counter or by the toilet is a simple way to keep track of jewelry, hair ties, bobby pins, and whatever else tends to get lost before-and-after showers. It can double as a soap tray or hold a small vase of flowers, and generally ups the the feeling of luxury in bathrooms that can feel all too utilitarian at times.
What do you think?
Do you like our tips and tricks for an organized bathroom? What products or habits do you swear by? How do you keep your bathroom organized, especially if you share it with other people? Let us know with a comment!